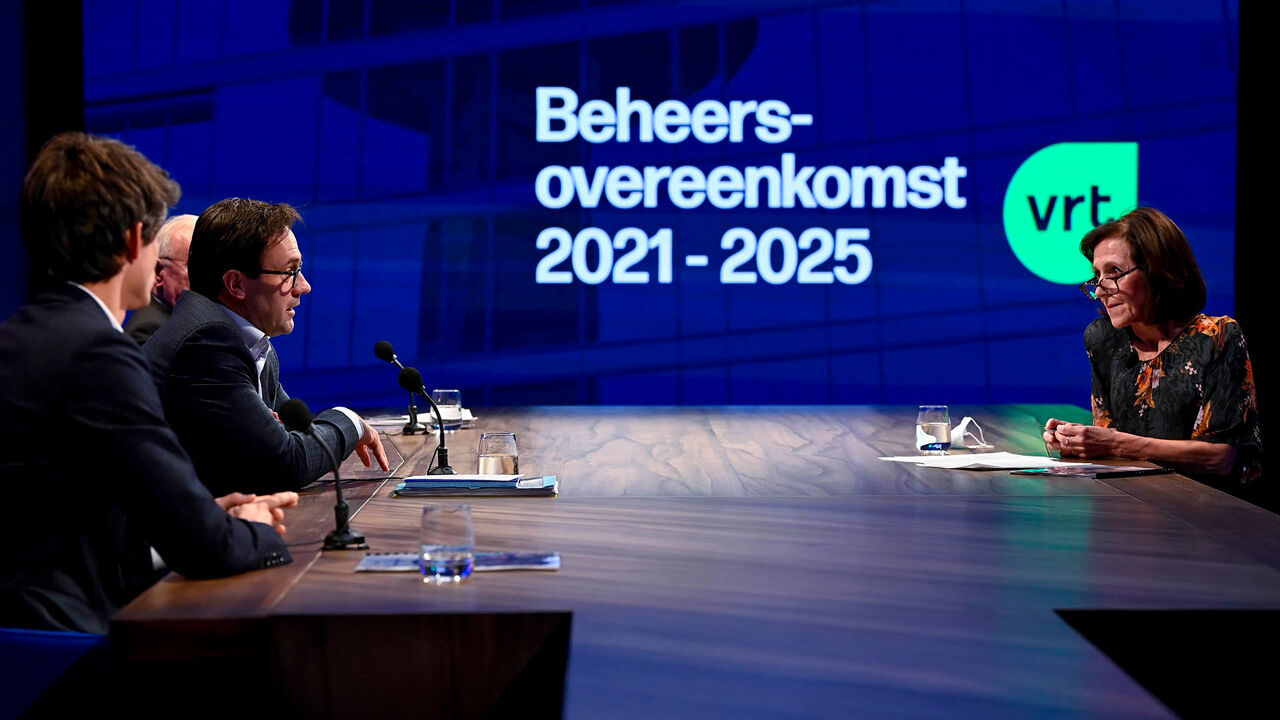 BELGAIMAGE / VRT
1. Social impact
The VRT's societal role has never been so prominently featured in a Management Agreement. More than ever, the VRT must contribute to the discussion about important societal themes, have an impact on society and measure it, as well.  The reach figures will be maintained: reach 85% of Flemish people with the entire offering (on a weekly basis); 75% for news, for all target groups. That is a major challenge, due to the fragmentation of the offering over various platforms and international competition.
The VRT can give 100 examples of its relevance to society annually, across the various brands it offers.
2. Radically digital
Users are opting en masse for digital and mobile media. As such, the VRT needs to accelerate its digital transformation, with audio, video and innovative formats. VRT NU, VRT NWS and the audio selection will play a central role in this.
Of all registered users, at least half come into contact or interact with one or more of our digital channels once a month, making him or her an active user.
3. Expanding tastes
VRT NU allows you to discover new things. Instead of only presenting users with things that match their viewing behavior, public broadcasting algorithms are being developed to expand tastes. This innovation isn't profit-driven, but is based on our public mission, with transparency and user control over the data collected.
The impact of algorithms and curation thereof will be measured on a continuous basis. The VRT will also be transparent about the use of those algorithms.
4. Respond to a younger audience
Responding to the needs of youths is an important point requiring our attention. They aren't interested in traditional, linear television line-ups. Therefore, the VRT is developing a digital offering that is relevant to youngsters' world. The VRT will realize its public mission on new, relevant platforms.
The VRT will proactively invest in developing a digital offering that corresponds to changing media usage. The VRT will realize its public mission on new, relevant platforms (like Instagram and TikTok). To do so, it will invest in a well-considered selection of platforms that at least 10% of children or youths (12-24 years of age) use on a weekly basis.
In addition, it will strive to reach 65% of the group aged 16-24 with its information offering.
5. Disinformation and media savvy are top priorities
In times when algorithms on social media primarily show users opinions from their own group and strongly polarize debates, an independent public broadcaster should feature diverse, opposing opinions. Nonpartisanship is essential to this. The VRT will take initiatives, together with other media companies, to combat disinformation.
The VRT will produce at least 15 in-depth investigative journalism stories per year.
KLAAR and Edubox, or similar initiatives, will be continued and will help the VRT connect with a younger audience in a future-oriented way, as part of its educational mission.
6. Investing in Flemish production companies
The VRT will devote at least 20% of its total revenues to the external creative sector: Flemish audiovisual content, innovative audio and digital formats.
Of this, at least half a million euros will go to the external audio sector each year, for podcasts, among other things.
7. Collaboration based on one's own strength
The VRT is an essential player in the Flemish media landscape and builds strong partnerships, when it comes to technology, content and fact-checking, among other things. 
Partnerships such as Streamz will be continued and reinforced. In addition, the VRT will build bridges with the other social sectors, such as WAT WAT, which revolves around youths, for example.
8. Promoting culture
The VRT plays an important role in the promotion of Flemish culture and Dutch as a standard language. What's more, there is extra attention for a cultural offering for children and youth.
Every year, 250 concerts, shows or festivals will be recorded.
The VRT will also pay significant attention to at least 10 events that showcase Flemish identity and culture.
Het Journaal on Eén will feature at least 365 cultural segments every year.
9. Local fiction and documentaries
The VRT will continue to stimulate prestigious Flemish fictional series. The VRT will work with the Dutch public broadcasting service, NPO, among others, in a future-oriented way, to reinforce the cultural ties between the Lowland countries. This will be done in the context of re-envisioning BVN and pertains to supply-oriented collaboration, among other things.
The VRT will invest in the co-production of at least 15 episodes of documentaries per year, of which at least 8 subjective documentaries.
10. Efforts for diversity and recognizability
The VRT reflects the composition of our whole society, on and off screen. That's why special attention is paid to the presence of women, people with a migration background, the elderly, people living in poverty, people with different sexual identities and disabled people on screen (see, for example, G-sport on Sporza). The VRT endeavors to show people more inclusively, not just in the context of their specific disability, sexual orientation, background, age, etc.
The share of women on screen will rise from 40% to 48% in 2025, people of foreign descent from 7.5% to 9.5% in 2025, and disabled people from 1.5% to 2% in 2025.