The right wing liberals Lijst Dedecker
Flandersnews.be asked the 8 main political parties in Flanders how they would present their parties to a foreign audience. We also wanted to know their party's view on Europe and its European priorities. In their own words: Lijst Dedecker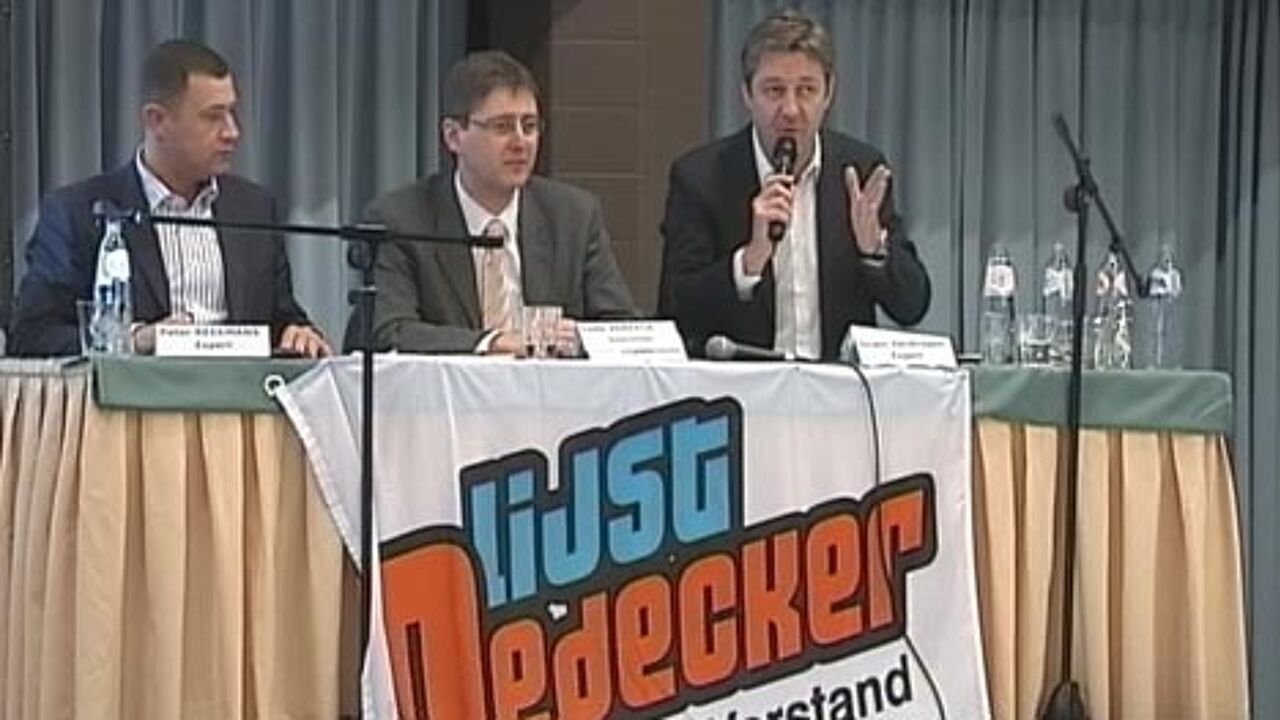 How would you present your party to an international audience?
Lijst Dedecker was founded in January 2007 as a progressive Flemish party that stands for straightforward politics based on common sense. Ideologically Lijst Dedecker is right wing in social-economic matters and progressive on social-ethical issues.
Here are the main planks of Lijst Dedecker's policies:

- A sound economy that provides space for enterprise and innovation. This can be achieved by introducing a social flat tax with no tax being paid on the first 15,000 euros and a flat rate of 30% above this figure. The numerous subsidies afforded to industry should be replaced by cutting corporation tax to 19%, a labour market that rewards working more and non-working less and the introduction of a sunset clause. The amount of money that the state takes out of the economy in taxation should be reduced to 40% over five years. A flexible and efficient state gives entrepreneurs and the free market free rein.
- Decent politics based on direct democracy and freedom of speech. Citizens are given a greater say thanks to binding referendums for which ordinary people can take the initiative. Subsidiarity should be a leading principle in all cases. The number of political jobs and bodies should be cut, ministers' private offices should be abolished as well as political appointments in the administration.
- A strong social security supporting the sick, the unemployed and the elderly. Abuses must be combated and punished. They undermine the system at the expense of those who are really in need. More childcare places, an active seniors' policy and eliminating waiting lists for the handicapped are our priorities.
- An immigration policy that has been thought through and is based on rights and duties. Recent relaxation in the demands on acquiring Belgian nationality and voting rights for immigrants should be abolished. Only the legal partner and underage dependent children should be allowed to join a relative in Belgium in future.
- A "green right wing" environment and climate policy. There is no room for ecological fundamentalism. Innovation and technological development form the solution to environmental problems. Nuclear power plants should stay open and emission trading that is susceptible to fraud should be replaced by massive investments in energy related R&D.
- A ready mobility policy. Investments in roads infrastructure have been delayed for too long; mobility links that are missing must be constructed urgently. Public transport should become "common transport".
What is your party's view on Europe? What are your European priorities?
In contrast with Eurofederalists Lijst Dedecker sees itself as a party of Eurorealists. Europe needs a reality check because of an important logical error. Whole generations of politicians acted thinking that the EU was heading to become a federal state. Whoever believes this is building sand castles.

Eurorealism accepts the reality of a European Confederation that executes certain core tasks. The states make out for themselves in which policy fields they will take joint decisions and whether they hand over certain tasks to a European body. The European project requires common sense. Great attention should be paid to the core tasks, the efficiency of the decision-making process in Brussels, the determination of the European Union in taking decisions and the role of the citizen who is now entirely alienated.

The priorities of the European programme of Lijst Dedecker are:

-A Europe that is economically strong with a services market that is entirely free, a drastic simplification of the VAT system, the common European patent for inventions, the introduction of a common basis for corporation tax, the introduction of a European supervisory body for the European capital markets, the encouragement of quality immigration, and the relaxation of the Bird and Habitat directives.
- A consolidated Europe that in order not to endanger public support for the European project halts the enlargement process temporarily and instead opts for strategic partnerships and free trade zones.
- A more assertive Europe that resolutely defends freedom of speech and sanctions human rights violations. An EU that that radiates cultural self confidence establishes a European FBI to track down criminals and terrorists across the entire territory of the Union and is open to quality immigration via a blue card system.
- A more austere Europe as a result of the scaling down of the extremely large administrations, a smaller European Commission, a smaller European Parliament and an evaluation of the Committee of the Regions and the European Economic and Social Committee.
- A green-right-wing Europe that is open to nuclear energy and that replaces emission trading that is susceptible to fraud by massive investments in research and development of energy sources with low CO2 emissions.