"Magna may close Antwerp"
The CEO of Magna Siegfried Wolf (right on the photograph) has said that Opel may close the plant in Antwerp. This has been announced by the German press agency DPA. Wolf says that alternatives are being sought for the Belgian plant.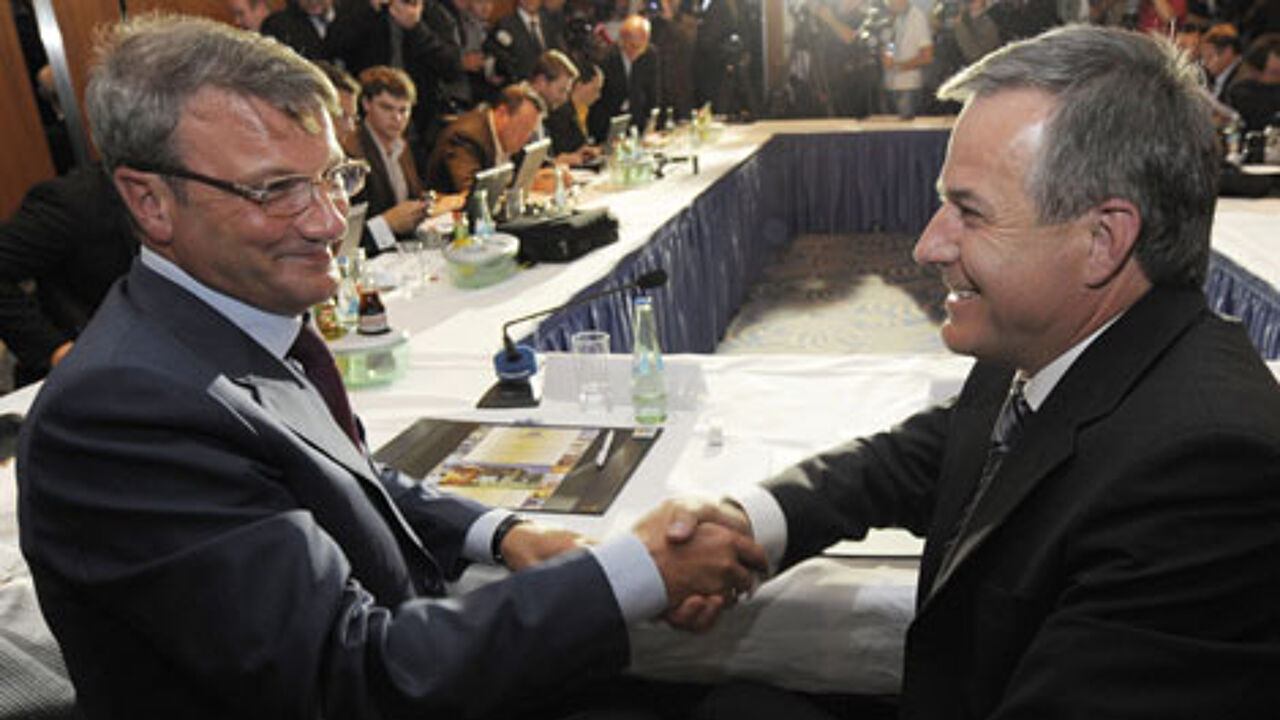 Siegfried Wolf announced the news about Antwerp at the Frankfurt Car Show. He is the CEO of the Canadian/Austrian auto makers Magna International which has taken over the General Motors European unit Opel and sister company Vauxhall in the UK.
It is not clear what 'alternatives' Mr Wolf may be thinking about..

Also in Frankfurt Mr Wolf said that as many as 10,500 Opel jobs in Europe could be cut, including nearly half of them in Germany.

"We'll do everything we can to avoid job losses," the CEO said, trying to reassure worried governments and workers. "We might be able to save jobs with contract manufacturing."
Last week, General Motors Co. agreed to sell 55 percent of the unit to Canada's Magna International and Russian lender Sberbank in a 50-50 split. GM will keep 35 percent, the biggest single stake in Opel, and Opel workers will hold 10 percent.

Opel employs some 49,000 workers in Europe and has plants in Germany, Spain, Britain, Poland and Germany.
Belgium and UK want Europe to scrutniise the Opel deal
Belgium asked the European Union to investigate the deal to make sure German is not violating anti-trust rules. Britain on Monday also joined Belgium in urging the European Commission to scrutinise the German Opel subsidy package.

"I think it is important to say that the (European) Commission should not accept anything that looks like a political fix or any linkage between aid and retention of jobs in any specific plant or country," British Business Secretary Peter Mandelson told BBC radio.
PM Kris Peeters held talks with the EU Industry Commissioner Günther Verheugen (German) on Monday. Mr Peeters said that they commercial and economic factors should be the most important in deciding the future of the plans, and not political arguments.

"We are convinced Antwerp has a fair chance. Antwerp has a better chance than certain German plants," he told reporters, adding Flanders would consider filing a complaint with the Commission.

Günther Verheugen and European Commissioner for Competition Neelie Kroes (Netherlands) were also due to address a European Parliament debate on Opel aid that was called by former Belgian Prime Minister Guy Verhofstadt.

Yves Leterme, also a former Belgian prime minister and now foreign minister Yves has also been talking with European colleagues about the Opel deal.