Dairy farmers occupy Brussels
Hundreds of dairy farmers drove tractors into Brussels to put pressure on the EU farm ministers meeting today in the Belgian capital. The dairy farmers demand funds to help them survive the milk price crisis. Large delegations also came from abroad and the police were geared up for major traffic problems in and around Brussels.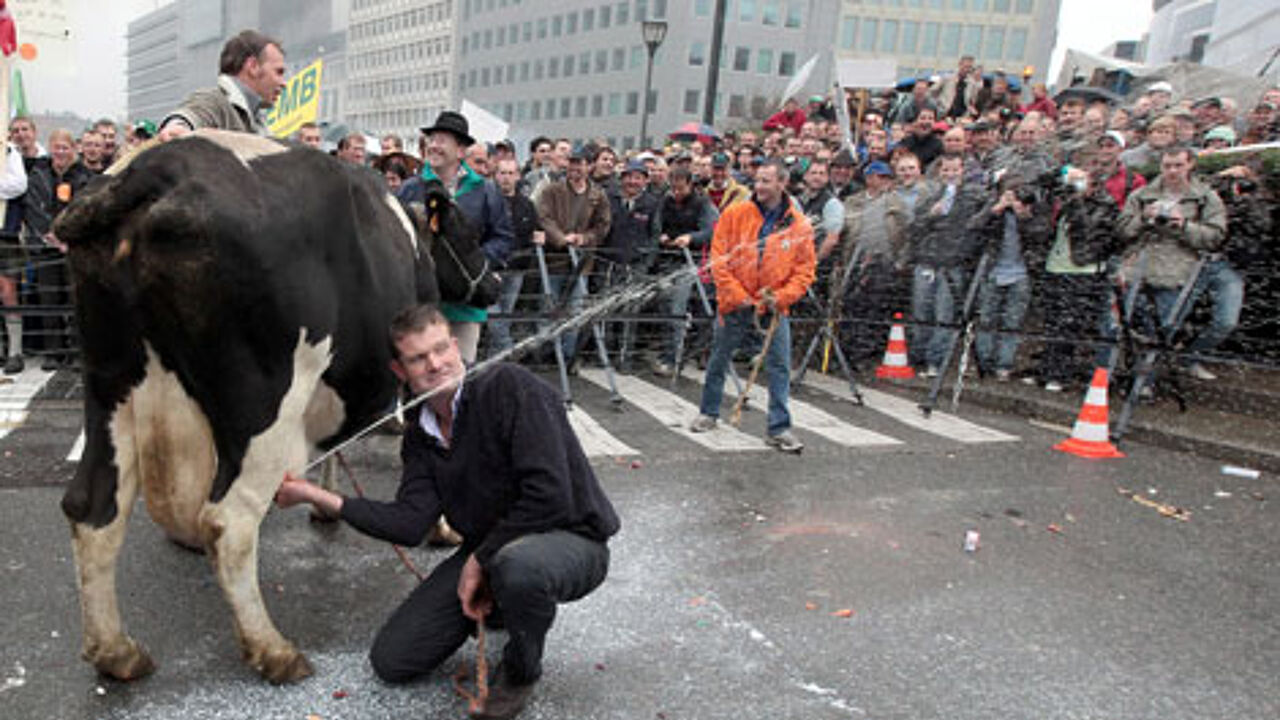 The European Union farm ministers met in Brussels today to discuss the crisis in the dairy sector.
At the moment farmers are getting less than their cost price for milk and many are on the verge of bankruptcy, say the farmers.
About 1000 farmers from Germany, France and other EU countries protested outside the EU Council building where the farm ministers were meeting.  They threw bottles and eggs at the police, burned tires and hay.  Police cordoned off the EU Council building and installed a major security perimeter. 
20 of the 27 EU member states are calling for more protection for the dairy farmers.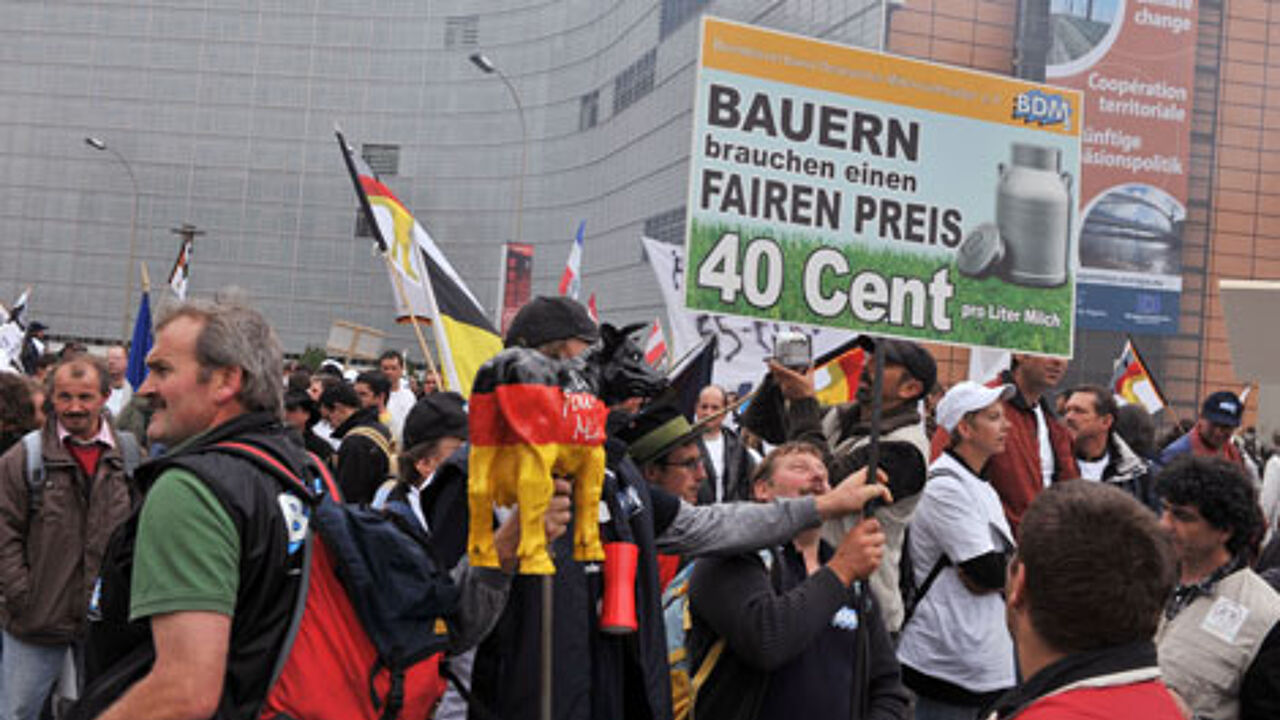 EU Farm Commissioner Mariann Fischer Boel said member states will be able to pay up to €15,000 per farmer "in the coming days" but insisted she could go along with additional funds only if the money did not come out of the existing EU budget.
The chairman of Monday's emergency meeting, Swedish agriculture minister Eskil Erlandsson said earlier, "We want to talk about the medium and the long term possibilities for the European milk and dairy sector." He went on to say that any new action would take at least two more weeks to be approved.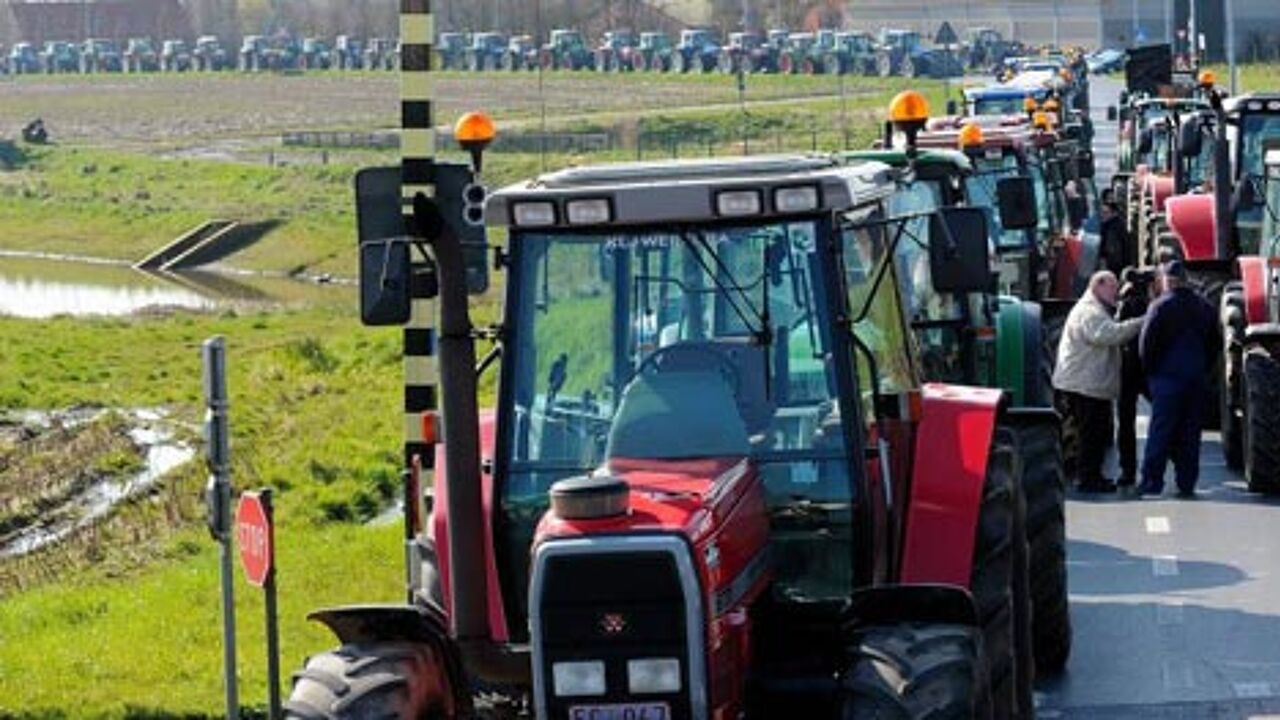 The protesting farmers are in favour of quotas to drive milk prices up as well
Thousands of farmers from across  the 27 EU member states are facing financial problems because of collapsed milk prices.  They are seeking more EU help and quotas to artificially drive the milk prices up.
The dairy farmers have been protesting for weeks, even months, arguing production costs are currently up to twice as high as market prices. They want the EU to tighten quotas to drive up prices, rather than sticking to a commitment to end the quota policy and free up production by 2015.
Swedish Farm Minister Erlandsson said that the key to better prices lies not with the ministers but with the middlemen between the farm and supermarkets, who have skimmed off the profits from lower milk prices.
"While the prices have decreased by 40 percent for the farmers ...for consumers, the prices have only decreased by 1 or 2 percent," he told reporters in Brussels.
Three weeks ago, the EU Commission promised to combat plunging dairy prices but insisted it would not abandon long-term farm reforms.
For weeks now, many European farmers have dumped milk back onto their fields to underscore the rock-bottom prices they are getting for their milk.