A stunning breach of EU security by Greenpeace
Greenpeace activists surprised security at the EU summit in Brussels Thursday evening, emerging from a grey Mercedes minivan at the official entrance just as EU leaders were arriving. They managed to get on to the red carpet in the courtyard outside the summit building to deliver their message.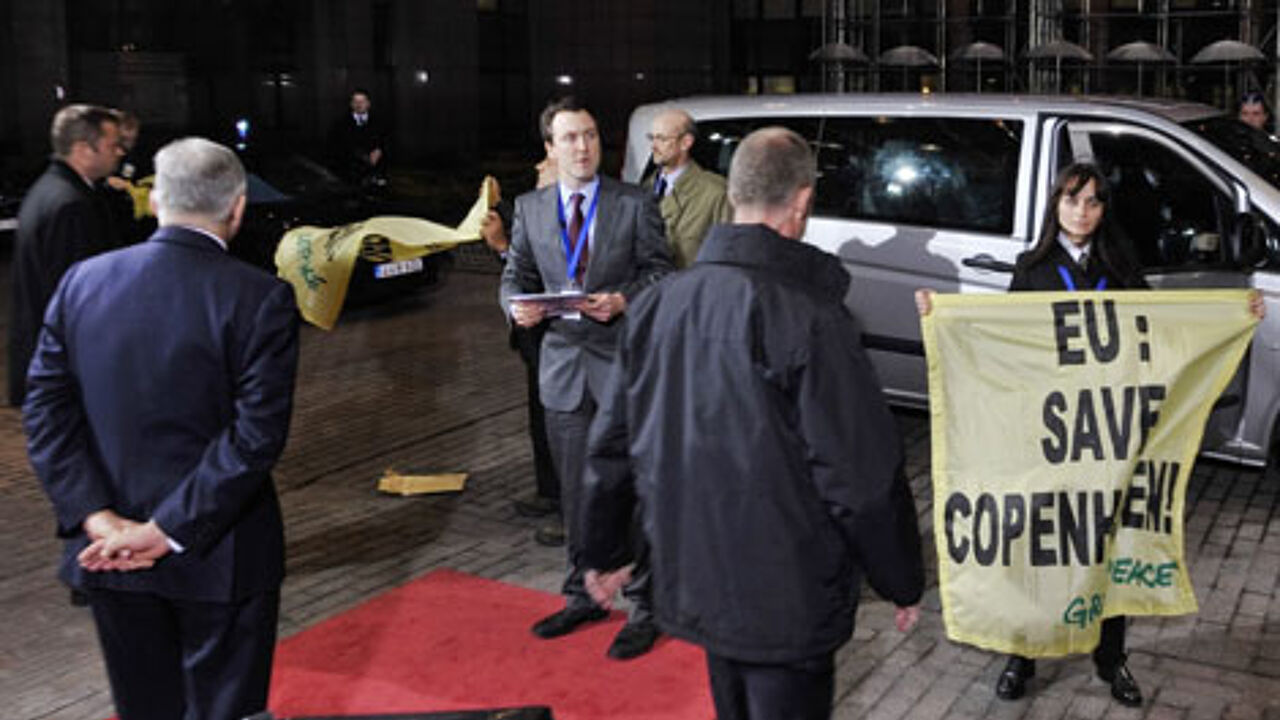 Protesters dodge EU security to demand climate action
"EU leaders must show leadership!" shouted one, while two others jumped out with yellow flags reading "EU Save Copenhagen." An activist dressed in a suit and tie started reading out a statement before the stunned security officials quickly stepped in to whisk them away.
"Greenpeace calls on European heads of state to help secure the strongest possible agreement on climate change in Copenhagen" said the man in suit and tie. "We must act now."
The Greenpeace action raises serious questions about EU security
Greenpeace wanted to focus on the climate and urge leaders to take a strong stance but the message was eclipsed by the breach of EU security.
The broader question of security at high-level meetings has been called into question. Everyone assumes that security is extremely tight at these kind of gatherings, but the Greenpeace activists clearly defied this assumption.  They managed to get through security by installing blue flashing police-like lights on the minivan. They had also forged documents, both for their vehicle as well as badges for the people in the van.
A spokesman for Belgian Prime Minister Yves Leterme said that a thorough investigation into the incident has been started.
Belgian police are responsible for security around the building where the summit takes place (the Justus Lipsius building). Security for the entrance to the building has been contracted out to a private firm. The police take the incident very seriously.
The Greenpeace activists were all taken down to the police station and booked for interference in public affairs and using forged documents. It is not yet clear what judicial steps will be taken against them but they could risk a 5-year prison sentence.