"This generation of politicians is devoid of vision"
The current political crisis is the number one issue in all of Friday morning's Flemish papers. Several leader writers have harsh words for our politicians. However, most understand the position taken by the Flemish liberals.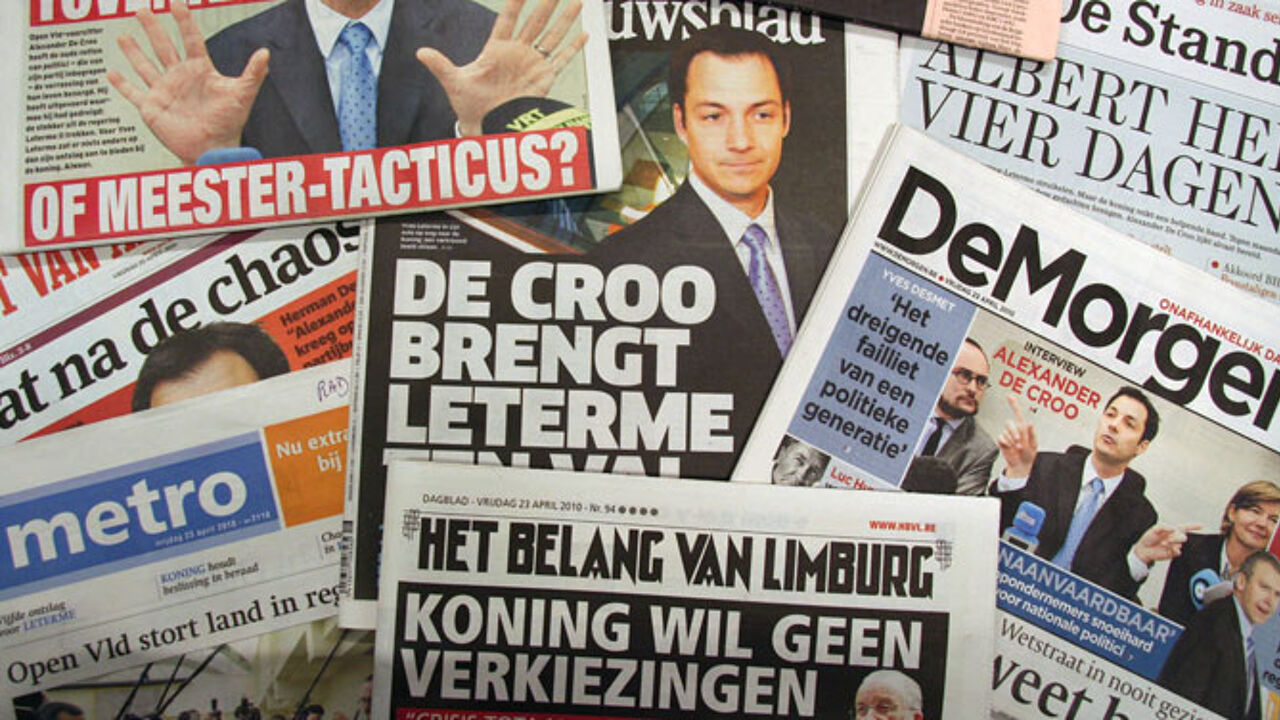 'De Morgen' writes that the current generation of politicians is devoid of vision.
They care more about short-term glory than finding a durable solution.
A promise is no longer a promise and an agreement is no longer an agreement.
In his leader article, the paper's editor Yves Desmet says that for politicians to shamelessly declare that they haven't had time to reach a decision after three year is a mark of their cynicism.
Het Nieuwsblad writes that at first glance, Thursday's events seem exceptional.
However, unfortunately it was a day like all too many other in Belgian politics.
Our politicians would rather blame each other for failings than serve the common good.
Who still believes in the parties that have failed to govern the country over the past three years?
Gazet Van Antwerpen writes that it would be wrong to place the blame entirely on the liberal leader Alexander De Croo.
Belgian politics has plenty of other more dangerous sharp-shooters. Do you think that the Flemish Christian democrat Chairwoman Marianne Thyssen has acted in the public interest?
Do you understand how self-proclaimed "responsible politicians" such as Elio Di Rupo (Francophone socialist) and Joëlle Milquet (Francophone Christian democrat) allow themselves to be wound up by a political guerrilla like Olivier Maingain (Francophile party)?
They all had just one thing in mind: "How can we come through this with the least damage?"
De Standaard takes a different view.
Now the Flemish liberals have turned their backs on the negotiations, the Flemish Christian democrats are the only party left that is prepared to carry on governing with the Francophones
The paper's editor Peter Vandermeersch adds that those in the south of the country that are so attached to Belgium should realise that with crisis after crisis, they have less and Flemings that are prepared to work with them.
Het Belang van Limburg writes that there are three possibilities.
1) That the Flemish socialists and greens joins the federal coalition.
However, this  is unlikely.
2) A Federal Government with the Christian democrats as the only Flemish party.
But this would be a betrayal of Flanders.
3) The Flemish liberals re-join the federal coalition.
However, this would imply that a solution would be found for Brussels-Halle-Vilvoorde and this seems unlikely. .
The Financial daily De Tijd notes that the fall of the Leterme government has had little impact on the financial markets.
However, this could change if the there was a real possibility of Belgium splitting.