Club Brugge in the winning mood
Five of this weekend's Belgian First Division Matches were played on Saturday evening. Club Brugge enjoyed a comfortable 4-1 home win against Sint-Truiden, while Sporting Anderlecht could only manage a goalless draw away at Sporting Charleroi. Westerlo won 1-0 away at KAS Eupen, while KV Mechelen won 2-1 away at Zulte Waregem. The match between Sporting Lokeren and KV Kortrijk ended in a one-all draw.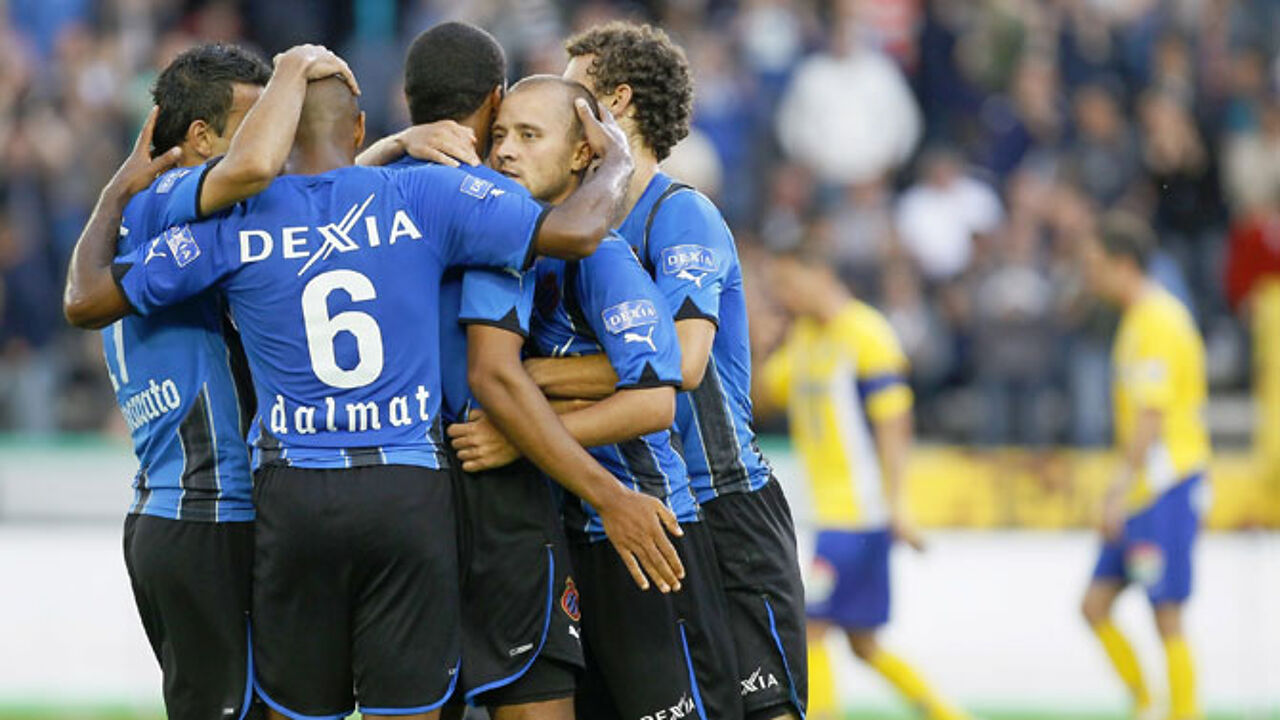 It had been a difficult week for Club Brugge, after losing at KV Kortrijk in last weekend's opening game of the season.
Even the most loyal Club fans had started to doubt if their team has what it takes to make serious challenge for the league title.
Saturday evening's 4-1 win at home win against Sint-Truiden will no doubt have served to allay many of these fears as well as providing a confidence boost to the Club Brugge players.
All five goals fell in the first half, the first on ten minutes when Perisic's free kick (photo) blasted into the Sint-Truiden goal.
The free-kick was somewhat controversial.
It was awarded for a back-pass by Euvards to the Sint-Truiden keeper Volders.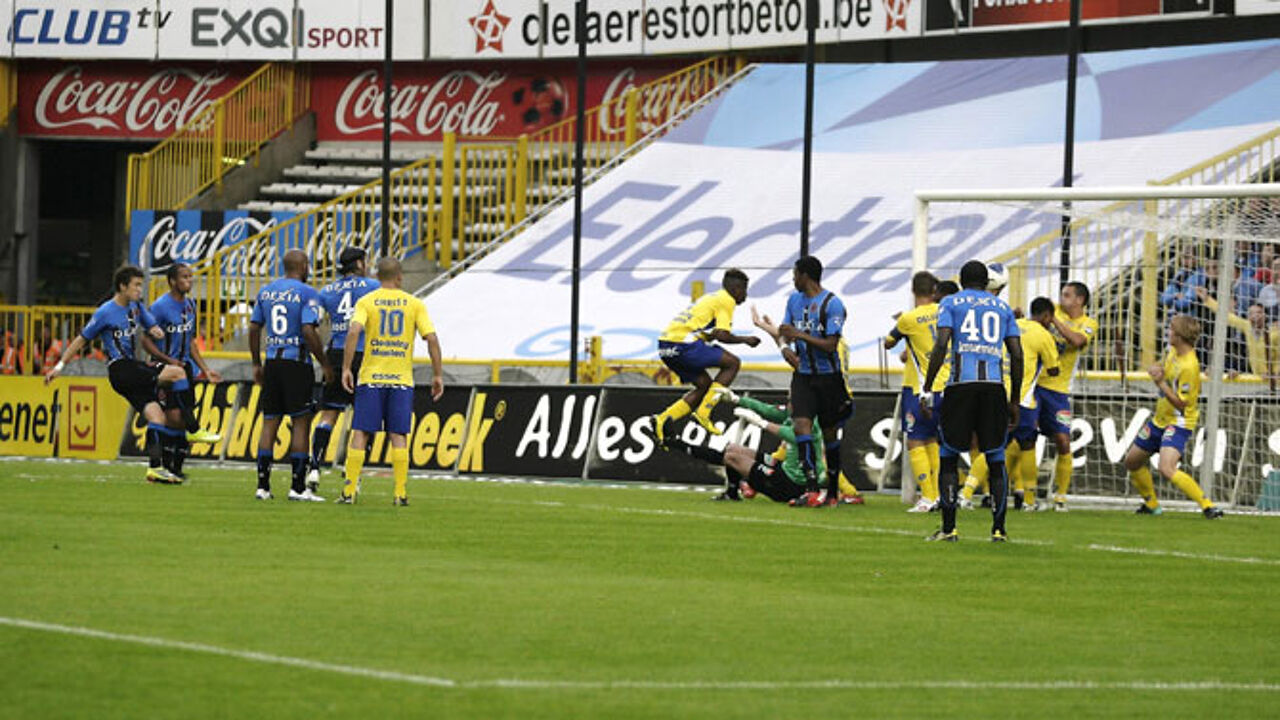 However, it was not clear as to whether Euvards had wanted to pass the ball to the keeper or simply kick it out of play.
Perisic made it 2-0 to Club five minutes later with his second goal of the evening.
A goal from a long- range shot by Odjidja made it 3-0 to Club Brugge.
The match seemed to be wrapped up less than half way through the first half.
However, Sint-Truiden are no quitters and Mennes (photo) pulled one back for the Canaries on 27 minutes.
Sint-Truiden appeared to have gained in confidence though the goal.
However, it was Club Brugge that scored through Blondel on 34 minutes.
An enjoyable first half ended 4-1 to Club Brugge.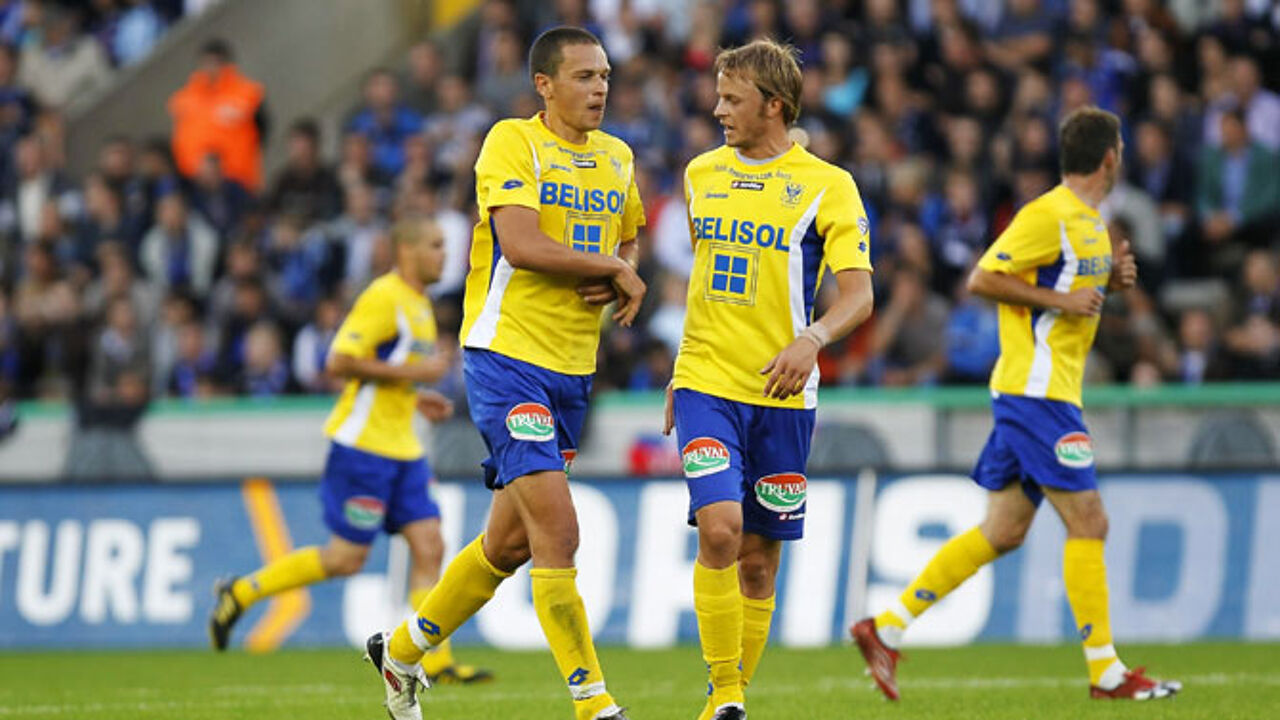 Club controlled the second half and should have gone
5-1 up, had Marcos not shot over the Sint-Truiden goal from close range.
Substitute Akpala too had a great chance to widen the score still further.
Sint-Truiden went down to ten men on 74 minutes after Mennes was given his marching.
The match ended 4-1 to Club Brugge. Both Club Brugge and Sint-Truiden have three points from two games.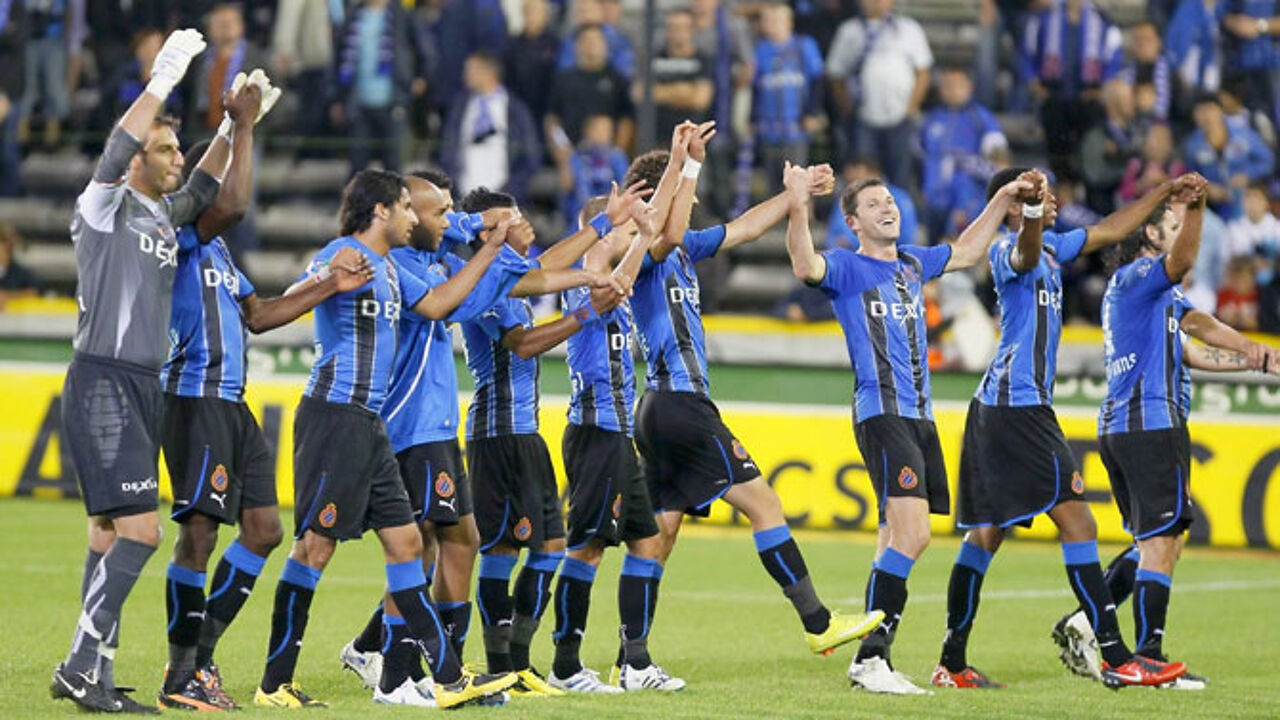 Anderlecht drops points in Charleroi
Despite being an at times exciting match with plenty of chance at goal, the game between Sporting Anderlecht and Sporting Charleroi ended in a 0-0 draw.
As in last weekend's home match against KAS Eupen, Anderlecht got off to a sluggish start.
There were plenty of good intentions, but Anderlecht lacked strike power up front with both Lukaku and De Sutter starting the game on the bench.
Anderlecht was most dangerous from set pieces.
Charleroi had the two best chances of the first half.
Ederson's shot stranded against the legs of an Anderlecht defender, while Théréau was unable to take revenge against his former club.
Charleroi brought in Losada and Anderlecht brought in Lukaku during the second half.
However, this did nothing to change the 0-0 score line.
Anderlecht has four points from two games. Charleroi has two points.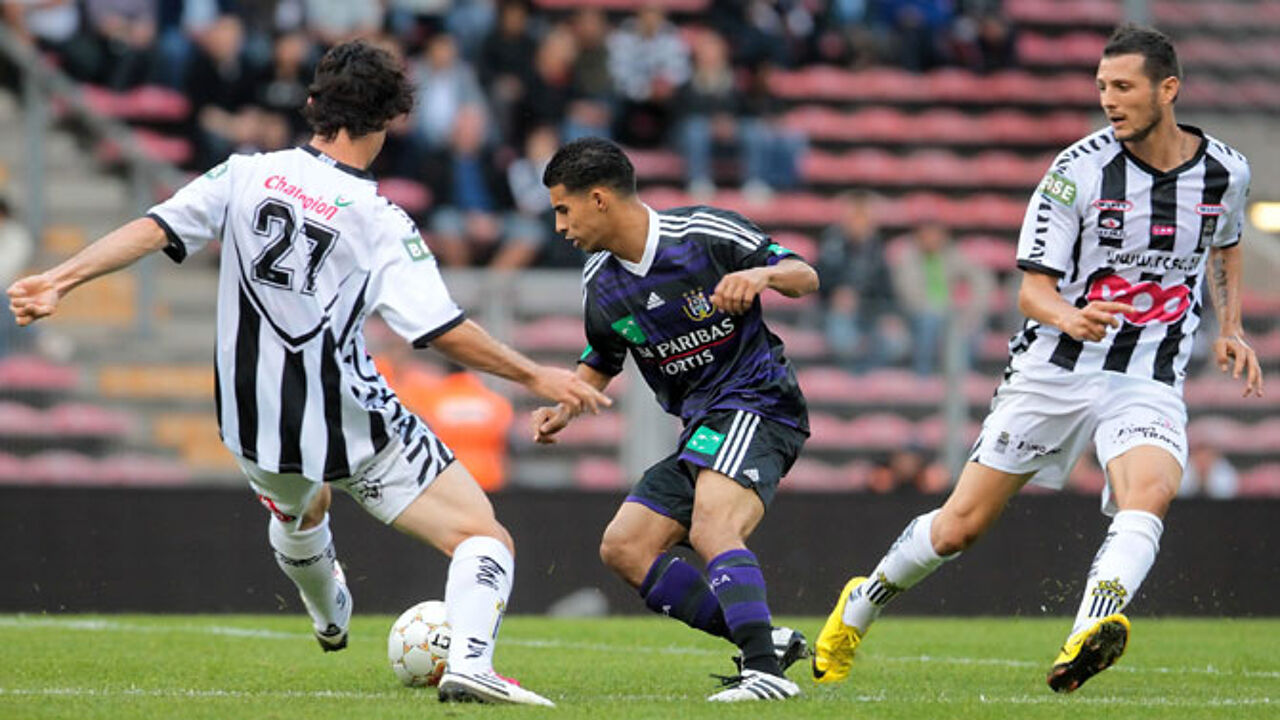 Away wins for KV Mechelen and Westerlo
KV Mechelen enjoyed a 2-1 win away at Zulte Waregem.
Malinwa's goals came from Nong (photo) on 6 minutes and Pandza three minutes from time. 
Zulte Waregem had been level for over an hour after Hyland's goal on the half hour. 
Hyland was given his marching orders just seconds before the final whistle after his second bookable  offence of the evening. 
After two games, KV Mechelen is the only team still on maximum points.
Zulte Waregem has one point.
A 70th minute goal by Lilu provided Westerlo with a 1-0 away win at Eupen in what was the first ever First Division game to be played in Belgium's German-speaking region.
Westerlo has three points from two games, while the newly-promoted Pandas are still to take their first points in the top flight.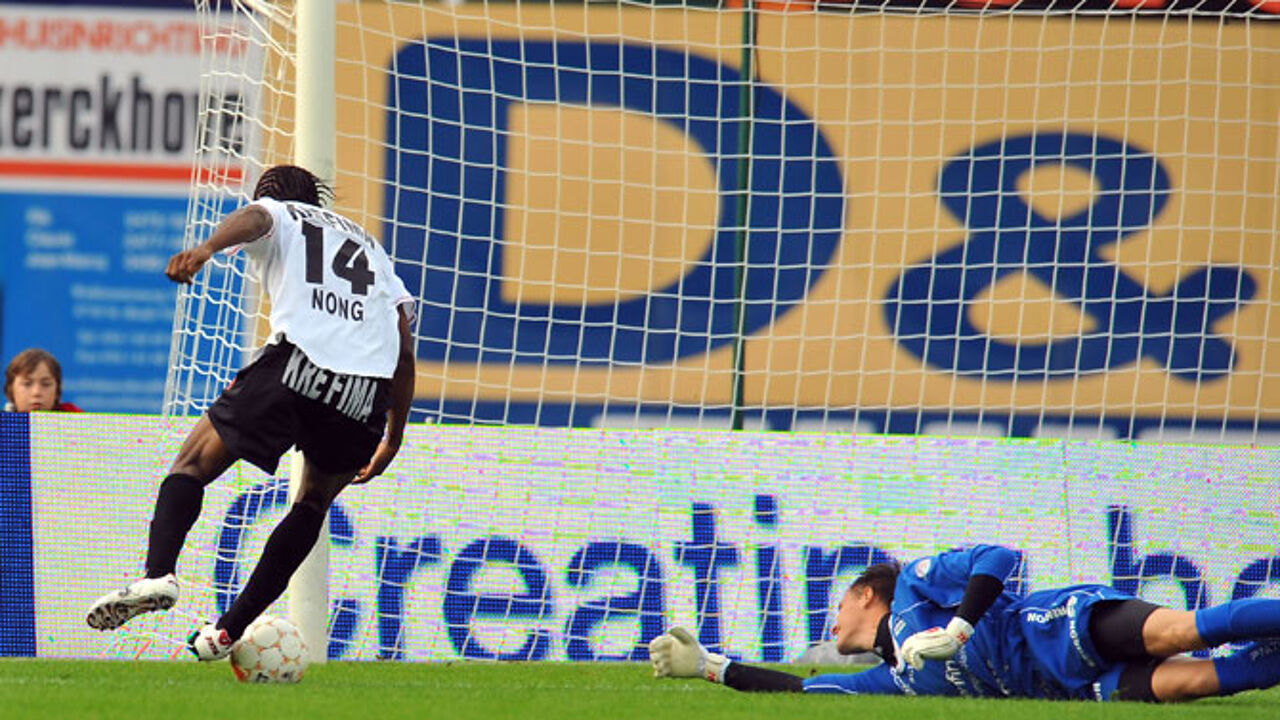 All square at Lokeren
Sporting Lokeren's home match against KV Kortrijk ended in a one-all Draw.
KV Kortrijk took the lead six minutes into the second half through Rossini with Lokeren's Mokulu levelling the score on 68 minutes. Kortrijk has four points from two games, while Sporting Lokeren has one point.