AA Gent, Club Brugge advance
In football, both AA Gent and Club Brugge advanced to the group phase of the Europa League yesterday. KRC Genk were ousted by FC Porto. Belgium has three teams in the Europa League this season, with Anderlecht coming from the Champions League preliminaries.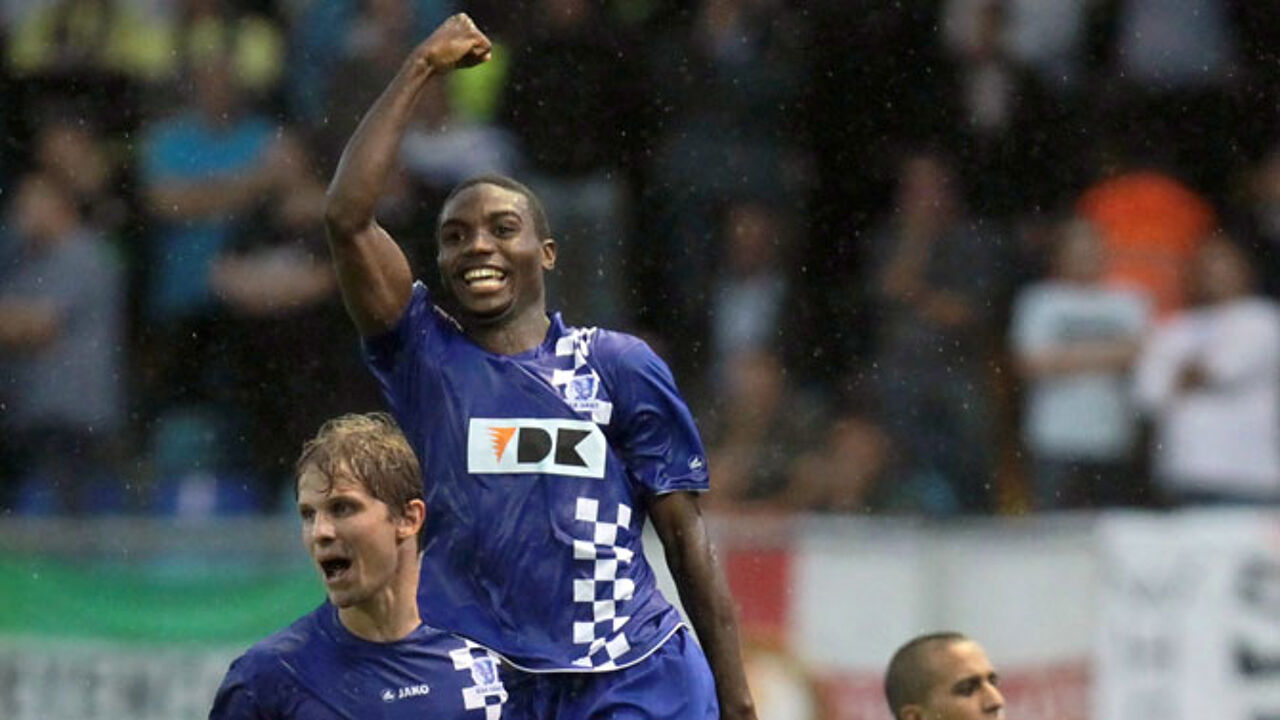 AA Gent stunned the Dutch giants Feyenoord. After having lost the first leg 1-0 in Rotterdam, AA Gent won the second leg 2-0.
AA Gent escaped in the opening minutes of the match, when goalkeeper Bojan Jorgacevic deflected a shot against the post. Slowly but surely, AA Gent gained ground, pushed forward by Costa Rican playmaker Randall Azofeifa.
On a rainy evening, goals by newcomer Yaya Soumahoro in the first and Elimane Coulibaly (photo) in the second half handed the Ghent team the two needed to qualify.
AA Gent lost three key players (midfielder Bernd Thijs and winger Roy Myrie sustained injuries and Azofeifa, just back after being sidelined, suffered from cramps) and Feyenoord smelled their chance. One goal would be enough for Feyenoord to qualify.
In an intense end to the match, Feyenoord pushed forward and had one big opportunity but missed. It was the start of a long evening and a party for the Ghent fans.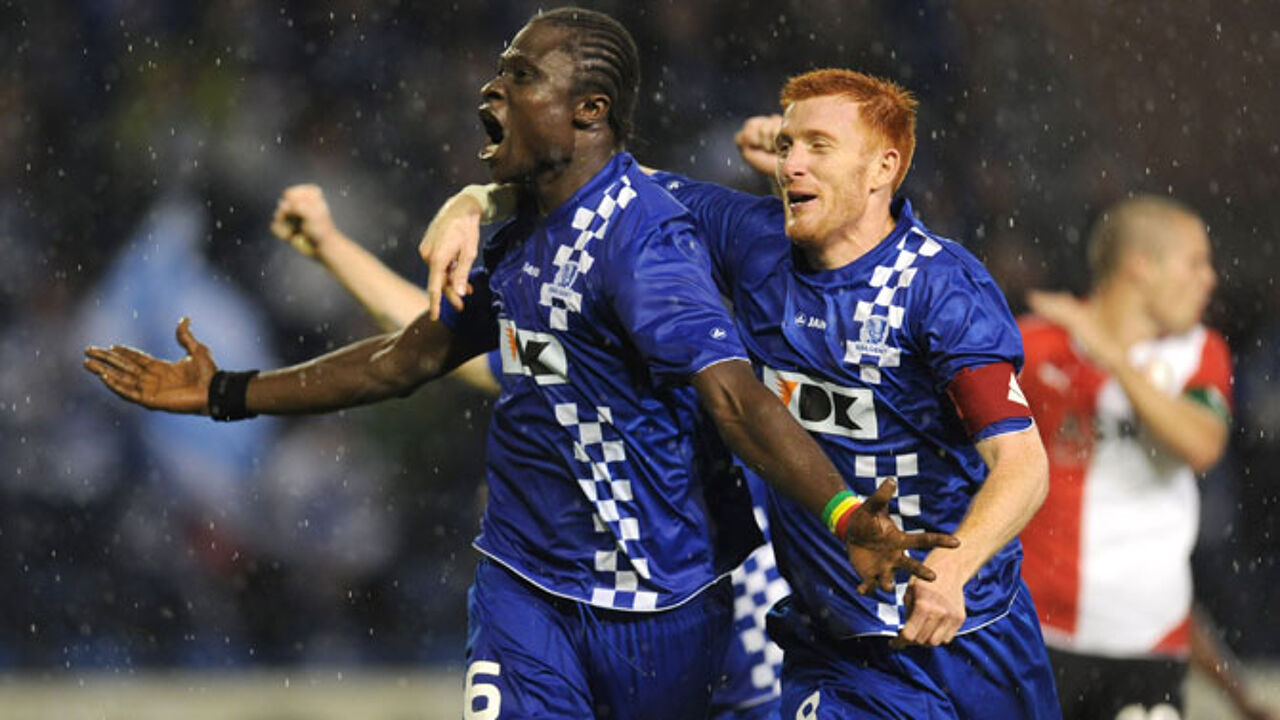 Club Brugge never in trouble
Club Brugge were never in trouble against Dinamo Minsk of Belarus. The Bruges team had won the first leg 2-1, and was 3-0 up in Minsk after only 32 minutes.
Bruges defender Carl Hoefkens converted two penalties (photo) and newcomer Wilfried Dalmat added a third goal.
Dinamo Minsk pulled two goals back, but were never in contention for a place in the group phase.
The qualification is a mental boost for Dutch coach Adrie Koster and the whole team. Brugge completely missed their start of the season in the domestic competition, and can now look forward to six matches in the Europa League group phase.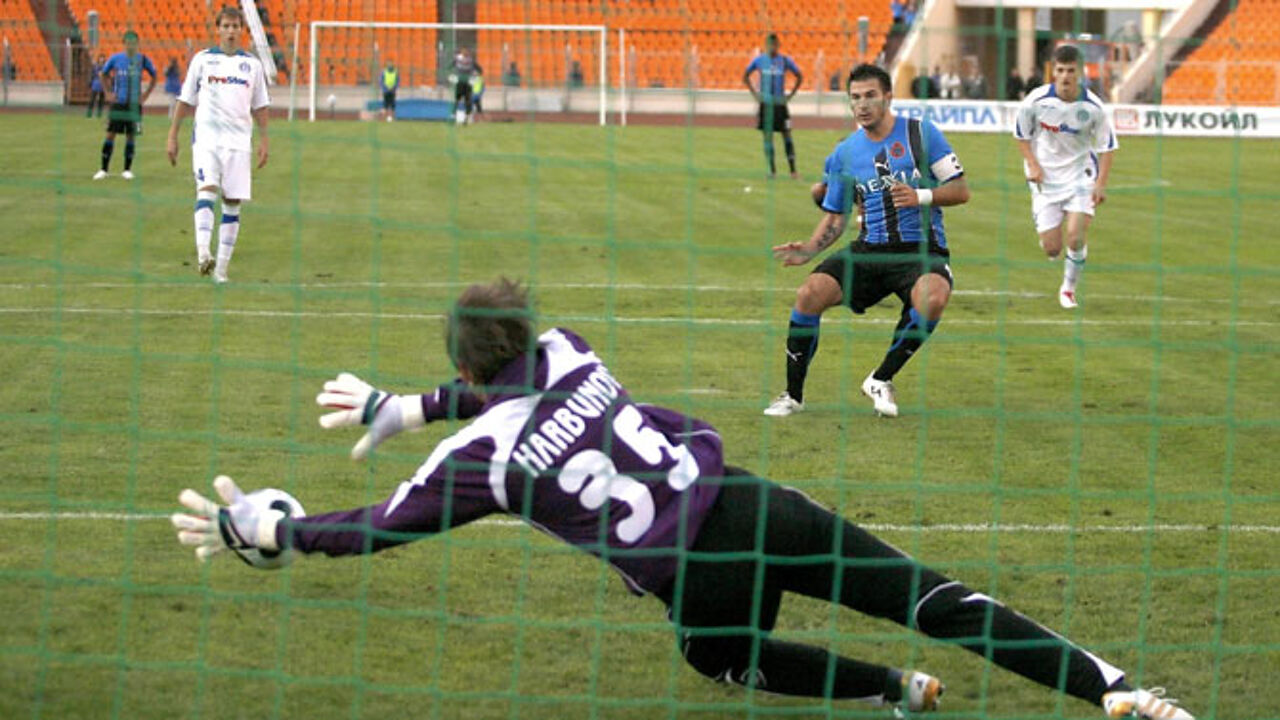 No miracles for KRC Genk
KRC Genk faced an almost impossible task in Porto, after losing the first leg in Limburg 3-0. Genk coach Frank Vercauteren fielded a so-called B-team but Genk played well, scoring two goals in Portugal through young Belgian striker Jelle Vossen. However, after having levelled the match at 2-all, Genk had to swallow to more goals: 4-2 for FC Porto and Genk ousted.
Belgium will have three teams in the draw this afternoon. Anderlecht were given a place in the Europa League after failing to qualify for the Champions League.