Tunisians protest in Brussels and Ghent
Over five hundred Tunisian nationals demonstrated in the streets of Brussels and Ghent (East Flanders) on Saturday. The protest was aimed against the Tunisian government.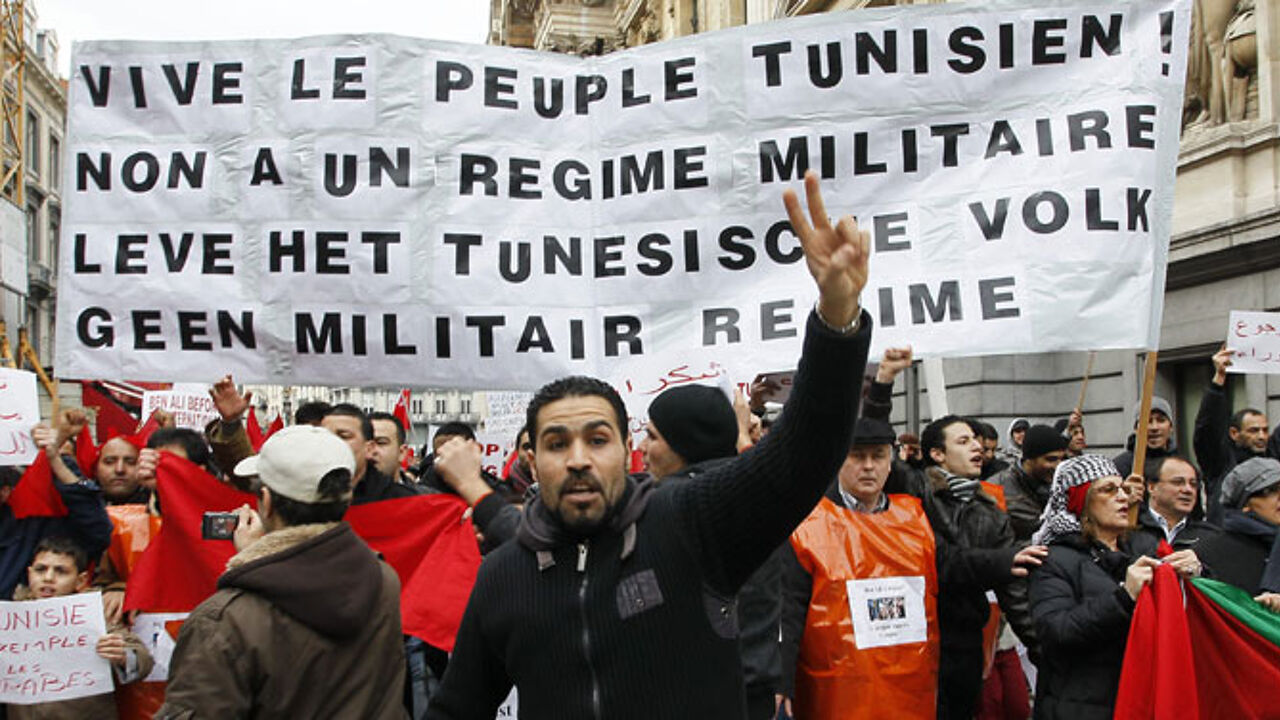 On Friday President Ben Ali fled the country after Tunisian police had fired on protesters demonstrating against the regime. Acting President Foued Mebazaa has asked Prime Minister Mohammed Ghannouchi to form a national unity government.

Protesters in Belgium insisted that the entire government was corrupt and was lining its own pockets. They also called for civil liberties to be guaranteed in this Arab country.
An anonymous protester in Ghent told VRT News that when Tunisian expats returned to their country they had to keep their mouth shut and were not allowed to do anything. They had to bribe customs officers and when they started a business everything was taken from them.
Holiday makers repatriated
The two main tour operators active in Belgium Thomas Cook and Jetair are repatriating all their holiday makers from Tunisian resorts this weekend. On Friday the Tunisian authorities closed their airspace preventing holiday flights, but the country's airspace has meanwhile reopened.
Thomas Cook dispatched two planes to repatriate its 350 remaining holiday makers in the country. All Thomas Cook customers have meanwhile left Tunisia. Jetair still had over a thousand holiday makers in the country. Most are being repatriated on Saturday. The last holidaymakers will be back in Belgium by Sunday evening.
Baptiste Van Outryve of Thomas Cook told VRT News that the unrest had spread to the areas where tourists were staying: "The situation near the hotels was getting more and more difficult. In Djerba a hotel worker was shot. There have been clashes in tourist areas. The risk was getting too great."
It's understood that many Flemish expats also want to leave the country, but are often prevented from doing so because so many flights have been cancelled.
 
Belgian Foreign Minister Steven Vanackere (Flemish Christian democrat) has said that the determination with which the Tunisian people are striving for democracy deserves our full support."
The Belgian Foreign Minister also welcomed the decision of the Constitutional Council to appoint Foued Mebazaa as Interim president paving the way for fresh elections.
The Belgian Foreign Ministry is monitoring the situation in the North African country and is concerned about the looting that took place on Friday night. Travel to Tunisia is discouraged, while Belgians in the country are urged to keep abreast of developments through the media and to follow the wishes of the authoriries in all circumstances.