"Keep Di Rupo and De Wever in an empty castle until they have found a solution"
The Wetstraat, the political heart of Belgium, has been plunged into a profound crisis as it turns out that the Flemish nationalists do not want to continue the coalition talks on the basis of the proposals made by the formateur. What do the newspapers say? Following is a selection with a number of quotes taken from the various press reports.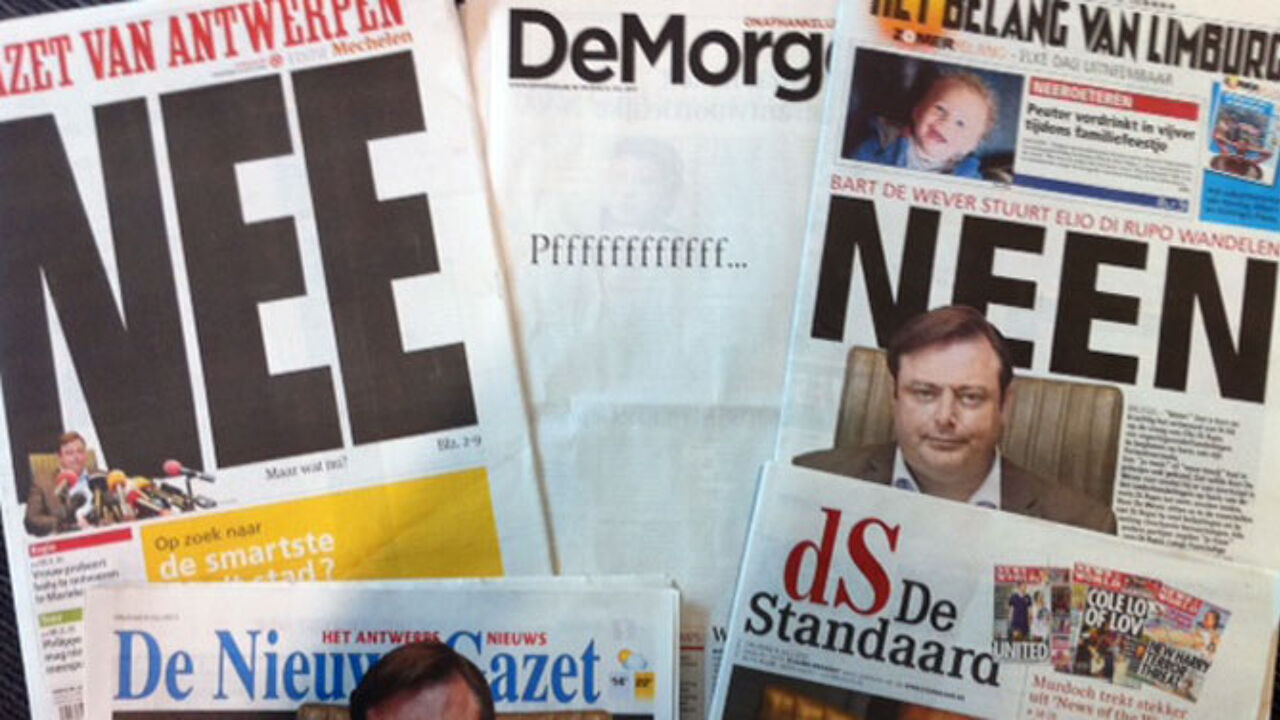 Yves Desmet of De Morgen reports that the N-VA's refusal in itself was not a surprise, but the way in which Bart De Wever slated the proposals was not expected. "Instead of coming a few steps closer, he slammed the door in Di Rupo's face."
De Tijd's Bart Haeck targets the Flemish Christian democrats of CD&V. "Their position was actually to do what the N-VA would do. A poor attitude."
Het Belang van Limburg finds that Bart De Wever has only been honest. "It's better to say "no" now than to continue talks which would lead to nothing", writes Eric Donckier. "Maybe the king should promote Mr Di Rupo and Mr De Wever and make both of them formateur."
"Only if some make a U-turn"
De Standaard also sees something positive in the N-VA's refusal. "At least a new round of endless talks has been avoided. However, if Di Rupo or the CD&V won't make a U-turn, the formation talks are over", Bart Sturtewagen estimates.
Luc Van der Kelen of Het Laatste Nieuws is getting desperate. "Maybe the king has an empty castle somewhere? It might be an idea to lock Elio Di Rupo, Bart De Wever and the others up for the whole summer, without telephone, while the Belgian citizens are taking up their holidays at the coast. Maybe this will trigger any movement. Because whichever way you look at it, De Wever and Di Rupo will have to fight it out between themselves."
"Real negotiations please"
Het Nieuwsblad denounces the fact that since last year's elections, real negotiations have hardly taken place. "You don't reach an accord by preparing texts and proposals unilaterally, but by sitting around the table together, discussing", Liesbeth Van Impe points out. "It's outrageous: we have got used to parties saying that they want to work out a deal on the one hand, but who refuse to sit around the table to discuss this at the other hand."
Gazet Van Antwerpen thinks that the N-VA is playing a dangerous game. "The question is whether Bart De Wever has made the right move. A major state reform has been put in the fridge for years, and the N-VA risks getting isolated", Paul Geudens finds. "Maybe Belgium needs new political model."
Francophone press thrashes the N-VA and the CD&V
The Francophone dailies Le Soir and La Libre Belgique don't bring a French headline, but one in Dutch, which is quite exceptional. It's a very short one, though, just four letters long: "NEEN."
The N-VA's refusal to continue is countered with sharp criticism. According to La Dernière Heure, the N-VA is not a democratic party which is prepared to negotiate a solution, but a totalitarian party.
Le Soir is also voicing its anger and disappointment: "Bart De Wever should stop making us believe that he wants to reform the country." It calls the tactical moves "a game of idiots who are spreading lies."