FC Bruges, Anderlecht, KRC Genk or ... ?
The Belgian football competition kicks off on Friday. KRC Genk defend their title, but don't seem as strong as last season. FC Bruges have bought a whole list of new players, but it remains to be seen how well they have been integrated.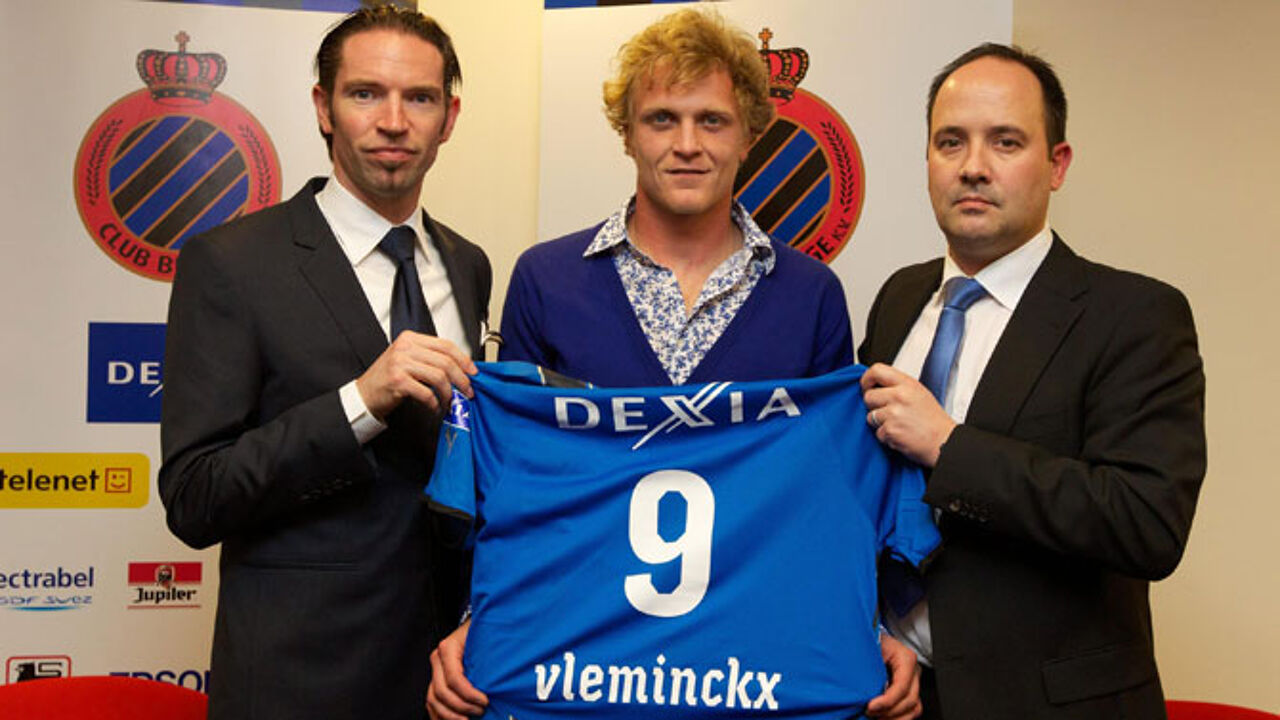 Roughly speaking, five teams are considered as title contenders: FC Bruges, Anderlecht, KRC Genk, Standard de Liège and AA Gent.
FC Bruges lost midfielder Ronald Vargas to Anderlecht, but for the rest the Bruges team managed to seduce a number of top players. The list of ten newcomers is headed by Belgian striker Björn Vleminckx, who is widely expected to become the league's top scorer (photo)
Lior Rafaelov of Israel is another newcomer. He has excellent technical skills, just like the Spanish playmaker Victor Vazquez who left FC Barcelona to give his career a new boost in Bruges. If the newcomers are easily integrated, FC Bruges seem the big favourites for the title. "We have one big advantage: we are really hungry", general manager Vincent Mannaert told reporters.
Anderlecht: with or without Romelu Lukaku?
Anderlecht are determined to do better than last season, when they stranded on a disappointing third place. They managed to attract Ronald Vargas of FC Bruges in a much-discussed transfer.
Young striker Romelu Lukaku is the big question mark. Will he stay at the club, or move to Chelsea after all? In the second case, Anderlecht could be in trouble.
Even before the start of the new season, the Anderlecht staff and management have been under fire by unhappy fans. General manager Herman Van Holsbeeck was booed during a speech for the fans last week, and coach Ariël Jacobs is criticized for his tactics.
KRC Genk: many question marks
KRC Genk are the outgoing champions but they are not expected to repeat this feat as they also lost some key players. Coach Frank Vercauteren has asked for new players, but the management does not seem inclined to make any major moves.
Young goalkeeper Thibaut Courtois signed for Chelsea, and immediately moved to Atlético Madrid on loan. Defender Joao Carlos had already left the club last season. Young midfielder Kevin De Bruyne is believed to be in talks with a number of clubs, including Chelsea.
In order to avoid that possible transfers would disturb the start to the season, Frank Vercauteren forbade players to talk about transfer in the press until mid-August.
Standard: a completely new team
Standard de Liège are no longer the same team as the one which battled it out for the title until the bitter end with KRC Genk in last season's play-offs.
The Liège club, only one of two Walloon clubs in the top flight - the other being newly-promoted Mons - lost Axel Witsel. Two other midfielders, Steven Defour and Mehdi Carcela, are also poised to leave the club.
Standard was involved in a takeover last month. The Belgian businessman Roland Duchâtelet bought a majority of the shares and the management and coach are new. Coach José Riga has no real experience at the highest level, it remains to be seen what Standard will be capable off.
AA Gent as the dark horse?
Maybe AA Gent can create the big surprise. Newly-arrived coach Trond Sollied knows the club inside out after two previous spells in Ghent and the team is as strong as last season. AA Gent don't have to spend any energy on European football, finishing only 5th last season.
Play-off system kept
Just like last season, the regular competition ends with play-offs, where the teams still have everything to win or lose despite their performance in the normal competition.
The top flight has 16 teams. After 30 rounds of play, the top 6 will battle it out in play-off I for the title and the other top spots. The teams ranked between the places 7 and 14, will move to play-off II. The winner of this play-off round will meet the number 4 of play-off I to fight for the final European ticket.
The system of the season-ending play-offs was kept despite a lot of opposition. Supporters say the system generates more money, as it means more matches and more clashes between the top teams. Critics claim that it is not fair that a team ending first after 30 rounds of play, can still lose everything in a final round of 10 games.