Rain blamed for poor Gordel turnout
Tens of thousands of people are taking part in the Gordel, a mass sports event initially launched to underline the Flemish character of the area around Brussels. Participants can choose from no fewer than 15 walks or cycling routes.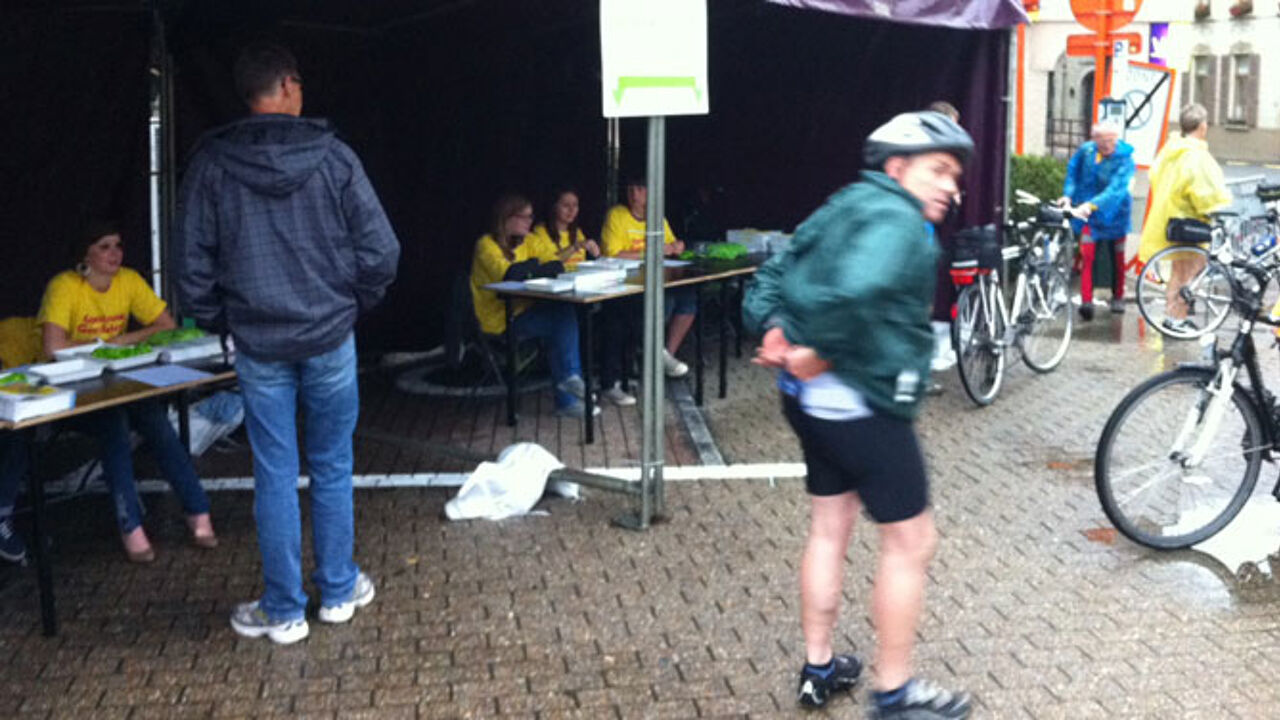 This year's event seems a little dogged by the bad weather and initial indications show that fewer people have turned out. Fewer politicians too have been sighted, but it's not entirely certain that the weather is to blame for that.
This year's Gordel or 'Belt' in English is the 31st time people will cycle or walk routes encircling Brussels in order to stress the Flemish character of the region. There are four starting points, in Zaventem, Overijse, Sint-Genesius-Rode and Dilbeek, all in Flemish Brabant province.
In a cat and mouse game with organisers several killjoys have attempted to sabotage the event. Tacks were strewn on the route giving several participants a punctured tire. Elsewhere signposts were turned round.
Heavy rain affected registrations this morning. The number of cyclists embarking on the 100km route, the longest, was well down on previous years.
The Gordel organiser, the Flemish Sports Agency Bloso, expects that at the end of the day between 20,000 and 30,000 people will have taken part.
In the event 43,000 people took part, but that is well down on the record 80,000 last year.
Politicians linked to Belgium's largest party, the Flemish nationalist N-VA, are expected to take part en masse as are people from the far right Vlaams Belang. For other parties it's especially local politicians who are taking part.
Commentators suggest that the government formation talks at which the Flemish nationalists are not represented talks have reached such a delicate stage that it would be unwise to deliver any provocation.
Flemish Premier Kris Peeters (Flemish Christian democrat) is abroad in France and won't be able to make it this year.
Flemish Sports Minister Philippe Muyters (Flemish nationalist): "I'm here for two reasons: to emphasize the Flemish character of the area and as Sport Minister I believe in exercise."
Flemish nationalist lawmaker Ben Weyts told VRT News: "We're not put off by a spot of bad weather. For the 'Vlaamse Rand', the Flemish area around Brussels, and in order to split the Brussels Halle Vilvoorde Constituency, we're prepared to brave the elements."
The Bretel, an event organised at the same time to stress the ties between Brussels and its hinterland, attracted 50 participants. They were addressed by the Francophone liberal firebrand Olivier Maingain.