No skating on the Damme Canal north of Bruges
Despite an ice-cold Friday night, no skating will be possible on the Damme Canal this weekend. The canal is traditionally one of the most popular places for skaters. At other places, it is possible to go skating, but local authorities are asking those who are venturing out on the ice, to be careful. Skating is at your peril. The weather is to change from Sunday, with positive day temperatures putting an end to the cold wave.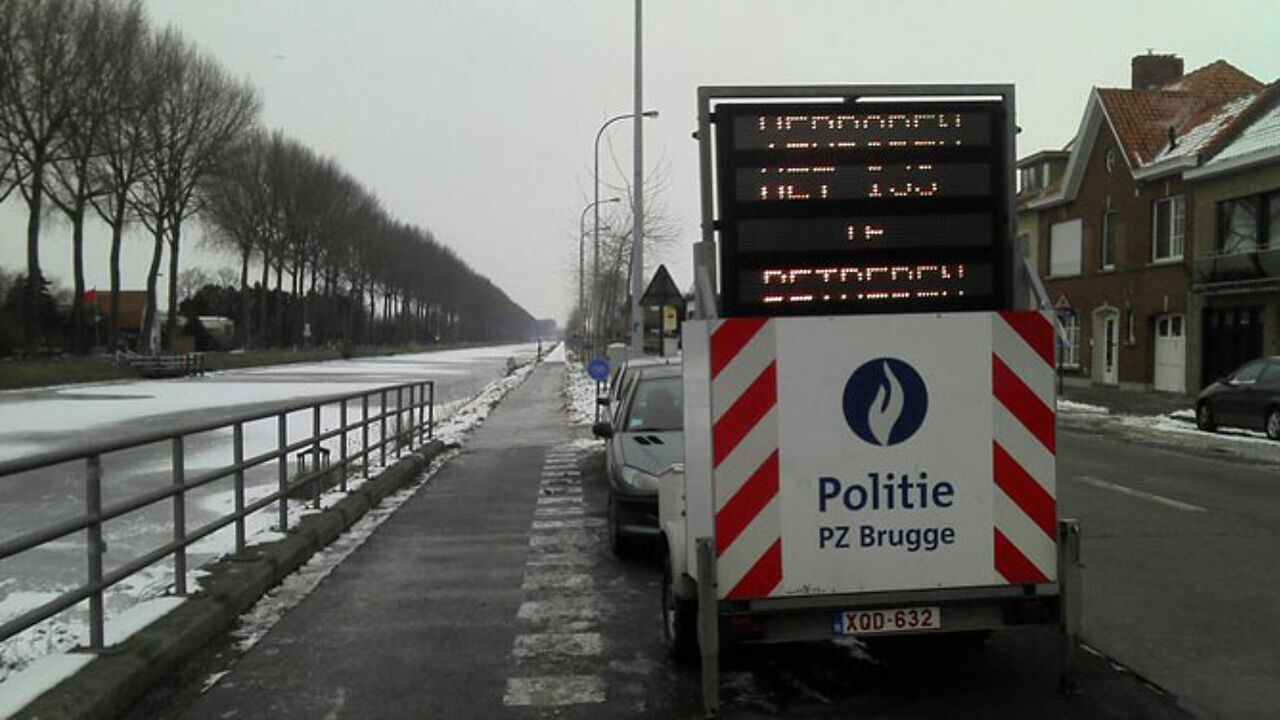 This weekend, there will be no skating at the Damme Canal north of Bruges.
The ice of the Damme Canal should have a thickness of at least 12 centimetres to carry thousands of people. However, tests showed that the thickness was only 6.5 centimetres at some places (despite a thickness of 14 centimetres being measured at other spots of the canal).
There will be no ice skating on the Damme Canal this weekend, and with positive temperatures and the end of the cold wave being announced for Monday, it seems unlikely that skating will be possible next week. Police will patrol to check whether the ban is being respected (photo).
In Ghent, no skating will be allowed on the Watersportbaan or the Blaarmeersen.
Outdoor skating possible at other places
However, there is also good news. Outdoor skating will be possible at a number of other places like the Kraenepoel in Aalter (East Flanders, near the E40 Motorway), part of the Donk Lake in Berlare (East Flanders) and the Gavers in Geraardsbergen (East Flanders).
For a detailed list, check the news page of our colleagues of the Dutch-speaking site (see below). Bear in mind that this is not a complete list, and that more news can be found on the website of the local municipalities. Skating is at your peril, so remain vigilant and watch out for weaker spots in the ice.
Places where outdoor skating is allowed:
Antwerp province
* Hoogstraten: De Mosten
* Kalmthout: Kalmthoutse Heide
* Mechelen: Vrijbroekpark
* Mol: swimming lake the Zilvermeer
* Retie: Prinsenpark
* Schoten: pond in the Cogelpark and de Zeurt
Limburg province
* Genk: Molenvijver
* Dilsen-Stokkem: meadows at "de Wissen"
* Lanklaar: Vanheeswijck
* Vijvers Midden Limburg
* Sint-Truiden: Speelhof
* Zonhoven: Dijkbeemden
East Flanders
* Aalter: Kraenepoel
* Deinze: Oude Leie in Astene (designated area)
* Berlare: Donkmeer (between the Museum and 't Brugsken)
* Deinze: Oude Leiearm
* Dendermonde: Oude Dender (Tragel) and the Forten at the Brusselse Poort
* Geraardsbergen: Gavers
* Herzele: ponds at the castle
Flemish Brabant
* Leuven: Park den Bruul
* Oud-Heverlee: Zilvermeer
* Tervuren: Parkvijver
West-Flanders
* Damme: Meibosvijver in Sijsele
* Zuienkerke: Blankenbergse Vaart
* Oostende: Keignaertvijver Zandvoorde
* Diksmuide: Vlavaart, part of the Grote Beverdijkvaart, Blankaartvijver, water areas behind "De Rille" in Woumen
* Kortemark: near the station
* Poperinge: Vleterbeek and city park