Cercle a step closer to Play-Off I
Cercle Brugge took a step closer to place with the big boys in Play-off I of the Belgian First Division with a 1-0 home win against Zulte Waregem. Cercle's victory came despite them missing a host of first team regulars.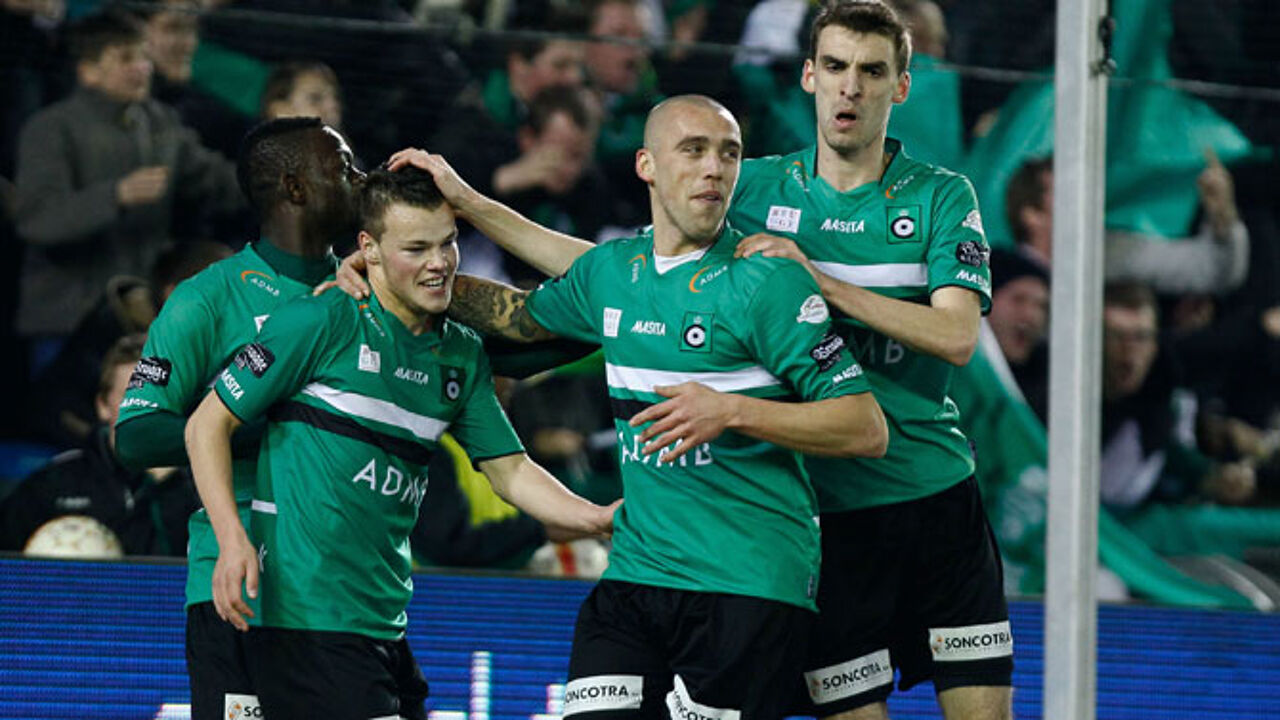 Cercle took the lead on 19 minutes through an Anthony Portier header after Naudts' shot had rebounded off the crossbar.
Zulte Waregem went on the lookout for an equaliser, but were unable to beat the Cercle keeper Coppens.
The second half saw neither team create much in the way of chances and the match ended 1-0 to Cercle Brugge.
Cercle is now 4th with 46 points from 27 games. Zulte Waregem is 13th with 27 points.
Cercle could slip down a place if Standard de Liège beats Sint-Truiden on Sunday afternoon.
Uninspired AA Gent sees off RAEC Mons
AA Gent has confirmed its position of 3rd in the table with at 2-0 home win against RAEC Mons.
Both AA Gent and RAEC Mons have suffered a dip in form over the past few weeks and both needed a win to boost spirits.
El Ghanassy, Smolders and Thijs were all missing from the home side's starting line-up.
The absence of Smolders and Thijs allowed Mons more room to create chances. However, it was AA Gent that took the lead on the hour when a Rémi Maréval shot was deflected into goal by the Mons midfielder Tim Matthys.
The Buffaloes' 2nd goal came in the 2nd minute of injury time from a long-range shot by Jesper Jorgensen.
The match ended 2-0 to AA Gent. AA Gent is 3rd in the league with 50 points from 27 games. RAEC Mons is 11th with 29 points.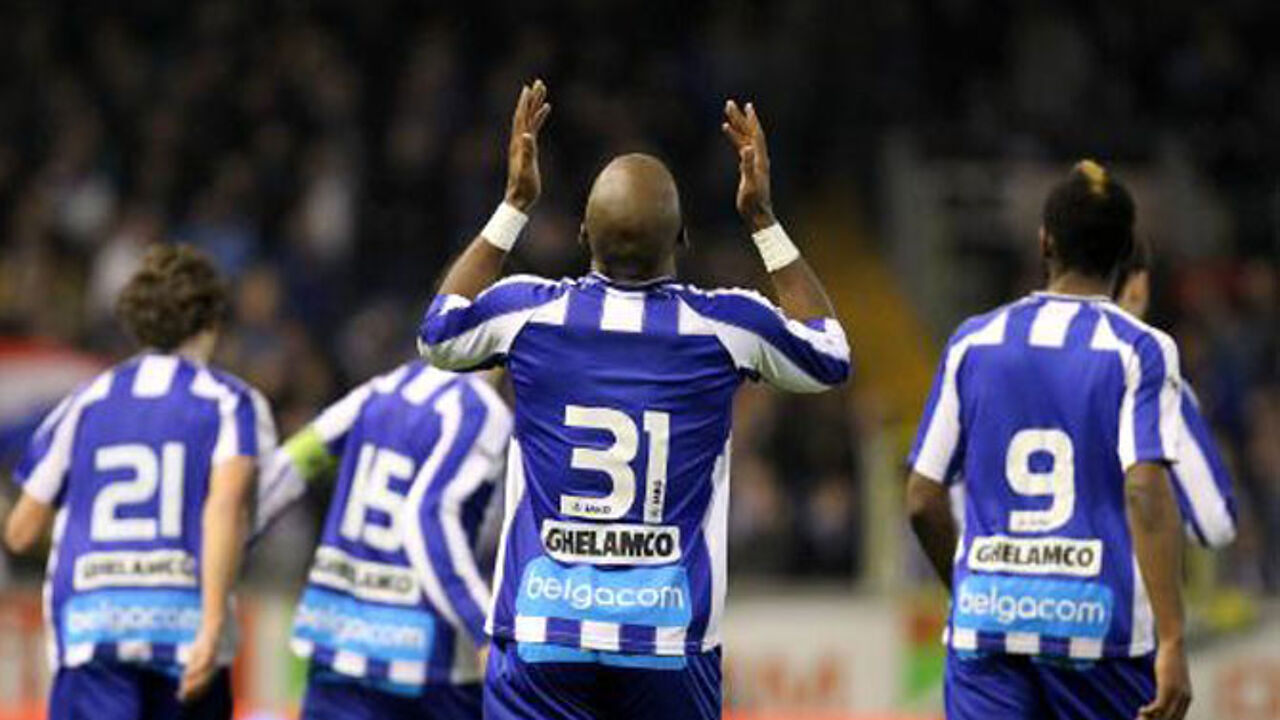 Lokeren wins cup dress-rehearsal
In what could be described as a dress-rehearsal for this May's Cup Final, Sporting Lokeren enjoyed a 5-2 victory away at KV Kortrijk.
Lokeren took the lead on 16 minutes through Patosi, only for Kortrijk to equalise 6 minutes later through Joseph-Monrose.
The visitors went 2-1 up on 26 minutes through Harbaoui (photo).
Lokeren went down to 10 men three minutes from half time when Giorgios Galitsios was given his 2nd yellow card of the match.
An own-goal by Kortrijk's També saw Lokeren go 3-1 up on 64 minutes. Veselinovic gave Kortrijk fresh hope when he made it 3-2 on 70 minutes.
However, 2 late goals from Harbaoui (83 minutes) and Gueye (91 minutes) were more than enough to give the visitors victory.
Sporting Lokeren is now 9th with 37 points from 27 games. Kortrijk is 7th with 40 points.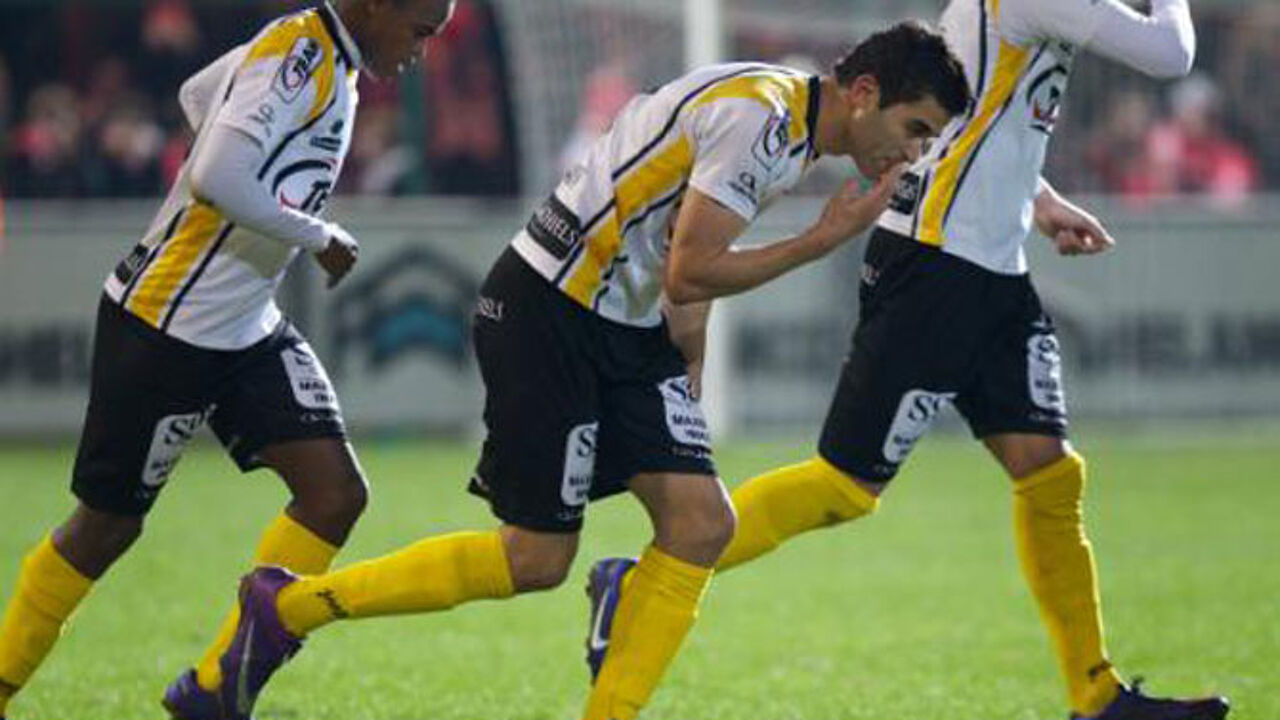 Beerschot AC beats OH Leuven
Goals from MacDonald (25 minutes) and Dayan (52 minutes were enough to give Beerschot AC a 2-1 victory at home against OH Leuven.
OH Leuven's goal came on 82 minutes through Dejmek. Beerschot AC is 10th with 35 points from 27 games; OH Leuven is 14th on 25 points.
Westerlo doomed
A 3-1 defeat at home against KV Mechelen means that Westerlo will now have to battle it out in the play-downs to decide if they or Sint-Truiden are directly relegated to Division 2.
KV Mechelen's goals came from Diabang (19 minutes), Corado (29 minutes) and a Julien Gorius penalty 3 minutes from time.
Westerlo's veteran midfielder Bart Goor scored the home side's only goal of the match on the stroke of half time.
The Westerlo keeper Glenn Verbauwhede was sent off in an incident that lead to KV Mechelen being awarded the penalty that Gorius converted to make the final score 3-1.
KV Mechelen is 8th and has 37 points from 27 games. Westerlo is 15th on 17 points.