Twenty-eight dead in coach crash in the Swiss Alps
A Belgian coach carrying school children from schools in Heverlee (Leuven) and Lommel (Limburg) has crashed in Sierre in the Swiss Alps. Twenty-eight people are dead including twenty-two children.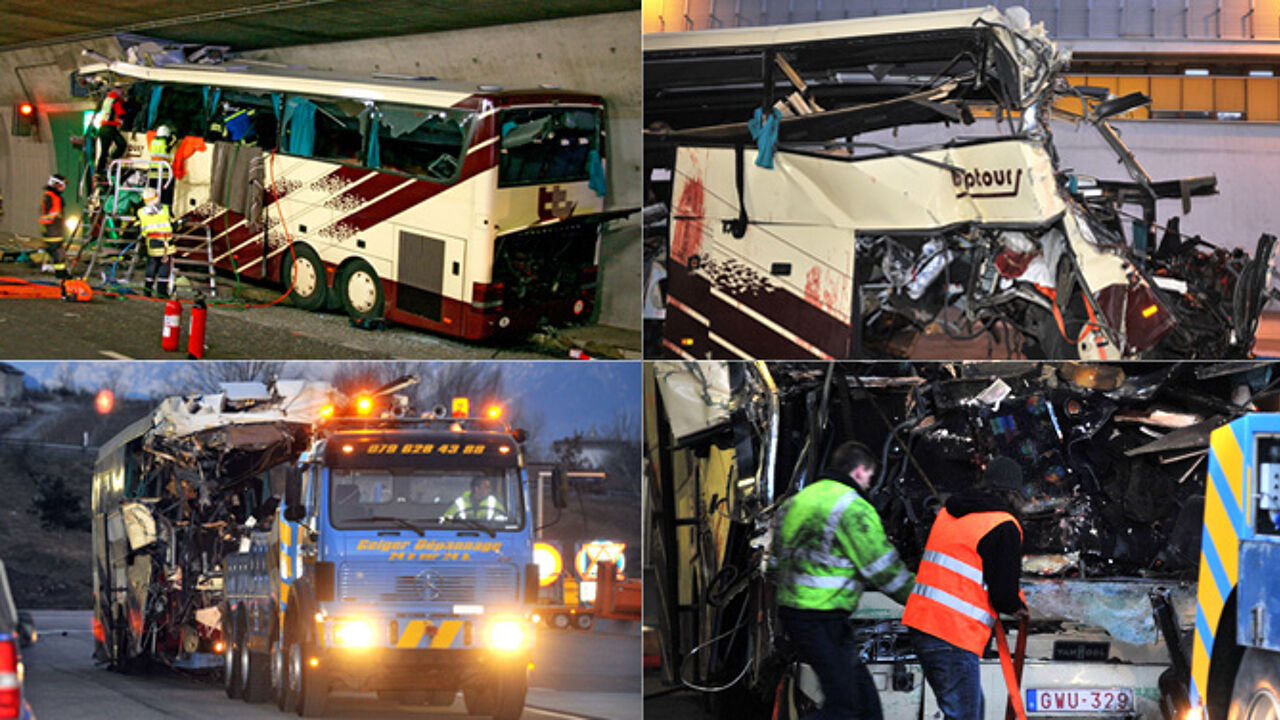 The accident happened shortly after 9PM on Tuesday night. The coach crashed into the right flank of a tunnel at full speed. As yet it is unclear why the coach veered off its course. No other vehicles are believed to have been involved in the accident.
The accident happened in a tunnel on the A9 road between Sierre and Sion. The coach involved in the accident was accompanied by two other coaches, but everybody on the other coaches is safe.
Inside the tunnel the coach with 52 people on board crashed into a wall of the tunnel. The entire front of the coach was destroyed as a result of the impact. Several victims were stuck in the wreckage.
The two drivers did not survive the crash. The four other adults, monitors and teachers, also died. In addition to the fatalities a further twenty-two people are thought to have been injured. The injured have been taken to four different hospitals across the Swiss canton of Valais (Wallis). A number of injured have been taken as far afield as Lausanne and Bern. Three injured are in a coma and further deaths cannot be ruled out.
The Belgian Foreign Affairs Ministry says that the children were aged 11 and 12 and hailed from the Sint-Lamberts School in Heverlee near Leuven (Flemish Brabant) and from the primary school 't Stekske in Lommel (Limburg). They were returning from a skiing holiday in the resort of Saint Luc in Val d'Anniviers.
The relatives of those killed and injured have been informed. The Belgian army is ferrying relatives of those involved to Switzerland in the course of Wednesday morning. The Swiss authorities expect them to arrive in Valais (Wallis) on Wednesday.
The Swiss authorities can be contacted on the following number 0041/848.112.117. This is the emergency number of the Belgian Foreign Ministry: 02/501.40.00.
more on swissinfo.ch
It's not all bad news
Twenty-four children have survived the crash. 15 are in hospital in Sion. Six are slightly injured and are staying in other hospitals in the region. Three should be able to go home today. Three others, the most badly injured, have been taken to university hospitals in Lausanne and Bern.
The Valais area has a large fleet of helicopters. As a result the injured could be taken to hospital very quickly.