Tom Boonen wins Tour of Flanders
Belgium's Tom Boonen has won this year's Tour of Flanders cycling race. The rider raced to victory ahead of the Italians Filippo Pozzato and Alessandro Ballan in the final sprint.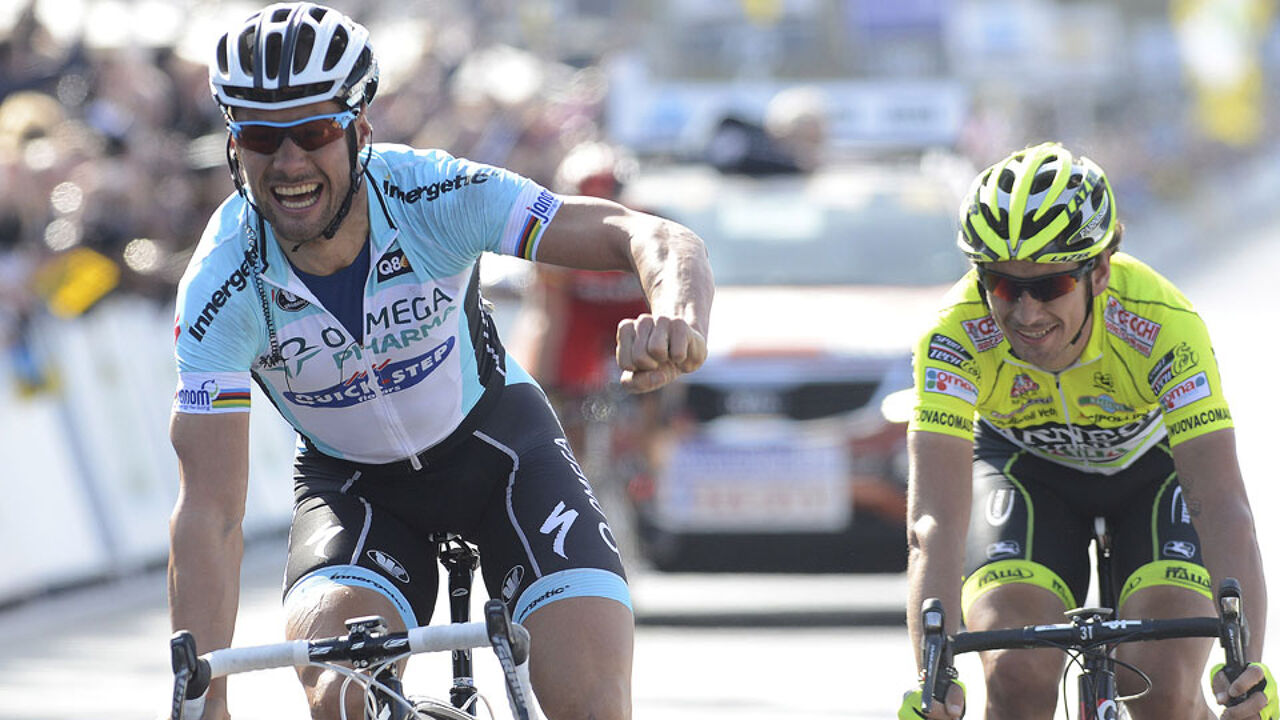 For the Flemish rider Tom Boonen this was his third win in the Tour of Flanders that this year followed a controversial new route for the very first time.
This year's Tour was marred by one nasty accident when the reigning champion Switzerland's Fabian Cancellara fell and broke his collar bone 65 km from the finishing line in Oudenaarde.
Cancellara's fall occurred shortly after the ascent of the Koppenberg when he was receiving provisions. The rider adopted a fetal possession on the ground. The peloton failed to wait for him.
The peloton was in hot pursuit of a group of 15 riders that escaped during the early stages of the race. The leaders included Farrar, Tjallingii and thee Belgians Vandousselaere, Dockx and Planckaert. At most they extended their lead to five minutes.
The elevations Oude Kwaremont and the Paterberg thinned out the peloton. Tom Boonen experienced difficulty with his bike, but regained his form on the Kruisberg.
Former winner Ballan went on the offensive during the third and last ascent of the Kwaremont. Pozzato followed with Boonen hot on his heels.
The Belgian started the final sprint in second place. Pozzato tried to maintain his position but the Flemish rider simply proved to be too strong.
Boonen now joins the pantheon of Tour of Flanders winners who accomplished this feat on three occasions: Achiel Buysse, Fiorenzo Magni, Eric Leman and Johan Museeuw.
 
Boonen to try and make it 4!
After his win Tom Boonen told VRT Sport: "I was dead scared the Italians would lead me to the slaughter, but the wind was my ally. I was afraid of a final sprint with Ballan and Pozzato. I know them well, but the headwind was my ally."
"I had to count on the sprint. Maybe I started too early. I wasn't left with much, but it was enough."
Tom Boonen experienced great difficulty on the Paterberg: "I had problems with my gears. I thought of making a change, but decided to take the risk."
The Flemish rider has now won the E3 race, Ghent-Wevelgem and the Tour of Flanders this year. On Sunday he could add Paris-Roubaix, a race dubbed the Hell of the North: "That would be something. With three wins I'm on course. I'm going to try it."