"This comes at a very good moment"
In football, Anderlecht have confirmed their title ambitions by winning the clash at title rivals Club Bruges. Leaders Anderlecht have created a 4-point gap now. In other action, defending champions RC Genk squeezed past Standard, while AA Gent beat KV Kortrijk.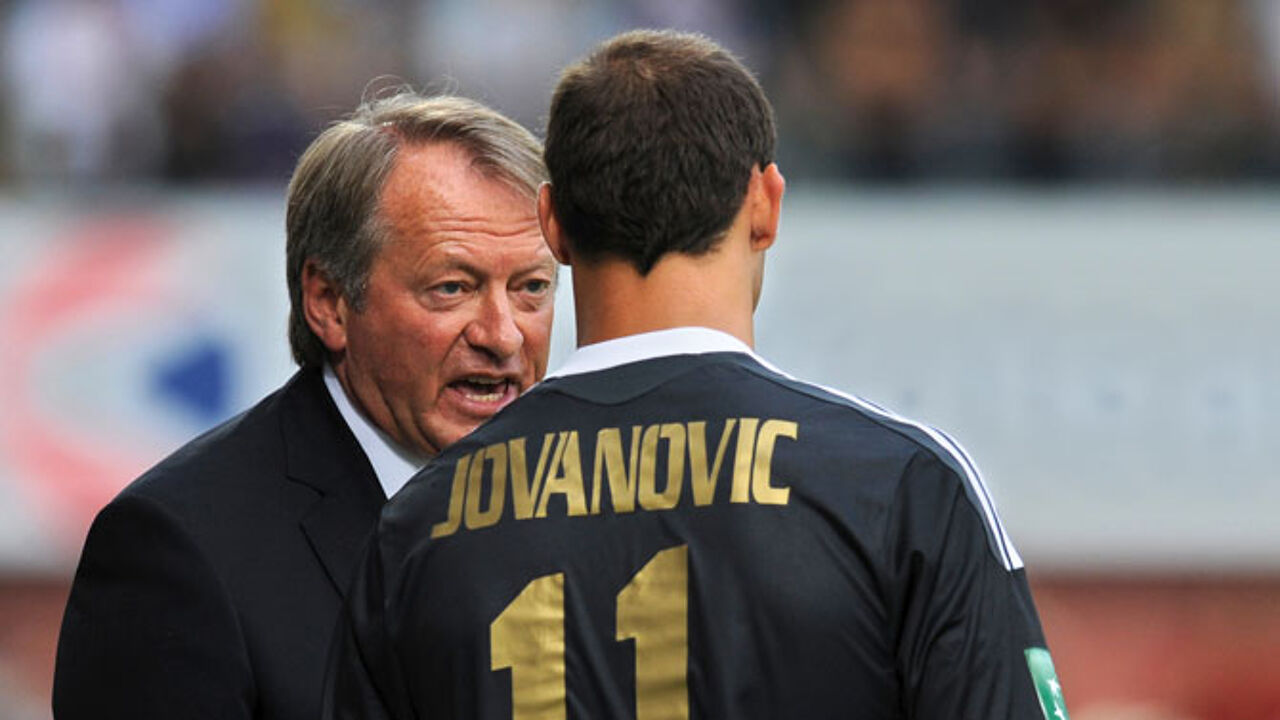 Anderlecht coach Ariël Jacobs (with Serbian striker Milan Jovanovic) was heavily criticized the past couple of weeks. Some say that only the league title can save his skin.
Club Bruges had an excellent opportunity yesterday: if they beat Anderlecht before their home crowd in Bruges, they would leapfrog their rivals from the capital into first place. Bruges coach Christoph Daum had done his best to keep the pressure off, but this didn't work out on the pitch. It could be seen that both teams were affected by the pressure.
Anderlecht scored at their first chance, with Congolese striker Dieumerci Mbokani beating goalkeeper Bojan Jorgacevic after a nice combination. Bruges did what they could afterwards, but missed determination and failed to score. Their best chance only came late in the match, when substitute Björn Vleminckx hit the post with a low shot.
For Anderlecht, the victory (0-1) came just in time. After a couple of poor performances, a crisis was looming around the corner but now things are looking brighter again for the team that ended in first place in the normal competition. "The win comes at a very good moment for us," Anderlecht coach Ariël Jacobs (photo on top) explained. "It's a relief to win here, after being beaten at home by Genk last week. Still, everything remains to be done. Nothing has been decided yet."
Halfway through the play-off I round, with 5 of 10 rounds of play behind us, Anderlecht extend their lead to four points.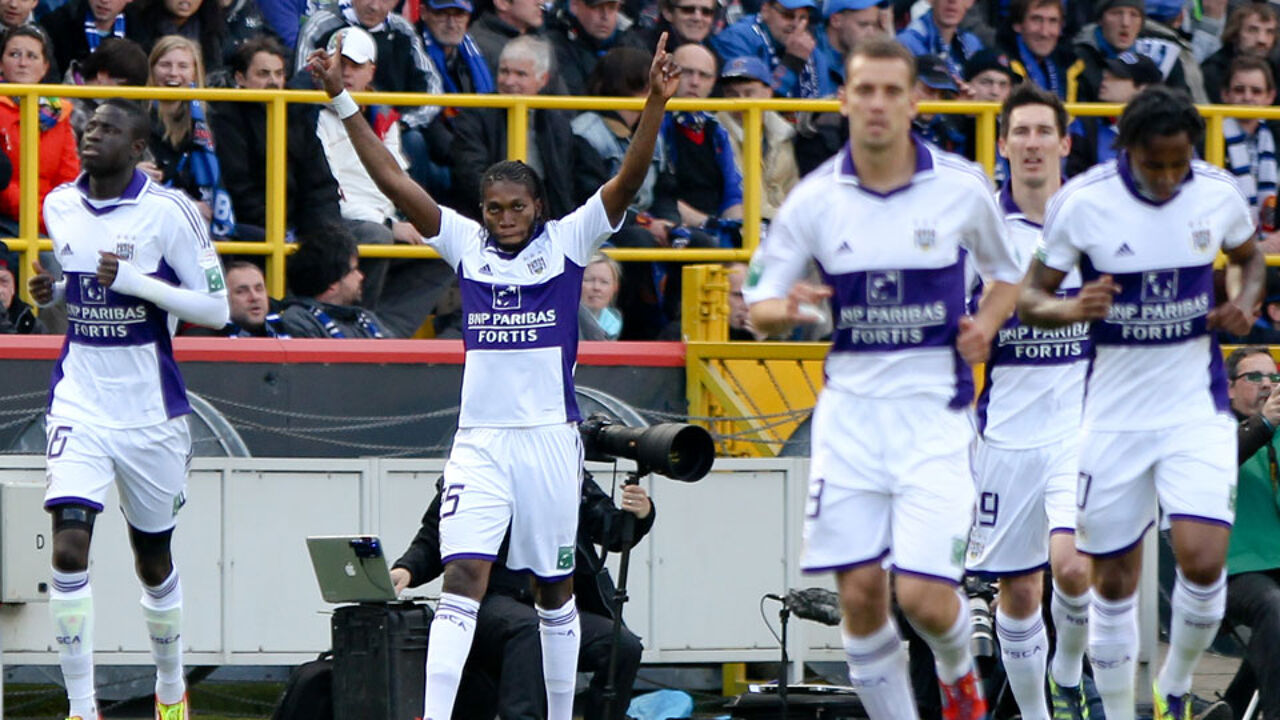 Genk wipe out 2 goals
In other action this weekend, defending champions KRC Genk squeezed past Standard, 3-2. Standard took a double lead in the first half, but things completely turned after the break. Genk were helped by an own-goal, after which striker Jelle Vossen levelled the score (2-2, photo).
Standard were reduced to 10 men when Michy Batshuayi was shown the red card. Genk smelled their chance and Christian Benteke made it 3-2 just 15 minutes from time: 4 wins in the last 4 games for Genk.
AA Gent beat KV Kortrijk 1-4 on Saturday, the first win for the Buffaloes after 3 consecutive defeats. Ghent reaffirm their European ambitions and will have to battle it out with Genk Bruges for second and third place.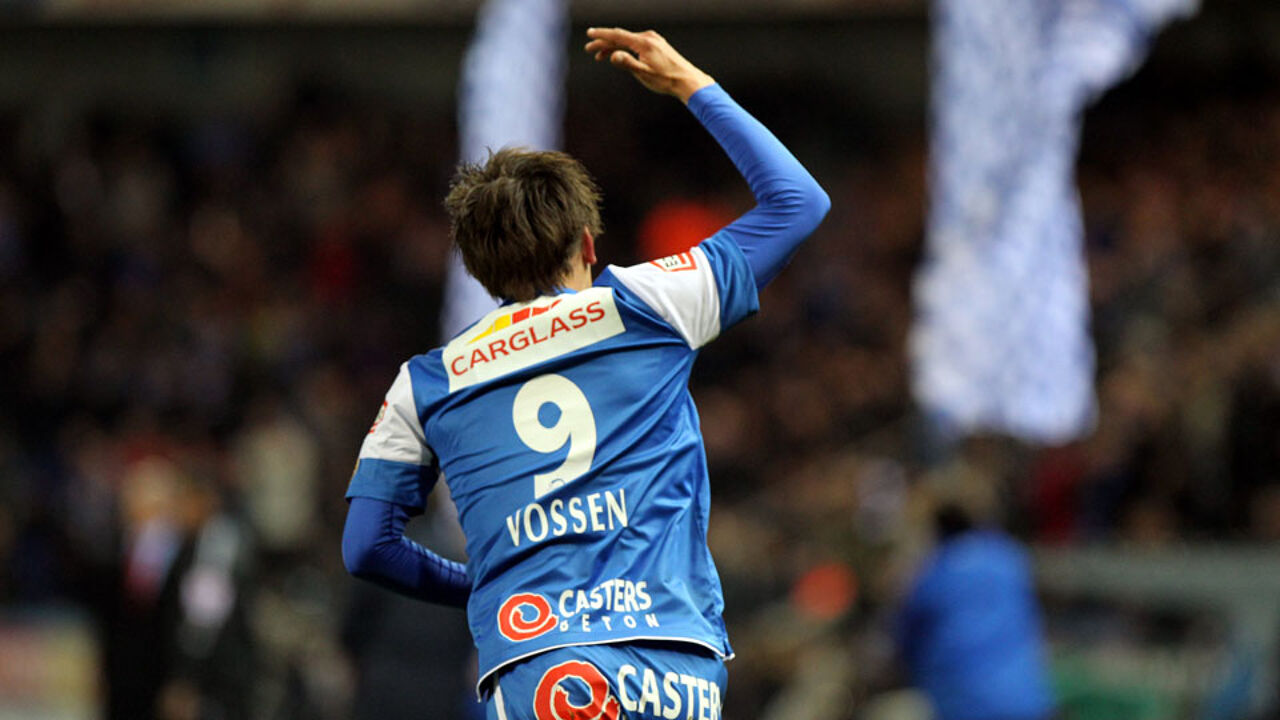 Standings (5 matches played):
Anderlecht       42 points
Club Brugge    38
KRC Genk       35
AA Gent           34
Standard          29
KV Kortrijk        28