Mother puts teen bullying footage on Facebook
The mother of a 13-year-old school girl from Tielt (West Flanders) has posted a video on Facebook to show how her daughter is being brutally bullied by other pupils. She put the footage online to support her daughter, hoping that such incidents can be avoided in the future.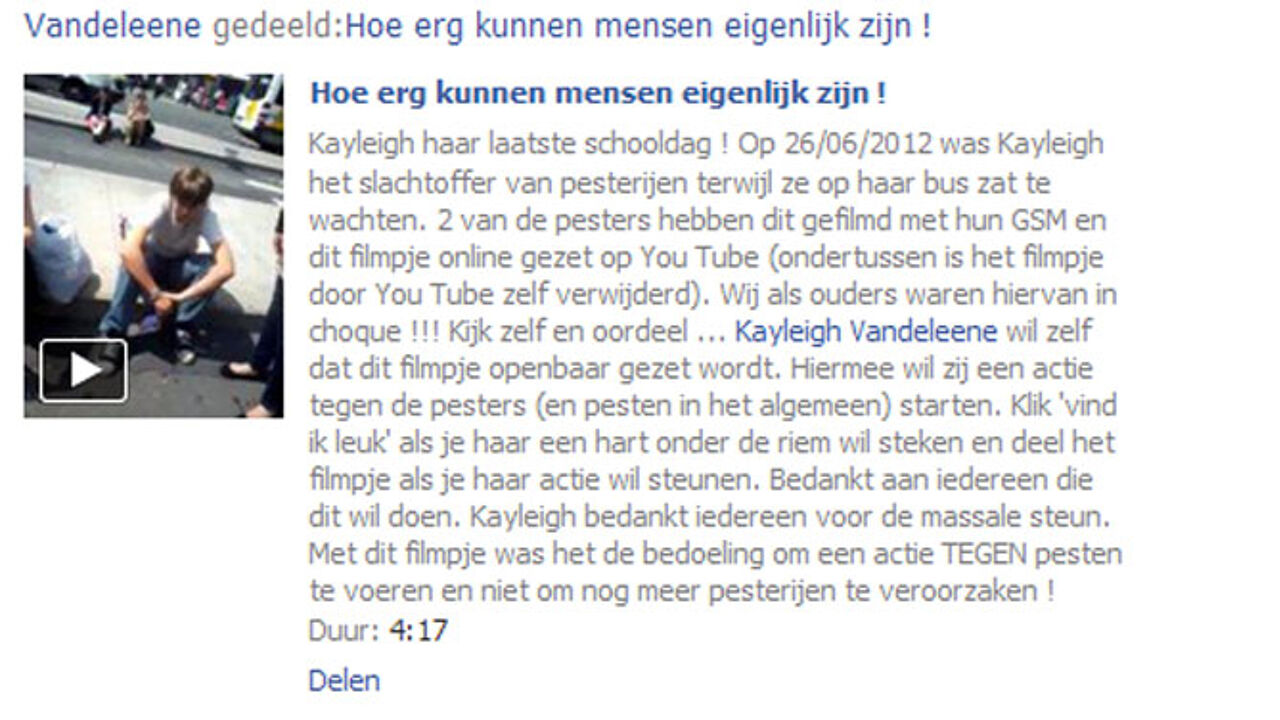 The video goes back to last Tuesday. The victim is waiting at the Roeselare bus station when a group of other pupils from her school arrive. One girl starts bullying her, with the support of her friends and with one pupil making a four-minute movie.
The victim is being told to stand up. The verbal aggression is followed by physical aggression. The girl is being slapped in the face and kicked, and is being pulled by the hair several times.
The movie was first put on YouTube by the bullies. It was removed, but the mother of the victim had a copy and put the footage online on Facebook, titled "How low can you go? Kayleigh's last school day."
"I did this to support my daughter"
The mother wanted to share the video to support her daughter and to make a statement. It worked: the film was shared over 70,000 times in a couple of days. Most viewers express their support for the victim and some have very hard comments towards the bullies. A Facebook hate group was created against the 15-year-old girl that takes the lead in the incident. She also received death threats.
The mother also filed a complaint with the police. The judicial authorities in Kortrijk (West Flanders) are starting an investigation. The school principal has announced measures against the bullies.They risk being expelled from their school.
The mother writes that her daughter supports her decision to put the video online. "Kayleigh wants to take an initiative to stop the bullying. We hope that nobody will be confronted with this kind of pestering in the future. (...) The support is doing us a lot of good, but we just want the bullying to stop", she told Het Laatste Nieuws. Kayleigh has an autism spectrum disorder.