Justice Minister Turtelboom to give victims more rights
Justice Minister Annemie Turtelboom (Flemish liberal) says small changes can be expected in the judicial system to give victims more rights and a stronger voice. She was speaking after meeting the parents of the girls that were killed by the Belgian paedophile Marc Dutroux and one of his victims.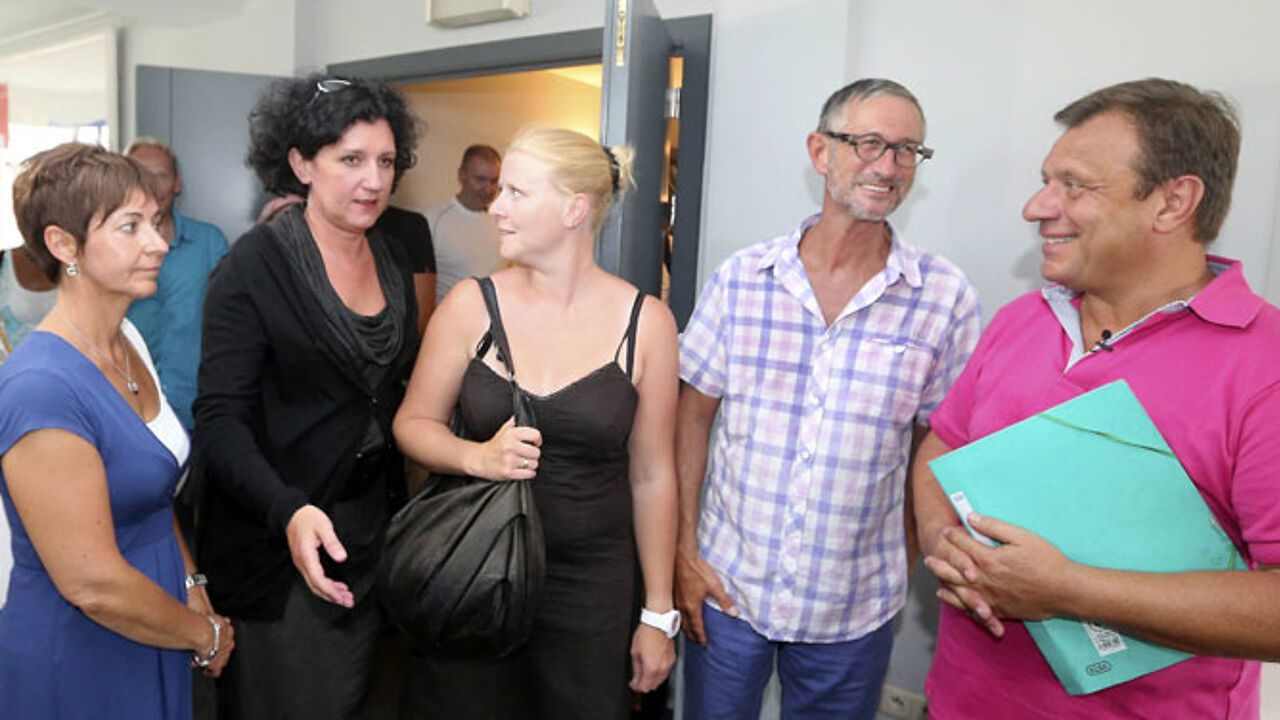 Ms Turtelboom (second from left) with Laetitia Delhez, Paul Marchal and Jean-Denis Lejeune.
The meeting took place in the late afternoon yesterday, after a protest march was held against the early release of Dutroux' ex-wife Michelle Martin. The march in Brussels attracted a crowd of 5,000 despite the heat. Protesters had two demands: that Michelle Martin would stay in prison, and that relatives of victims get more rights during judicial procedures.
Ms Turtelboom met a delegation of parents including Paul Marchal (the father of An) and Jean-Denis Lejeune (the father of Julie) and also Laetitia, who was abducted by Marc Dutroux and his gang but who was saved from a cruel death after police had apprehended Dutroux.
The Justice Minister explained that she can do nothing to stop the early release of Michelle Martin (the Court of Cassation is expected to make a final decision in 9 days' time), but did promise to give the victims and/or their relatives a say when magistrates make decisions about the early release of convicts. "They have a point there. We will look into it."
The minister also said that it will become harder for those who have been convicted various times to be released from prison early. The government has already started procedures to adapt the law.
Paul Marchal was a happy man after the meeting. "I really have the feeling that the minister was listening to what we had to say. We will also have mutual contact with the minister in the future, so there is communication." Mr Marchal is still hoping that the sisters of the convent in Malonne will reverse their decision to accommodate Michelle Martin when she leaves prison.
The Brussels judicial authorities are not happy with the plans to have the victims a say in a magistrate's decision about early release on probation. He warns against the risks of changing the present procedures, and says that these are special conditions. "You have to take into account that this is a special case. You cannot compare this with the thousands of other more common cases we are confronted with", Freddy Pieters told the VRT.