Plenty of goals and red cards
In the last of the weekend's First Division games Racing Genk enjoyed a 4-1 home win against Club Brugge and a late equaliser was enough for Sporting Anderlecht to take a point from their home game against Standard de Liège.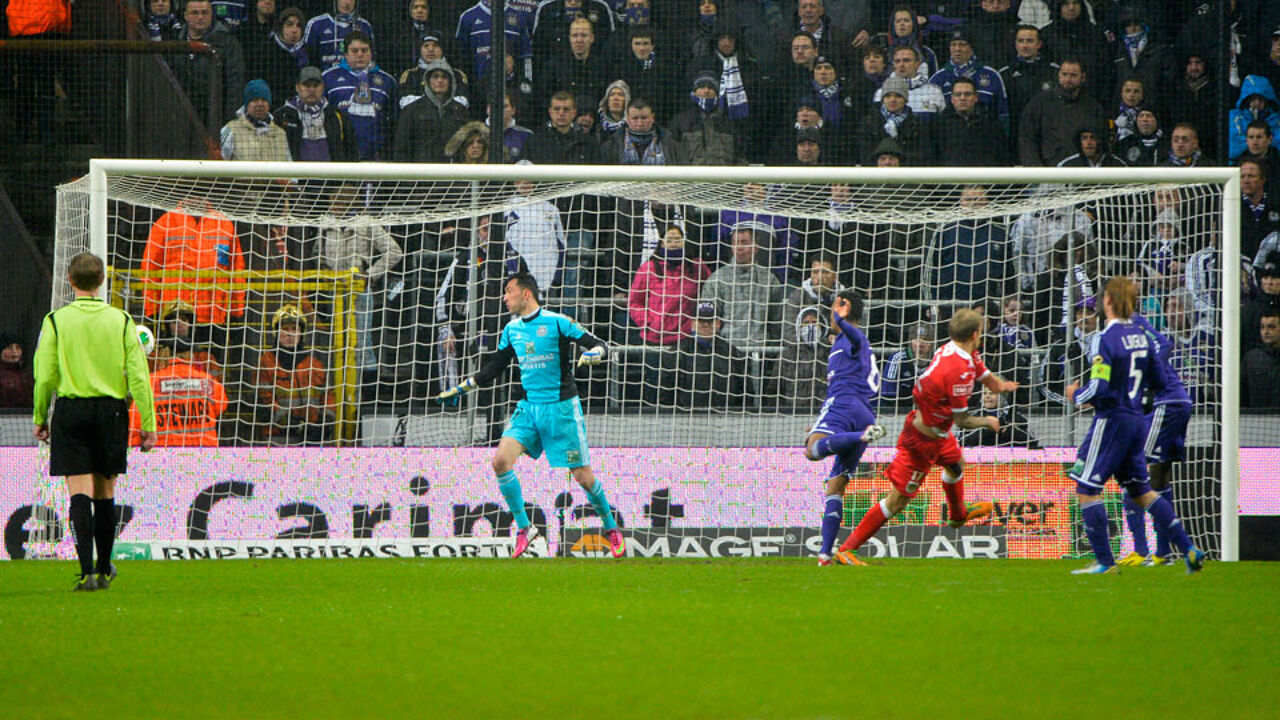 Sunday evening's clash of the Titans certainly lived up to expectations with four goals and three red cards.
Anderlecht got off to a flying start, when after just two minutes of play the Standard keeper Kawashima punched an Anderlecht cross straight into the feet of Praet who was able to provide Biglia with the ammunition he needed to put the home side one up.
Standard didn't lose heart though and the visitors' first real chance came on 15 minutes. Reza broke though the off-side trap, but his shot was just wide of Silvio Proto's goal.
Anderlecht reacted with a Kljestian free-kick that was saved by an alert Kawashima. Standard equalised on 22 minutes. Reza's pass to Michy Batshuayi set him free in front of Proto; he kept his cool and made the score one-all.
Anderlecht was shell-shocked and the champions were lucky to not to have gone behind a couple of minutes later. However, Nuytinck cleared Reza's effort from the line.
Anderlecht went down to ten men five minutes from half time when Milan Jovanovic (photo) was given his marching orders for a retaliatory push against Opate. The first half ended one-all.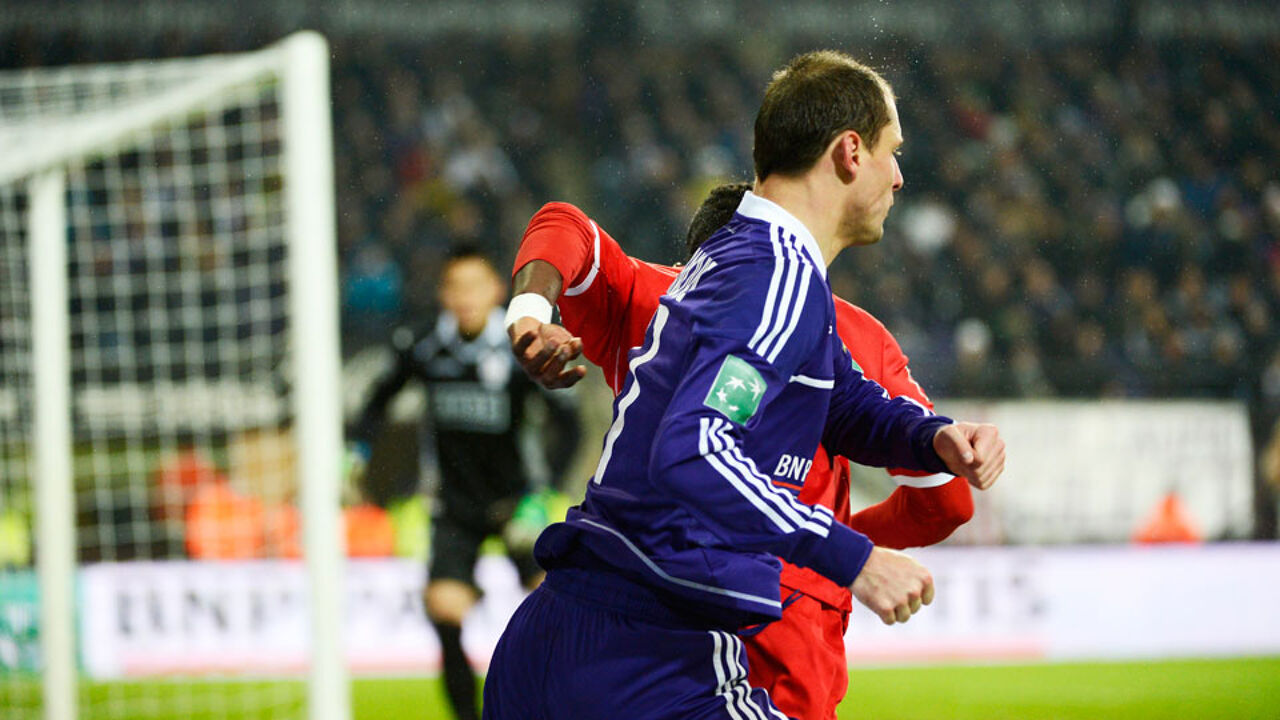 The Anderlecht Coach Van den Brom substituted the two youngsters Bruno and Praet for the more experienced Odoi and Kanu. However, this did little to change things. Standard took the lead 7 minutes in through Yoni Buyens.
The visitors could have extended their lead on the hour, had Mpoku's shot not hit Proto's feet.
Shortly afterwards Standard went down to ten men when Vainqueur was given his second yellow card of the evening and duly sent off.
Anderlecht went on the lookout for an equaliser, while Standard relied on speedy counter attacks.
Anderlecht's Biglia was sent off on 81 minutes making it 9 against 10.
Kouyaté came close for Anderlecht, but it was Guillaume Gillet (photo) that eventually brought his side level with a goal five minutes from time.
The 2-2 result sees Anderlecht with a six point lead at the top of the First Division with 56 points from 24 games. Standard de Liège is 4th with 43 points from 25 games.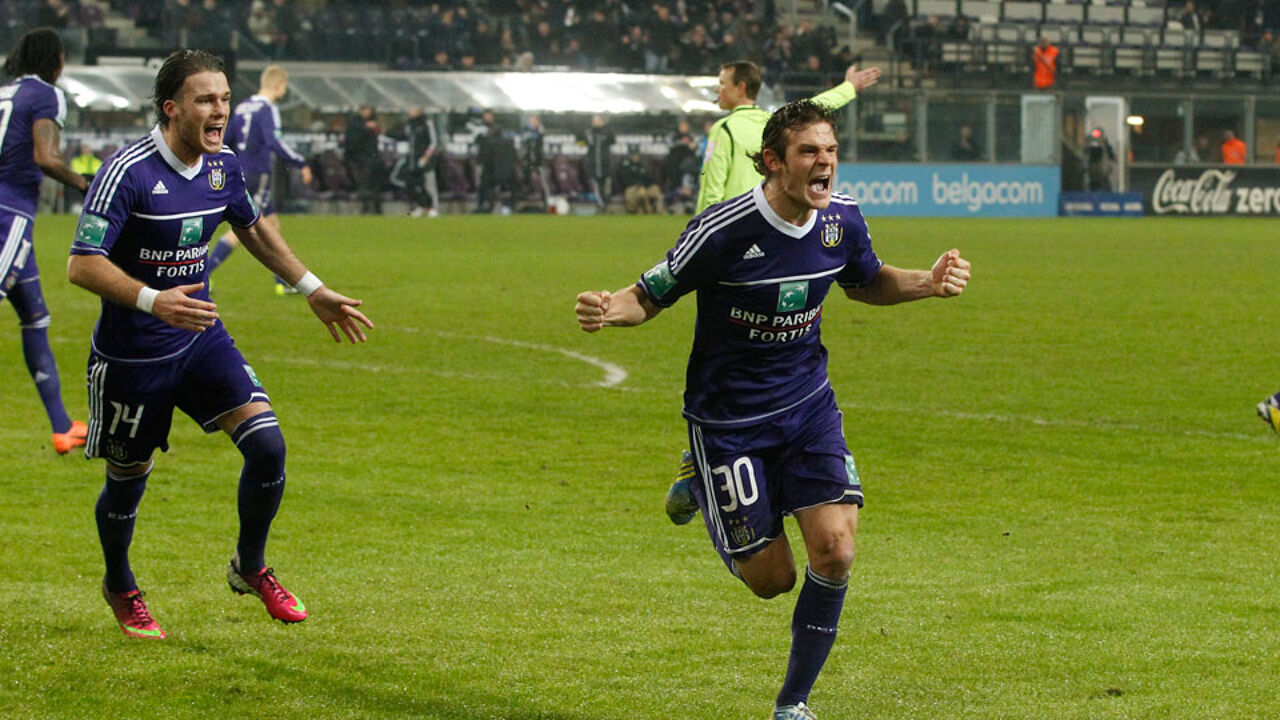 KRC Genk sees off Club Brugge
In Sunday's other game KRC Genk enjoyed a 4-1 home win against Club Brugge. Genk took the lead on 11 minutes thanks to an own goal by Laurens De Bock.
Hyland made it 2-0 from the penalty spot on 56 minutes after a fowl that also resulted in De Bock being sent off.
Bacca pulled one back for Club Brugge on 84 minutes. However, goals from Barda on 87 minutes and Limbombe in the 3rd minute of injury time sealed it for the Limburgers.
The result sees KRC Genk leap-frog over Club Brugge in the table. Genk is 5th with 42 points from 25 games.
Club Brugge is 6th with 40 points from 24 games.