Anderlecht enters play-offs with 2-point advantage
Saturday evening saw the final day of play before the Play-offs in Belgian football's First Division. The top six will now compete for three European places in Play-off I, while the 7th to 14th teams will compete for a place in the Europa League in Play-off II. The bottom and second bottom teams compete for a place in the Second Division play-offs and a chance to retain their First Division status.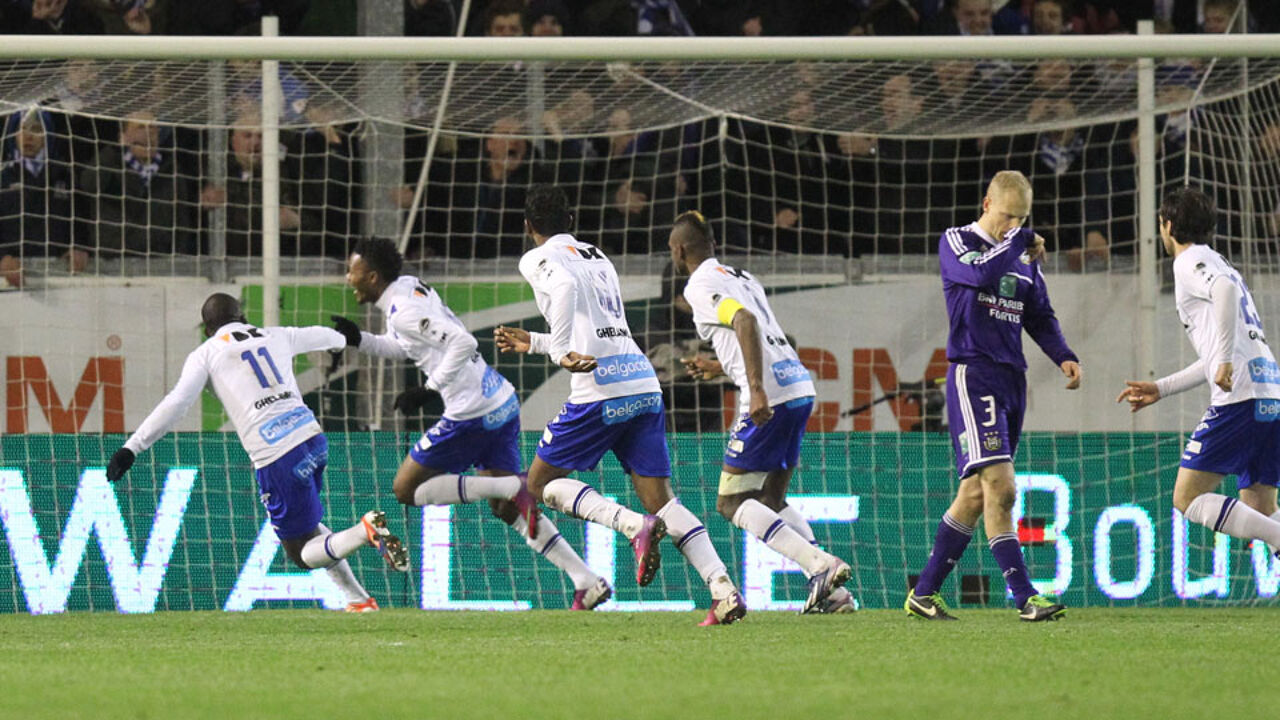 With the points being halfed before Play-off I starts, the Champions Sporting Anderlecht will go into the play-offs with a mere two-point advantage over second-placed Zulte Waregem.
On Saturday evening Anderlecht only managed a one-all draw after a below par performance against AA Gent.
Anderlecht took the lead on 40 minutes through Jovanovic.
Although Anderlecht was the better side for much of the second half, AA Gent equalised seven minutes from time to make for a full time score of 1-1.
Anderlecht's Olivier Deschacht (photo) was given a red card for retaliation just before the final whistle. Anderlecht is top with 67 points from 30 games. AA Gent is 12th with 34 points.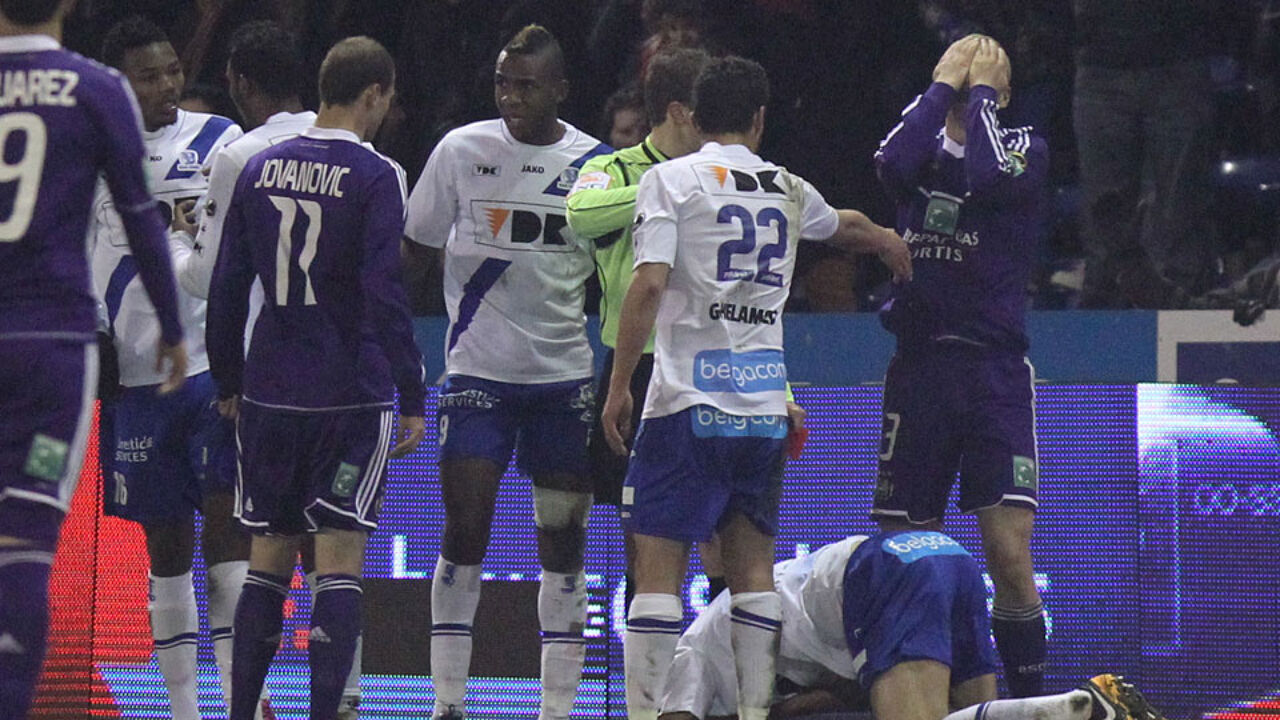 Zulte Waregem closes the gap
Zulte Waregem took all three points from their trip to KV Mechelen. Zulte Waregem took the lead on seven minutes through Naessens (photo) and the first half ended 1-0 in the visitors' favour.
The second half saw no fewer than four goals. Aleksandar Trajkovski made it 2-0 to Zulte Waregem on the hour.
However, Boubacar Dialiba Diaban pulled one back for KV Mechelen three minutes later. Conte made it 3-1 to the visitors on 81 minutes and Mads Juncker gave Malinwa fresh hope on 84 minutes.
The KV Mechelen keeper was sent off for his second bookable offence in the third minute of injury time.
The match ended 3-2 to Zulte Waregem. After 30 games Zulte Waregem has 63 points and is second. KV Mechelen is 8th with 41 points.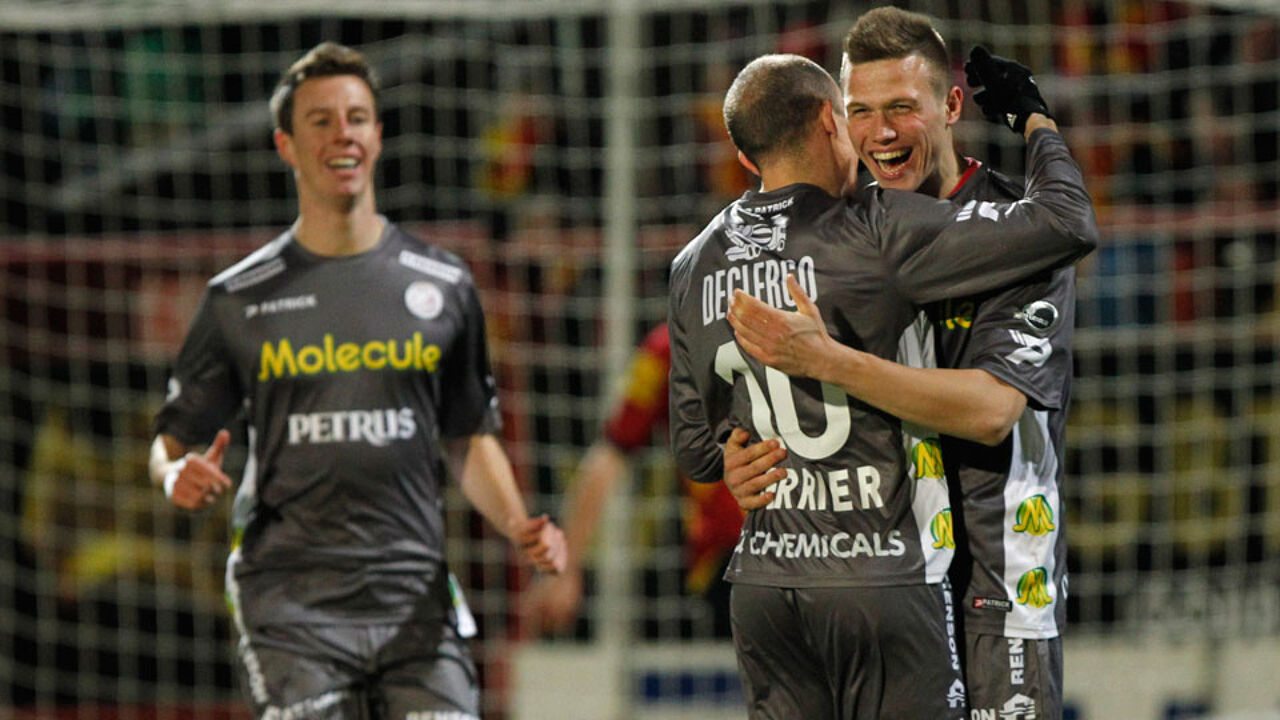 A comfortable win for Club Brugge
Three first half goals ensured Club Brugge of victory in their home game against Lierse.
Club's goals came from Lestienne on 3 minutes and Bacca on 13 and 32 minutes. Club Brugge finishes 4th with 54 points from 30 games. Lierse is 14th with 26 points.
Genk comes from behind to slay the Dragons
An excellent second half performance saw KRC Genk turn a one goal deficit into a 5-1 advantage in their away game against RAEC Mons.
Mons took the lead on 31 minutes through an Arbeitman penalty. Julien Gorius equalised from the penalty spot on 54 minutes. Kumordzi made it 2-1 two minutes later.
Kim Ojo (59 minutes) and Benji De Ceulaer (73 and 78, photo) scored Genk's other goals.
Mons' Peter Franquart was sent off on 88 minutes. Racing Genk finishes third with 55 points. RAEC Mons is 7th with 44 points.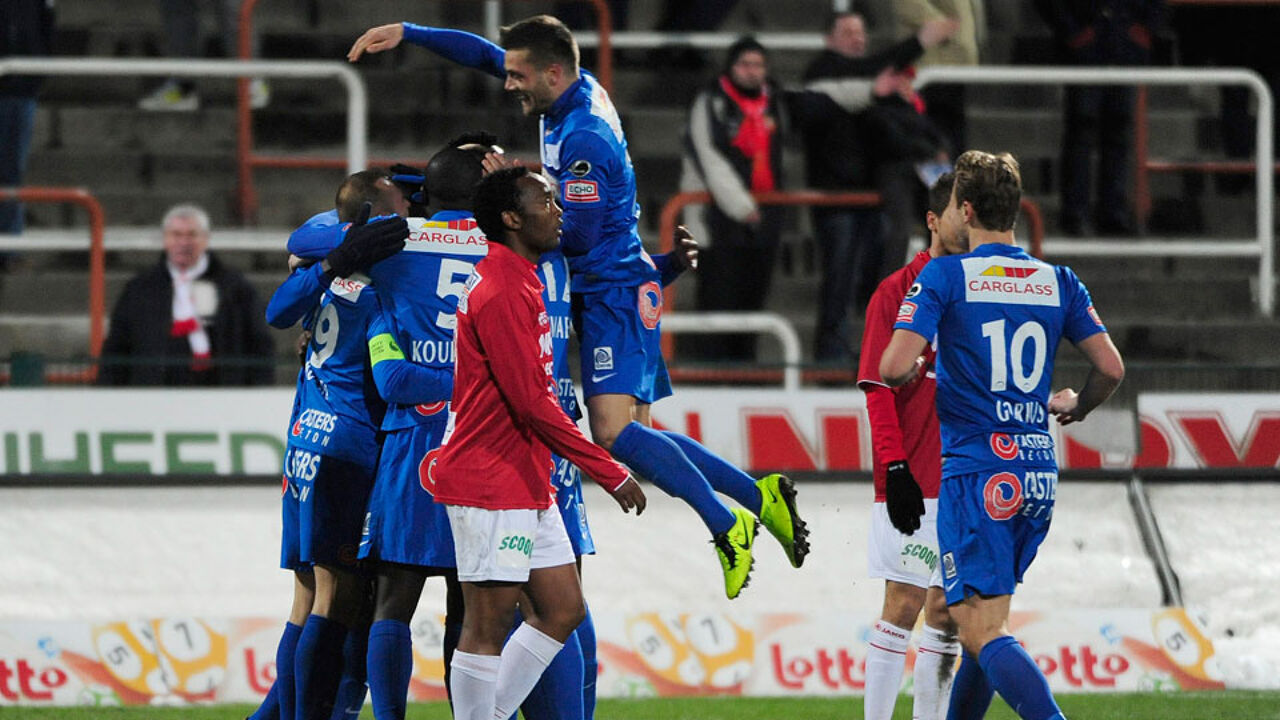 Ten-man Charleroi victorious
Despite having Giuseppe Rossini sent off on 39 minutes. Sporting Charleroi enjoyed a comfortable 3-0 home win against Waasland-Beveren.
Charleroi's goals came from Milicevic on 20 minutes and David Pollet on 81 and 87 minutes. Charleroi finishes 11th with 34 points from 30 games. Waasland Beveren has 30 points and is 13th.
Beerschot wins play-down dress rehearsal
In what was probably the most pointless match in Belgian League history, the two teams that will play up to five matches against each other in Play-off III were pitched against each other in the final match of the regular season.
Beerschot came out on top with goals from Bodar (photo) on 51 minutes, a Dayan penalty on 68 minutes and a second Dayan goal on 87 minutes.
Cercle's goal came from Stephen Buyl on 62 minutes. Cercle finishes bottom with just 14 points from 30 games. Beerschot is second from bottom with 23 points.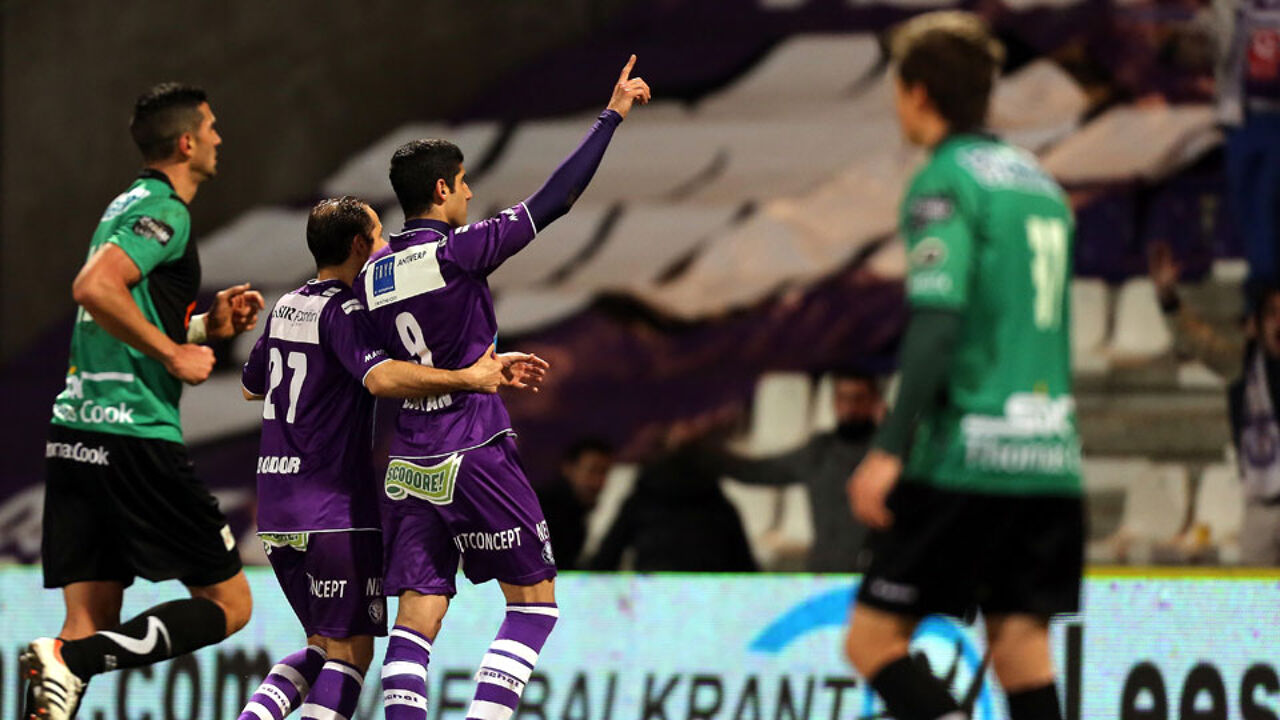 The match between KV Kortrijk and OH Leuven ended goalless. KV Kortrijk finishes 9th with 39 points. OH Leuven is 10th with 36 points.