Scott: "Feel the cobbles and taste a few Belgian beers"
Scott Purchas of New Zealand is one of the many people from outside Belgium who will be riding the Tour of Flanders Cyclo version. One day before the professional riders, amateur cyclists are getting the chance to feel the cobble stones and climb the steep hills which are typical for the Tour of Flanders.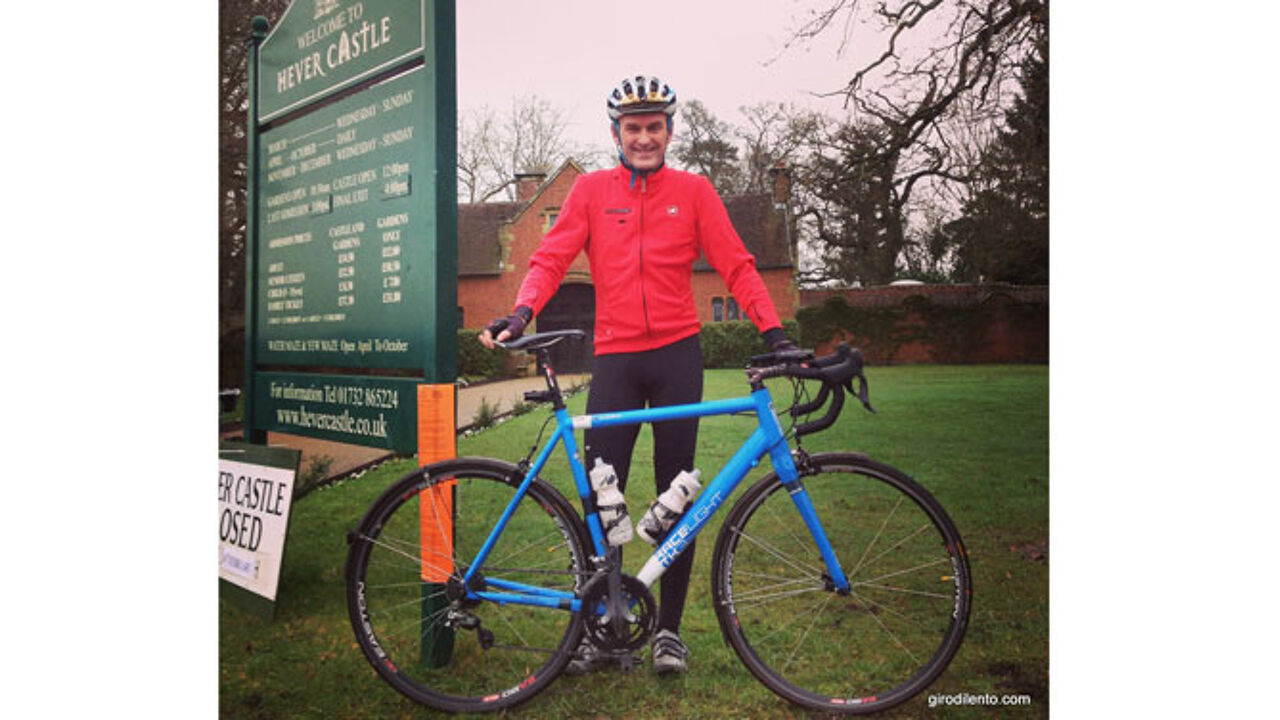 Scott is 44 years old and married with two children, aged 7 and 5. He moved to England from New Zealand in 1996. "I never intended to stay in England as long as I have but I met a girl, we got married and now have a family. My hobby is my cycling (including my blog girodilento.com) and I do as much of it as my family and work will let me get away with."
"The history, the climate and the terrain"
How did Scott fall in love with the Tour of Flanders? "I've been following pro-cycling more and more since the early part of this century. As I learnt more about racing and the pro calendar, I discovered and fell in love with the spring classics. They're as important to me as any other major race in the year and the Tour of Flanders has become my favourite early season race."
"I await it with interest and anticipation every year now. I love the combination of the history, the climate, the terrain including the cobbles and perhaps most of all the atmosphere of the race."
"I also love that it favours different kinds of riders than the grand tours do and that there is normally a bunch of different riders who could win on the day. Not something you can typically say about a grand tour."
"The longest ride I've ever done"
When did Scott first have the idea to participate himself?
"I've seriously been considering participating for the last couple of years having people I know talk about it and ride it. Everyone speaks so highly about the event and the experience and this year it's all come together and I'm excited about being part of it. I'll be riding the 140km version as that'll be far enough for me (in fact it will be the longest ride I've ever done). I'm riding with some friends who have ridden the event several times so I hope that will help on the day."
"As fit as I've ever been at this time of year"
How well-prepared is Scott? Did he do anything special to be ready for the ride?
"I'm a keen recreational cyclist and where I live in Tunbridge Wells in England, there are lots of rolling hills around. I've ridden about 1600km in training for the day with plenty of climbing but I still expect it to be a hard day of riding."
"I'm probably about as fit as I've ever been at this time of the year (riding the event with more experienced cyclists has been a spur to my training) but I do seem to be just on the verge of catching a cold, which is not so good. I have also packed most of my cold weather cycling clothing for the weekend having seen that Belgium has been having a similarly cold spring as the UK!"
"I expect the climbs to hurt"
The Tour of Flanders has many challenges: the wind, the winding roads, the cobble stone sections, the climbs... What is it that Scott fears most on Saturday?
"Well, apart from having to get up too early on a weekend morning, I am concerned about the challenge of all of the short steep climbs that are part of what makes the course so fantastic in the pro race."
"I'm far from a pro, so as a well-meaning amateur I expect the climbs to be tough and to hurt. I also think the wind could be a challenge too and I hope it stays dry. I have a fast comfortable bike so I'm hoping the cobbles won't be too punishing. However even given the challenges, I can't wait to ride it and to have a Belgian beer or two afterwards!"
"For the fun and the experience"
"Barring incidents I'm hopeful of finishing and I'm not at all concerned about how long it takes me as long as I don't hold up the friends I'm riding with too much. I'm there for the fun of it and the experience, not to ride as fast as I can."
"My wife has been very supportive of the time I've spent out riding my bike to get fit in the last few months and I'll be riding the event with friends, who have ridden the event before, so I feel well supported for the ride. It's my first ride like this on the Continent, so I'm grateful for the support I have that's enabled me to come over and ride the event."
"Catch a fresh glimpse of life in Belgium"
Scott has more plans than just the Tour of Flanders, of course.
"I've not managed to do much travelling for the last few years, thanks to the recession, so this is a wonderful opportunity to have a few days in a new place. I've been to Belgium before but far too long ago. It would be great to get a fresh glimpse of life in Belgium, experience some of the rich cycling history and culture, not to mention seeing some local sights. I do also hope to ride a few of the other famous climbs that are not in Saturdays ride before I go back to the UK."
Scott will be watching the professional race on Sunday. "Most definitely. I'm really excited about watching the professional race on Sunday. It'll be great to be part of the crowds and it's always amazing to see just how fast the pros can ride."
New Zealand versus Britain and Belgium
How about cycling in New Zealand? Is it a popular sport over there?
"I grew up in rural New Zealand in what is still a very car centric society. I don't recall even hearing about pro cycling as a child – not even the Tour de France."
"As a child the only sport of any importance was rugby and it probably still is. New Zealand and to a lesser extent Britain are relatively hostile to cycling and cyclists. New Zealand in particular seems to be a long long way from understanding how much better the bicycle can make life."
"It's such a shame as both countries have fantastic scenery to ride in but car culture still dominates including the unfortunate by-products of pollution, congestion, obesity, road deaths etc."
"Belgium I hope will be a more positive experience for me in that regards, although I'm sure there are challenges too. Regardless, I can't wait to see experience the Belgian love of the Ronde."