Happy birthday 'Het Laatste Nieuws'
Flanders' most read newspaper 'Het Laatste Nieuws' is celebrating its 125th anniversary. The newspaper that sells more than a quarter of a million copies each day first appeared in the newsstands on 7 June 1888. It was founded by the liberal Brussels businessman Julius Hoste. The paper is now part of De Persgroep that (amongst others) also publishes the daily 'De Morgen'. The paper started out as a liberal, pro-Flemish and anti-clerical publication.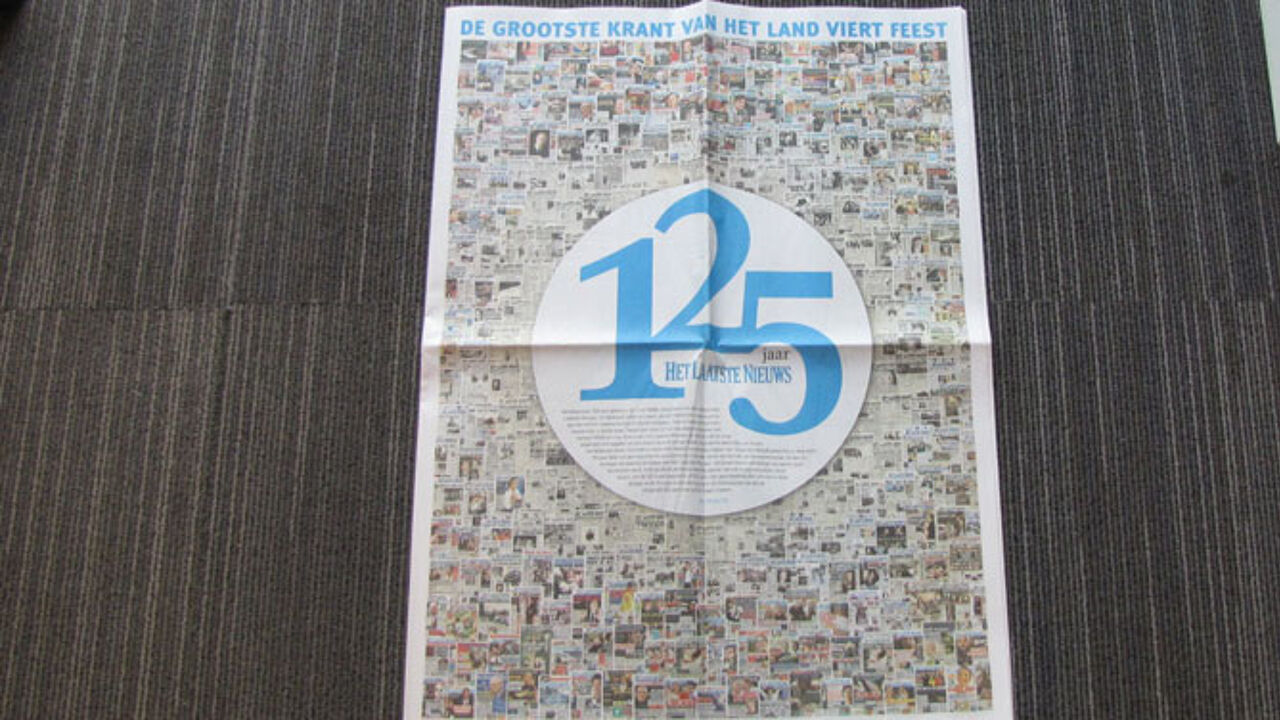 When Julius Hoste Junior took over the paper after his father's death, he adopted a less confrontation and more temperate tone.
He broadened the scope of the newspaper, including more regional news, and expanded the sports section to reach an ever wider public.
Exile in Britain
When World War II broke out, Julius Hoste Jr. fled to the UK, although his newspaper continued publication under German control. After the war he regained control but the business needed to be rebuilt. He shared day to day management with Albert Maertens and Marcel Stijns became head editor.
On 1 February 1954 Julius Hoste Jr. suddenly died. By means of an ingenious legal arrangement he ensured that the political heritage of his newspaper was guaranteed and the company was incorporated when he died.
His heirs commissioned Albert Maertens to create a foundation specifically intended to safeguard the future political and editorial policy of the newspaper.
Oxford Manifesto
On 3 May 1955 the Stichting Het Laatste Nieuws was set up. It included in its charter an explicit reference to the liberal Oxford Manifesto, which offered guarantees of editorial continuity for readers and journalists even in the event of the newspaper being sold.
Frans Vinck, the son-in-law of Julius Hoste Jr., headed the company; Albert Maertens helped to manage the structure of the company, and Marcel Stijns remained the head editor. A new company was created: the Uitgeverij J. Hoste NV.
When television broadcasting started in Belgium in 1954, the competitive environment became more challenging and the newspaper had to modernize its activity.
The Antwerp-headquartered De Nieuwe Gazet was taken over, partially in 1957 and then completely in 1963. The foundation's business was expanded with the introduction of weekly magazines and a printing business.
Van Thillo and De Persgroep
In order to finance the new ventures, negotiations were started with potential investors. Albert Maertens began talks with the Van Thillo family, the Flemish bankers based in Antwerp, who had shown a particular interest in Press investment.
In the 1970s and 1980s the Van Thillo family acquired more and more shares in the newspaper, but its editorial course remained in accordance with the principles articulated by the foundation. At the moment De Persgroep is headed by Christian Van Thilo.