Just the right mix at a Belgo-American Thanksgiving in Leuven
Flandersnews.be assisted a Thanksgiving gathering in Leuven in order to taste the typical Thanksgiving atmosphere, although this one had a slight Belgian touch thanks to the Chef, Stijn Gille. He was in for a challenge to put together a traditional American Thanksgiving menu.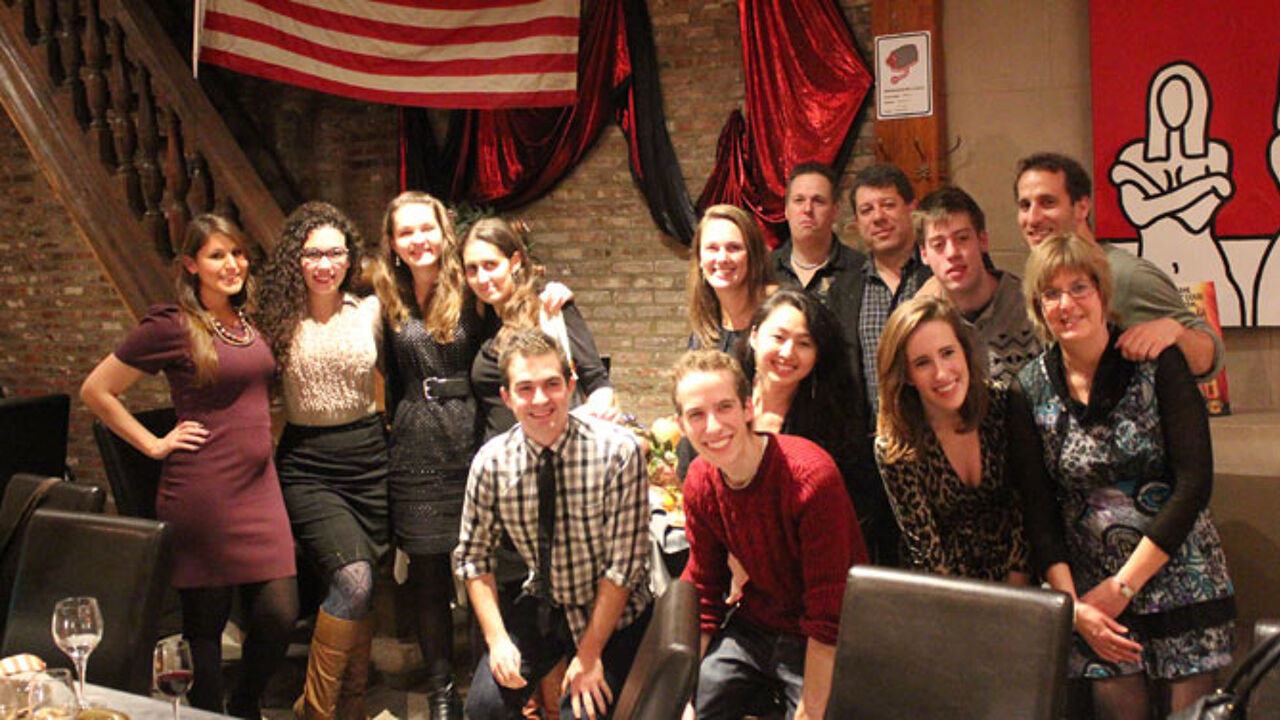 The Fulbright group at the Thanksgiving dinner
"We would be happy to have a journalist here", Erica wrote.  "The Chef has put together a special menu (...) I brought him marshmallows from the U.S. Embassy store today so he can make a special recipe."
We were happy to come over on a cold and rainy Friday night, to join the "gezellige" atmosphere and meet different American people. The group included about 34 persons, equally balanced between Belgians and Americans, both scholars, researchers and teachers or professors staying in Belgium through the Fulbright exchange programme.
The guest list also included the Leuven Deputy Mayor Mohamed Ridouani, who was happy to welcome the event in his city, and who pointed to the international character of the student city which boasts as many as "156 different nationalities in a small city".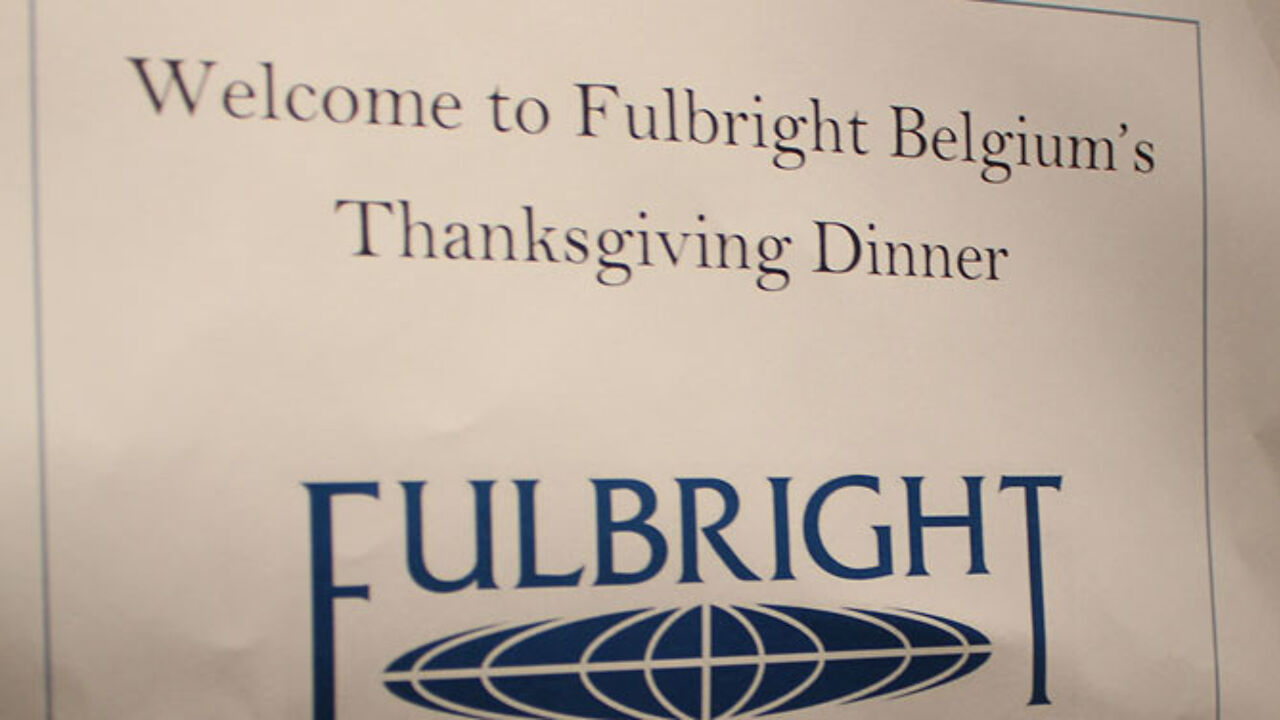 Family, and a lot of food
However, before joining the dinner, we wanted to do our homework properly and ask a couple of Americans about Thanksgiving. What do they associate the traditional American holiday (and for many the favourite one) with? The turkey was the hot favourite to win it, and indeed came out on top, but there is of course much more than that.
Abigail is from Chicago, Illinois, and is living in Antwerp where she is doing research for her PhD in Art History. What first comes to her mind where Thanksgiving is involved, is family, eating too much, sweet potatoes and cranberries.
"It's a typical occasion to meet family and friends. However, it's different from the Christmas that Belgians are having, because it doesn't involve buying each other presents. This is about being together in a group and enjoying each other's company."
Abigail is feeling fine in Belgium, and can't really think of things she really misses being away from her home. However, if she would have to name one, it would be Thanksgiving with her family.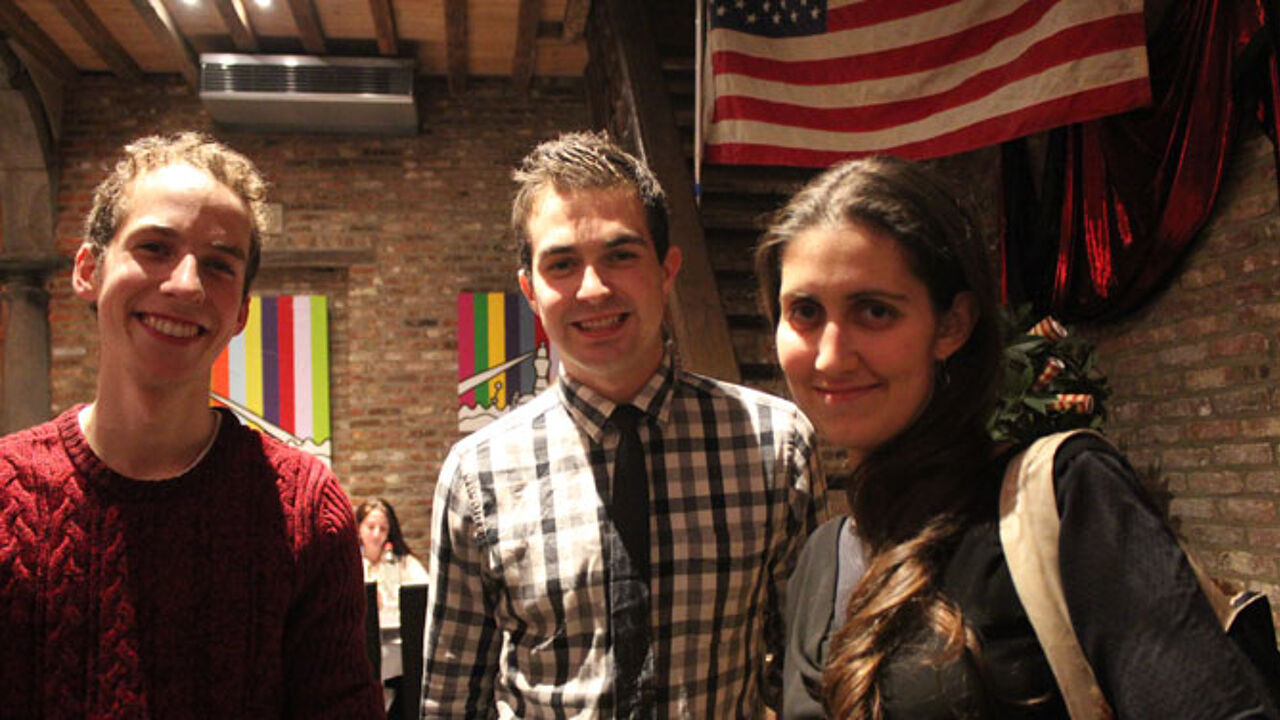 Turkey, the Kansas City way
Nathan, who is into linguistics, is staying at the university in Mons, in Hainaut Province. He is from Kansas City and has something special to say about the turkey. "We have a barbecue tradition there. You know, my aunt smokes the turkey. It takes a really long time, about a whole day."
Apart from turkey, pumpkin pie, family and sweet potatoes, Nathan also mentions the green bean casserole. "Thanksgiving is about the universal love to eat good food with friends and family."
Myles is from Alaska and is teaching English for the Catholic Leuven University (KUL) in Antwerp. He highlights the story of the pilgrims. "They came together with the native Indians to feast and share the food. This may be a fantasy story, but it brings us back to the main idea of Thanksgiving: coming together, sharing food and making friends."
I expected that my 3rd interviewee would mention the Thanksgiving parades or American football, but this does not happen. Myles reassures me: "Don't worry, we do have them and it is typical. However, I am from a small city in the north-west of Alaska, where we didn't have these big events.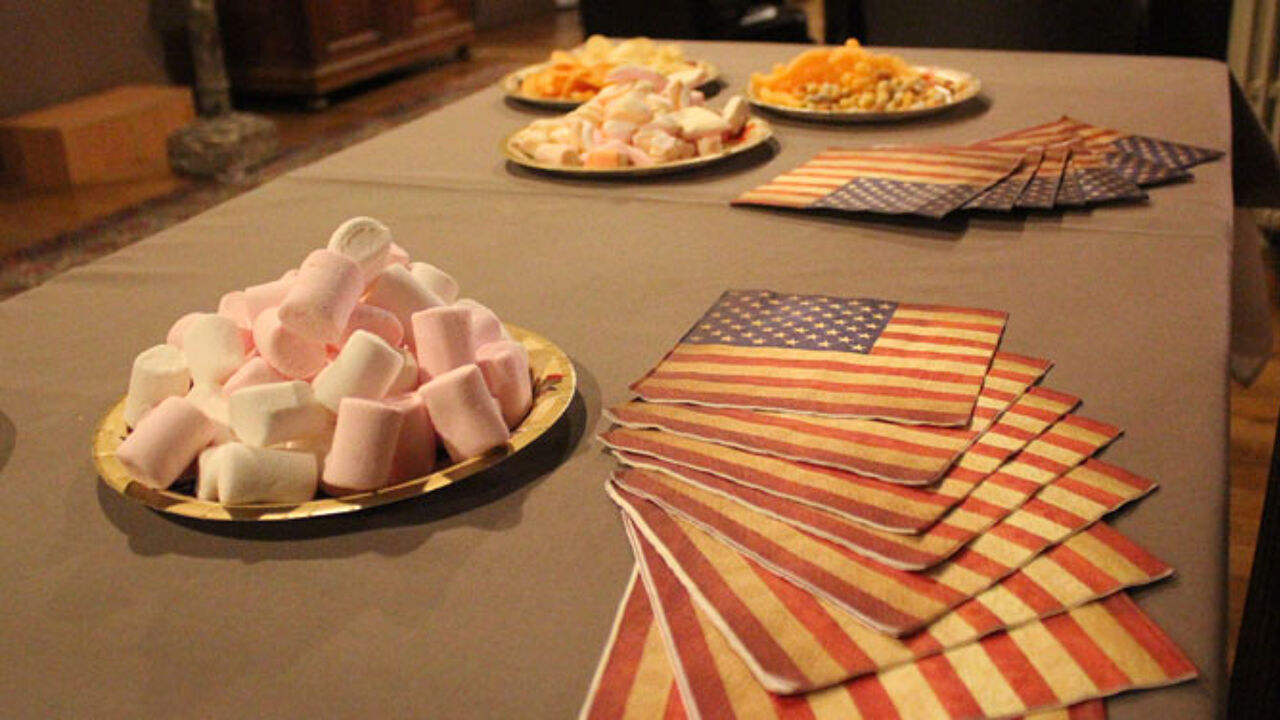 The Chef gets a round of applause
As the evening goes by, many interesting stories are being shared at the different tables. Speeches are being delivered by Erica and the Leuven Deputy Mayor among others ("we see half of the world passing by in Leuven, and this brings good things," Mr Ridouani explains about the multicultural aspect of his city, (see also big photo at the bottom: Mr Ridouani at the right, and Erica Lutes standing at the stairs left)). 
However, the final word goes to the Chef at the Mykene restaurant, Stijn (photo below), who surprised many with his personal interpretation of the traditional Thanksgiving menu. Stijn had never done it "the American way" before, but received a lot of input from Erica, with internet research and his cooking skills doing the rest, to the extent that he received a warm applause after dinner. 
"I listened a lot, but I wanted to do give it a personal touch. We didn't serve the turkey in the traditional way, but in "rollades". We offered the grilled corncobs in original, full pieces. I had to be creative, but it was a lovely challenge. Of course, I had to abide by certain basic rules. The food had to be abundant, to mention just one thing. We also wanted to put many dishes on the table to have the guests serve themselves, to create a family atmosphere."
And we must admit, the sweet mashed potato topped with marshmallow and corn flakes was bull's eye. The roasted chestnut, the stuffing with rum and raisin sauce, green beans and cranberry sauce also did the trick. The brownie with pecan nuts and mascarpone-pumpkin mousse was a dessert that you simply could not skip, even though you had eaten just a little bit too much already. But isn't this part of a good Thanksgiving party?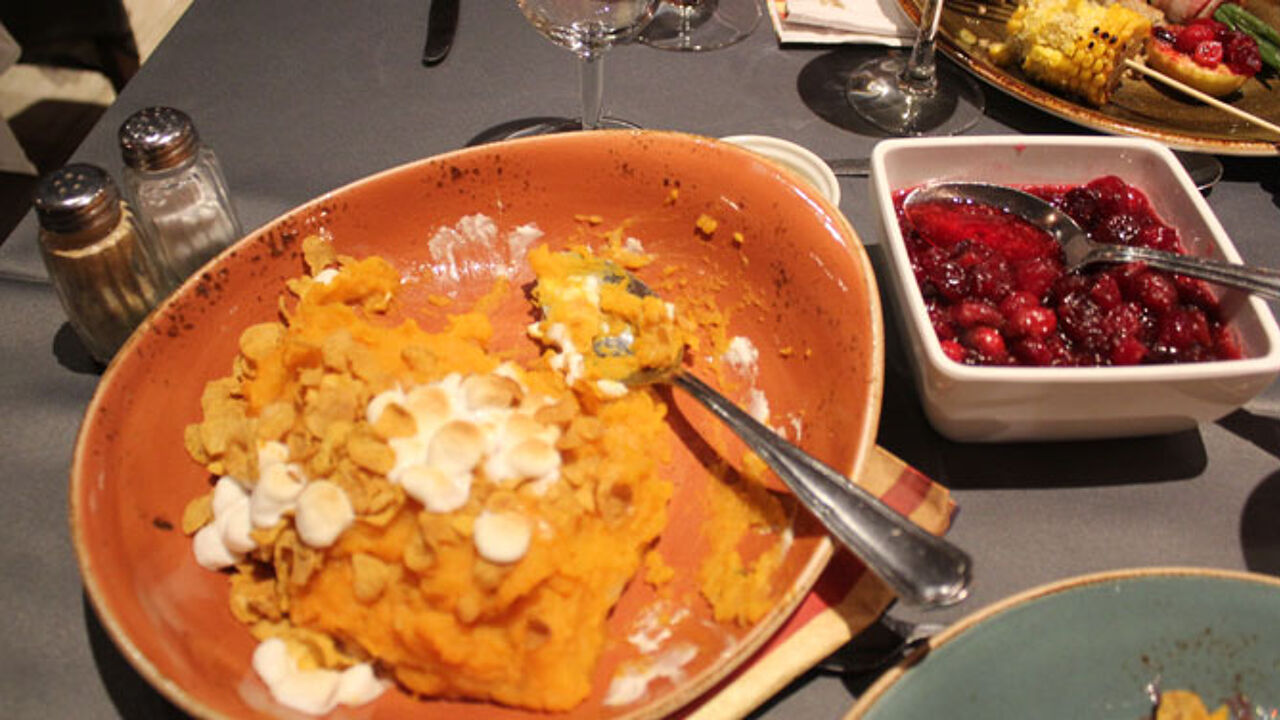 The Indians and colonists started it!
Who "invented" Thanksgiving, or rather when and where did it have its origin? The story has it that it goes back to the 17th century, when colonists exploring American soil met native people. This is how Fulbright put in in a nutshell on the invitation folder.
"In the autumn of 1621, the Pilgrims gathered with the Wampanoag Indians in Massachusetts to celebrate the colonists' first successful harvest. The three-day celebration combined sharing meals with expressions of gratitude and friendship.
Although Thanksgiving Day today differs slightly, the holiday still focuses on giving thanks for what you have and share with others. Like the Pilgrims and Native Americans in 1621, we are convinced that there is no better way to celebrate Thanksgiving with great food and great company."