The tale of 3 dying swans
In football, defending champions Sporting Anderlecht took the 3 points in the classic at Club Brugge. The result means that 3 teams are going into the final sprint, with just 3 days of play left in Play-off 1 as Standard, Anderlecht and Club Brugge are only divided by 1 point. However, as all of them are struggling to reach the end, it's becoming more a tale of 3 dying swans.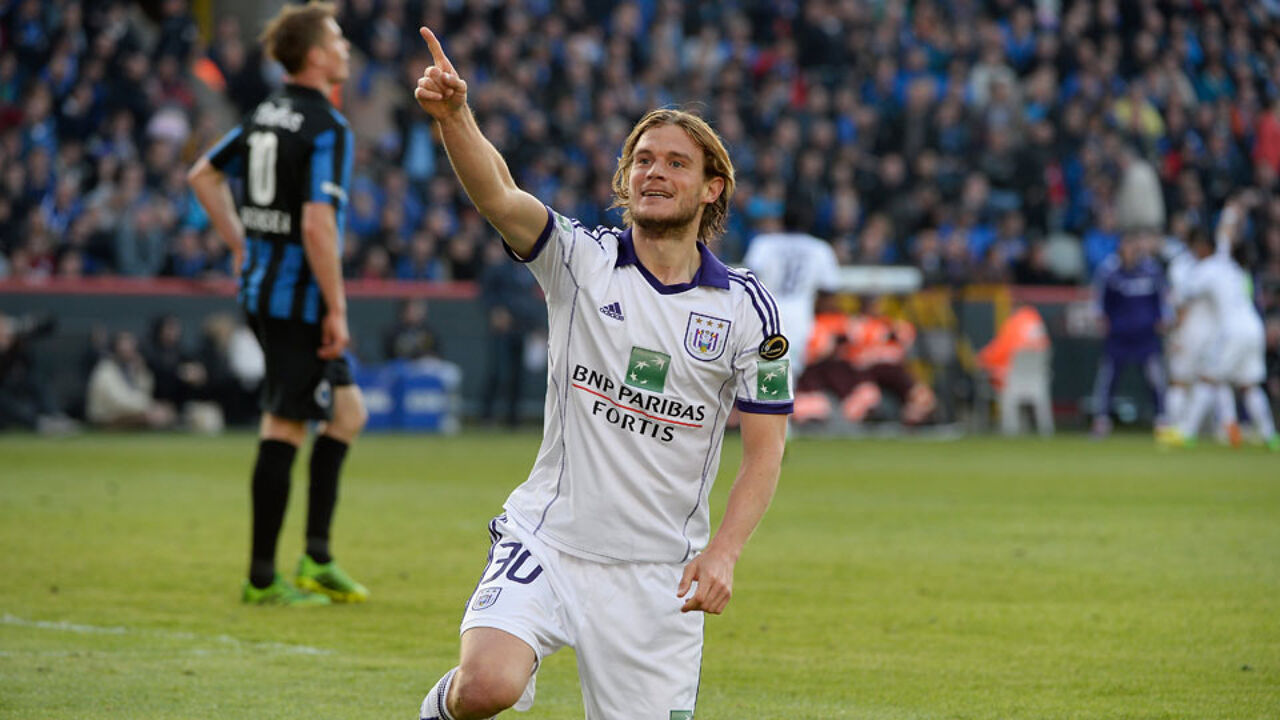 Club Brugge had started the weekend in pole-position and could have taken a big step towards a first title in 9 years by beating eternal rivals Anderlecht from Brussels on their home ground. However, the match turned out to be a huge disappointment for black-and-blue. Bruges controlled most of the match, but were short of goal-scoring attempts.
In a match that could never meet the high expectations, Anderlecht survived quite easily, even after losing Serb forward Aleksandar Mitrovic who was sent off after a scuffle with Bruges defender Björn Engels (small photo) on 37 minutes.
Just when the match looked set to end in a goalless draw, an own-goal by Bruges winger Thomas Meunier, trying to clear a Massimo Bruno kick, gave Anderlecht the 3 points. It could turn out to be 3 vital points for Anderlecht in the title race. (photo on top: Anderlecht midfielder Guillaume Gillet celebrating)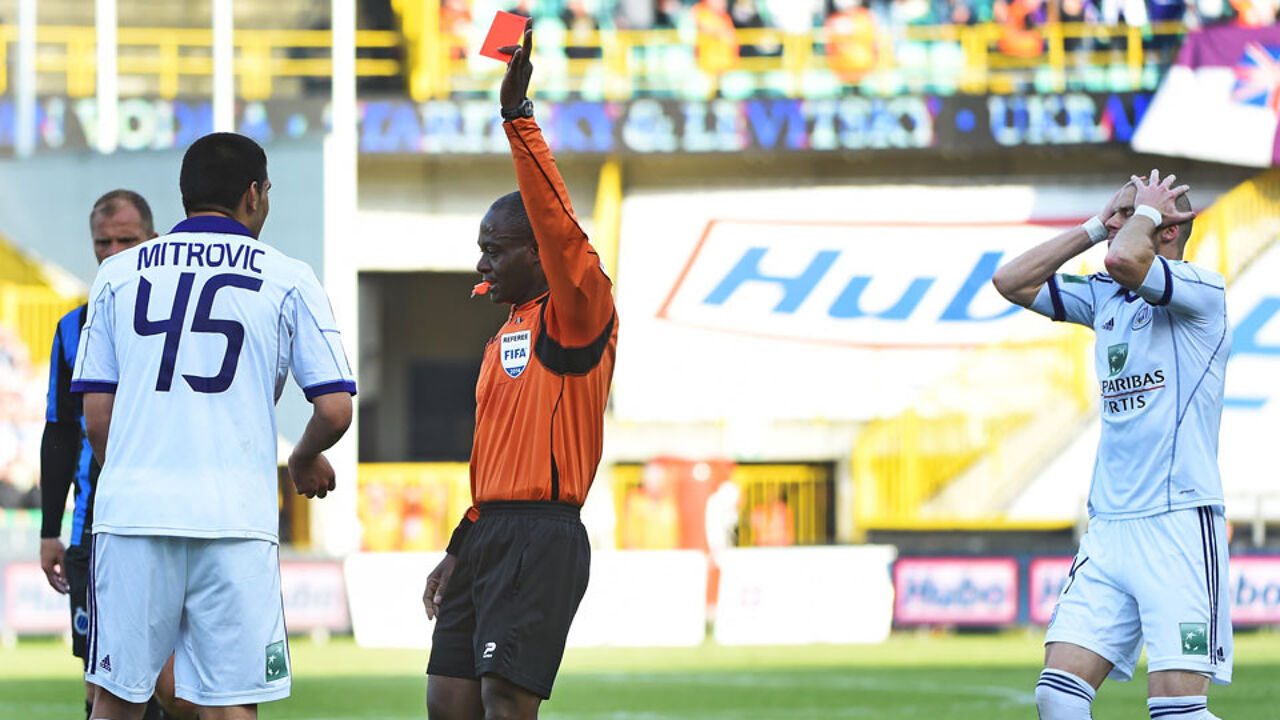 Dying swans
None of the teams has been able to dominate the play-offs for the title. One could even say none of them deserves the title, taking only this season-ending competition into account. The fact that Anderlecht are still in the running, is half a miracle after the poor season they had in the normal competition.
So who could deserve the title? Some say we should look at the team that dominated the league that had 30 days of play. If we do that, we end up with Standard, who clearly dominated the whole regular season from August to March.
However, Standard lost the momentum in the play-offs and failed to find their best form so far. Their latest thrashing of Zulte Waregem, on Friday (4-1) could give them a boost at the right moment.
Standard also have the best cards looking at the table: they hold a 1-point advantage over Anderlecht and Club Brugge and host Bruges next weekend. Winning that match could be crucial for the championship. Standard also have 2 home games in their last 3 matches.
On the other hand, Anderlecht are back in business under newly-arrived coach Besnik Hasi, who made a real team of Anderlecht and reintroduced the fighting spirit, combining the talent of the youngsters with determination and hard labour. Club Brugge have never been able to convince and seem out of the race now, but in these crazy play-offs one never knows.
The finals
10-11 May: Zulte Waregem - Lokeren; Standard - Club Brugge; Anderlecht - Genk
15 May: Zulte Waregem - Anderlecht; Lokeren - Standard; Genk - Club Brugge
18 May: Anderlecht - Lokeren; Club Brugge - Zulte Waregem; Standard - Genk
Standings: 1.Standard (43 points), 2.Anderlecht (42), 3.Club Brugge (42), 4.Zulte Waregem (38), 5.Lokeren (34), 6.Genk (29)