"Everybody should have equal treatment"
One of the specific tasks of the Commonwealth War Graves Commission is "keeping the names alive" of those that gave their lives in the war. A team of craftsmen is making sure that inscriptions on headstones remain legible. Flandersnews travelled to Lijssenthoek Cemetery near Poperinge. "Contrary to what you may think, this is a physically very demanding job."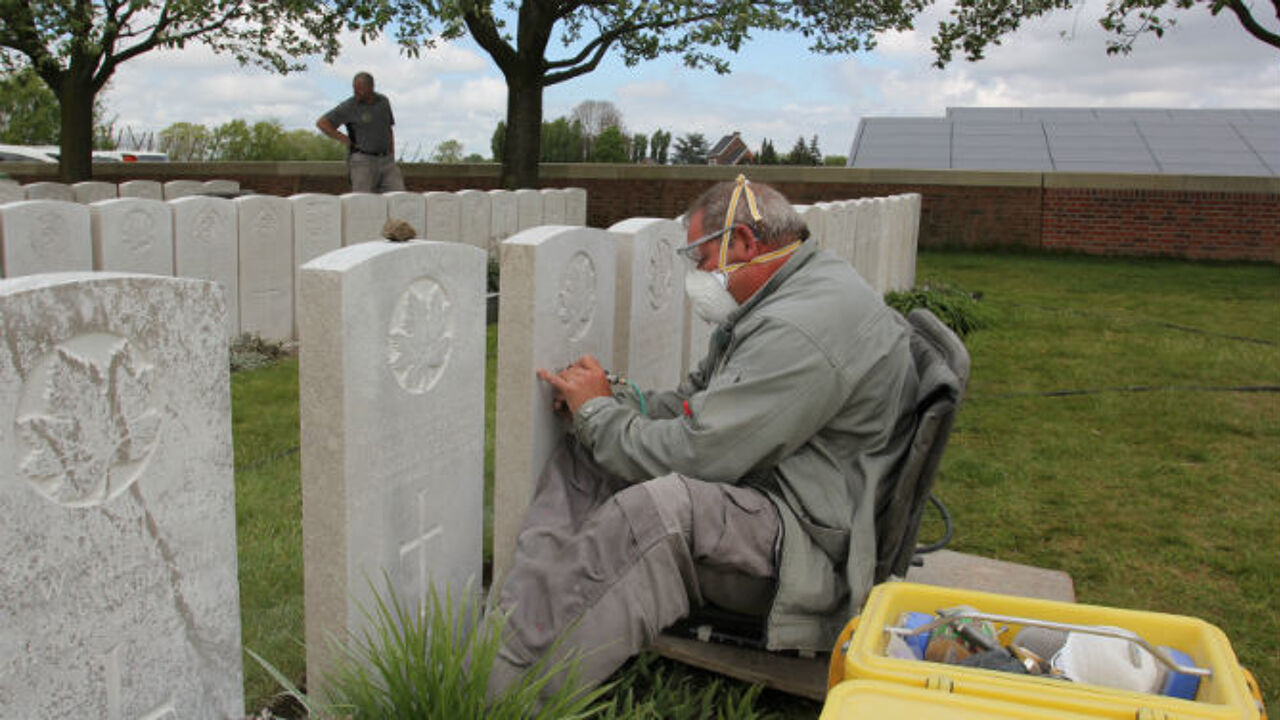 This is the last part in a series of three about the Commonwealth War Graves Commission and its work in Belgium. The Commission is staging a first Open Day tomorrow, Saturday 23 August, at the Saint-Symphorien Military Cemetery between 10am and 4pm.
"One of the most important aspects of our work is ensuring that the names of all Commonwealth servicemen and -women are legible. A damaged or eroded panel or headstone, a name that cannot be read is unacceptable, which is why we have a rolling programme of inspections of headstones and memorials."
"In most cases, where the stone is sound but the inscription eroded or damaged it is both economical and environmentally sound practice to re-engrave the headstone. Where this is not possible, or the stone is damaged beyond repair, we replace headstones and panels."
"The majority of headstones are engraved at our French workshop outside Arras. A skilled technician using a machine - called an incisograph - can engrave up to 10 headstones a day", a statement on the website of the Commonwealth War Graves Commission (CWGC) explains.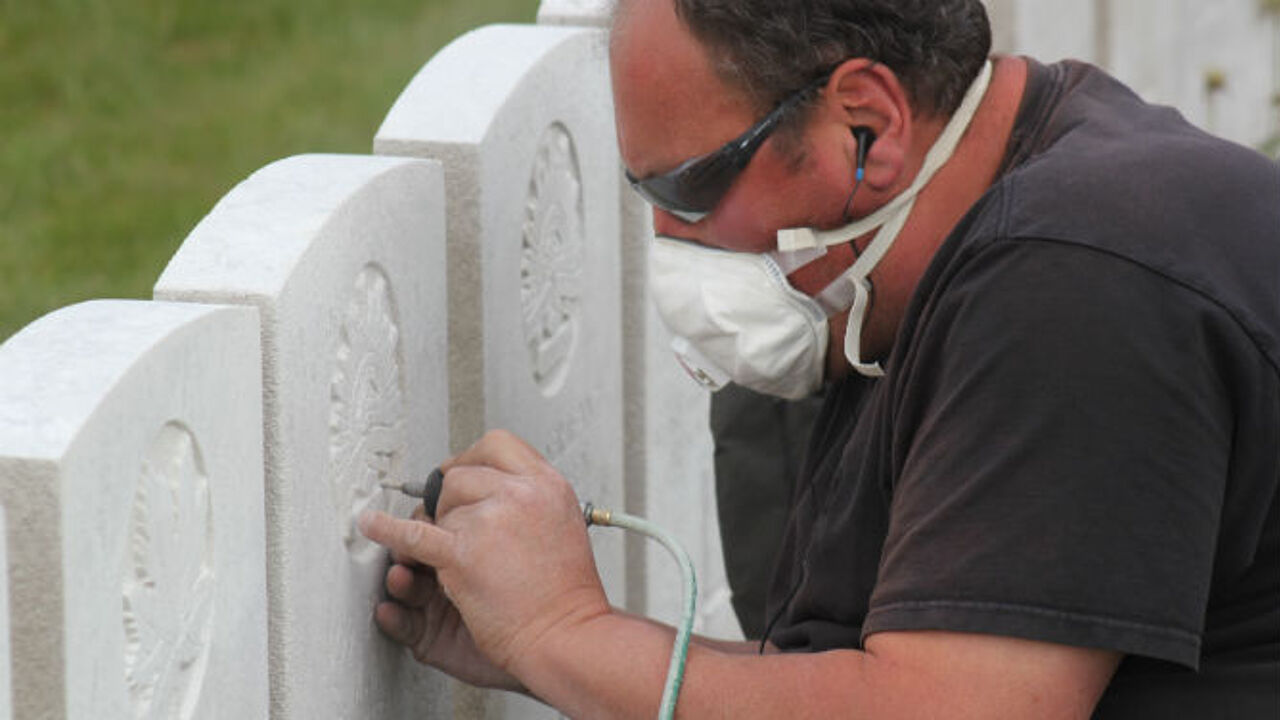 Portland stone
The vast majority of headstones are typical white headstones made from Portland lime stone. This is a relatively soft stone and it's possible that inscriptions become illegible after a span of several decades to 100 years, due to erosion.
Each headstone contains a lot of information, such as the national emblem or regimental badge, rank, name, unit, date of death and age of each casualty inscribed above an appropriate religious symbol and a more personal dedication chosen by relatives. The headstones use a standard upper case lettering designed by MacDonald Gill.
However, the relatively soft stone can lead to inscriptions becoming illegible after a span of several decades or centuries.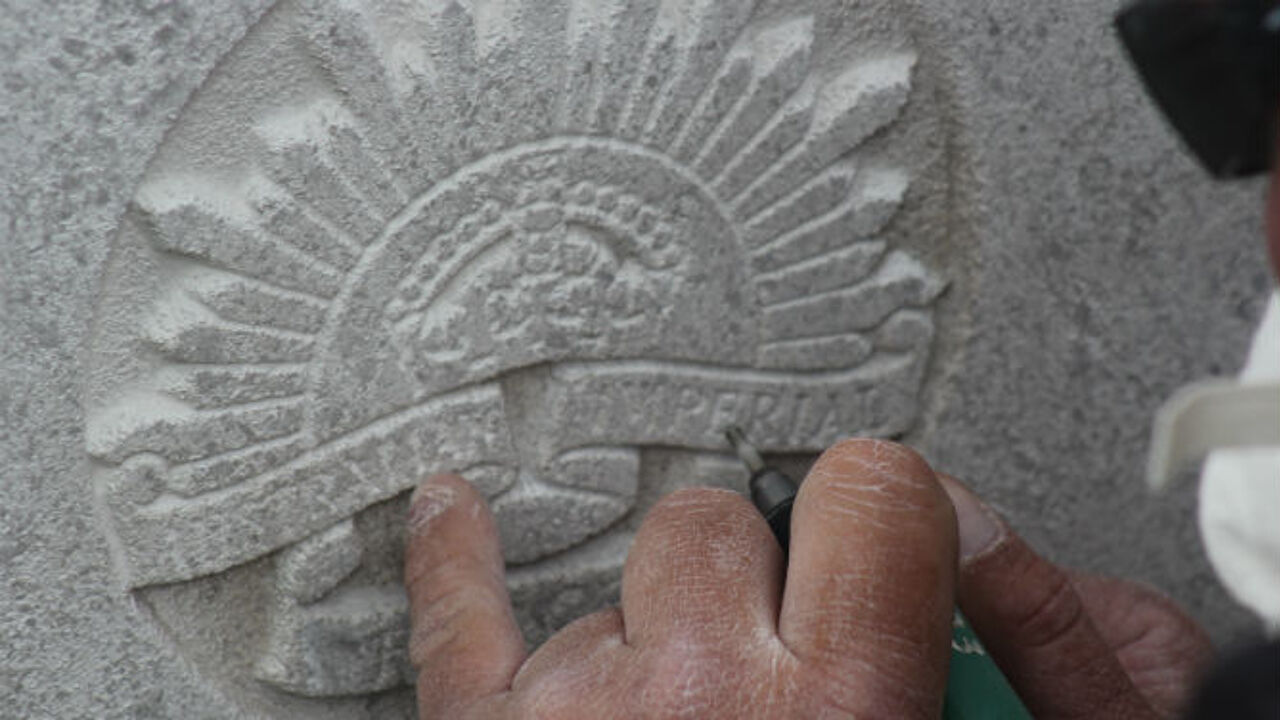 No mistakes allowed
We meet Yves Depoorter, who is busy renewing the inscriptions. It's a tough task, not only physically but also because it requires a lot of concentration. "You have to make sure you keep a steady hand and you can't make any mistake."
It's physically demanding because of the uncomfortable position you're in. Moreover, engraving takes time. "We can manage 5 to 7 stones per day. A lot depends on the lay-out. Which inscriptions is the stone bearing? If it shows a long personal message - family or friends of the victims could make suggestions for a message of maximum 4 lines to be engraved at the bottom of the stone, red - or a complicated emblem, this obviously makes a big difference."
Engraving also requires specific skills. Yves Depoorter and his colleagues received a calligraphy course before they got started.
"All men are equal"
The line of headstones seems endless, but Yves and his colleagues are working with patience and dedication. The CWGC set out a standard of 4,000 headstones to be re-engraved each year.
"People often come for a chat when they see us at work. One of the things they typically ask us, is why we have to revamp all the headstones and not just the ones that are in a bad way." The answer is simple: everyone is equal. Whether they were high- or low-ranked, a corporal or a soldier, they all died in the war and gave their lives. "Imagine that family is visiting this site and that they notice nothing has been done with the headstone of the one they came to visit. What should we answer them in that case?"
"Another question people often ask us, is whether the person whose name is engraved on the stone, is actually the person lying under the ground. Well, I can assure you it is. The victims here came straight from hospital." He shows us some names. "Nearly all of them have precise data."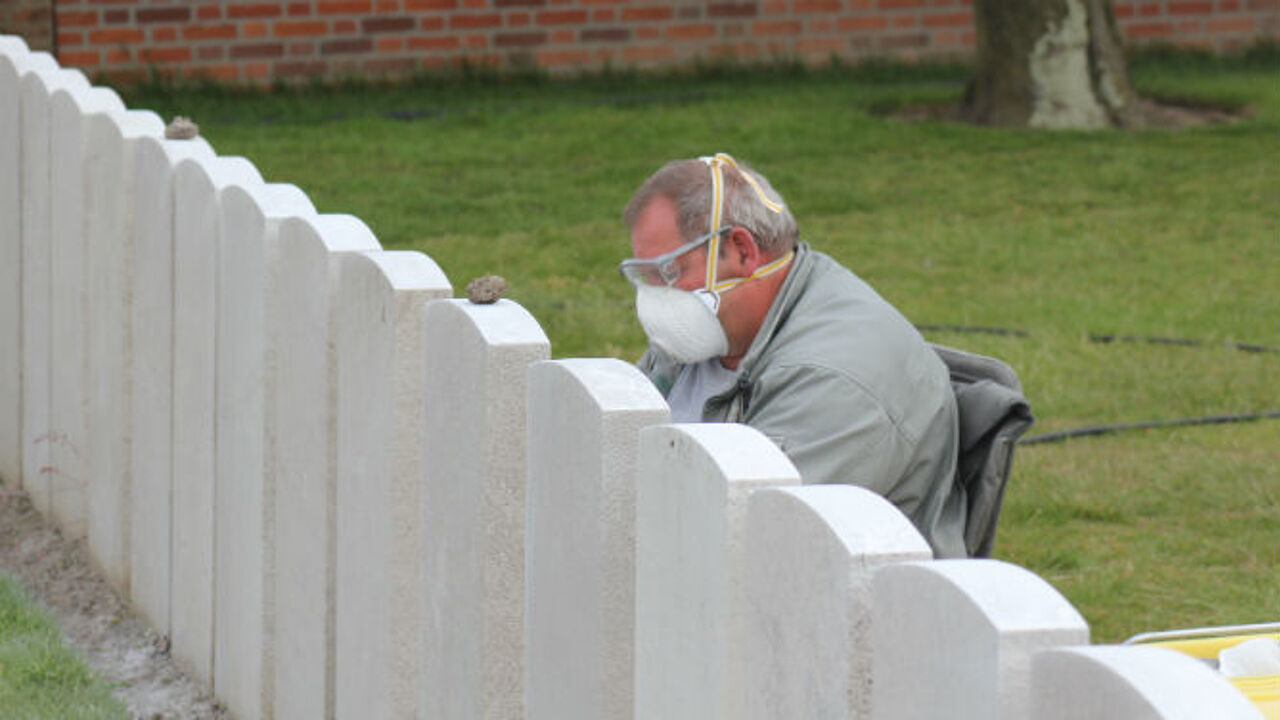 "It was ordained that what was done for one should be done for all, and that all, whatever their military rank or position in civil life, should have equal treatment in their graves".
Sir Frederic Kenyon, 1918
Red cross
It's not all about renewing the inscriptions. Some stones show a clear problem and have to be replaced. Teams of inspectors visit the various sites to determine which head stones need to be replaced.
There are 3 categories: headstones that have to be replaced in 2 years' time, in 4 years' time and in 8 years' time. Stones that have to be removed are marked with a small red cross at the bottom. When a stone has been temporarily removed, a "temporary marker" is being put in order not to leave an empty space.
A lay-out is being kept of each single headstone in a big data bank. This contains every detail of the headstone that is being replaced, name, dates, emblems, personal message etc. If an inscription has become illegible, the CWGC can easily consult the data bank to find out what was written on the stone.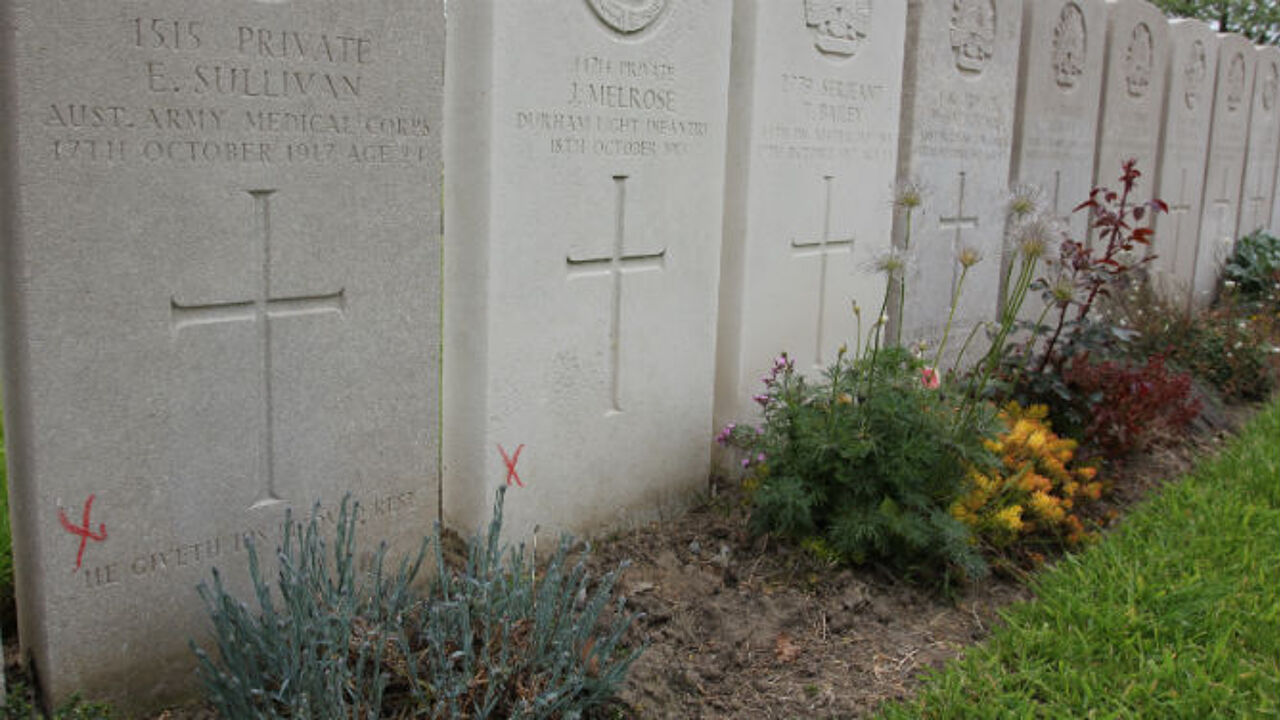 35 Chinese victims
Lijssenthoek is situated in the Poperinge area and is the biggest British cemetery in Belgium behind Tyne Cot. It includes almost 10,700 graves, of Commonwealth members but also several hundred French and German soldiers.
A brand new visitor centre was inaugurated in 2012. The cemetery also provides a resting place for 35 Chinese victims that came to Belgium in the aftermath of the Great War to clean things up and help in reconstruction projects, but who died because of the Spanish flue.
Lijssenthoek also boasts a grave of a female war victim, a nurse called Nellie Spindler. She is one of the few female servicewomen on a British war cemetery.
Her grave can be found at the front of the big site, which covers some 4 hectares, and can be spotted from a distance due the many poppies that have been placed at the headstone. Lijssenthoek is another cemetery designed by Sir Reginald Bloomfield.