New Peter Sharp 'experience' at Subi Station!
Bet you've seen it too: the video about the Perth Train Dance Party. One single man, in a suit and with a stereo, gets commuters dancing. He saves them from a boring train ride and brings instant joy to the train passengers. It was a video that went viral in no time, also in Belgium. This weekend, social artist Peter Sharp was back. This time at Subiaco train station. And once more, he got the crowd dancing. VRT journalist Eveline Masco joined in.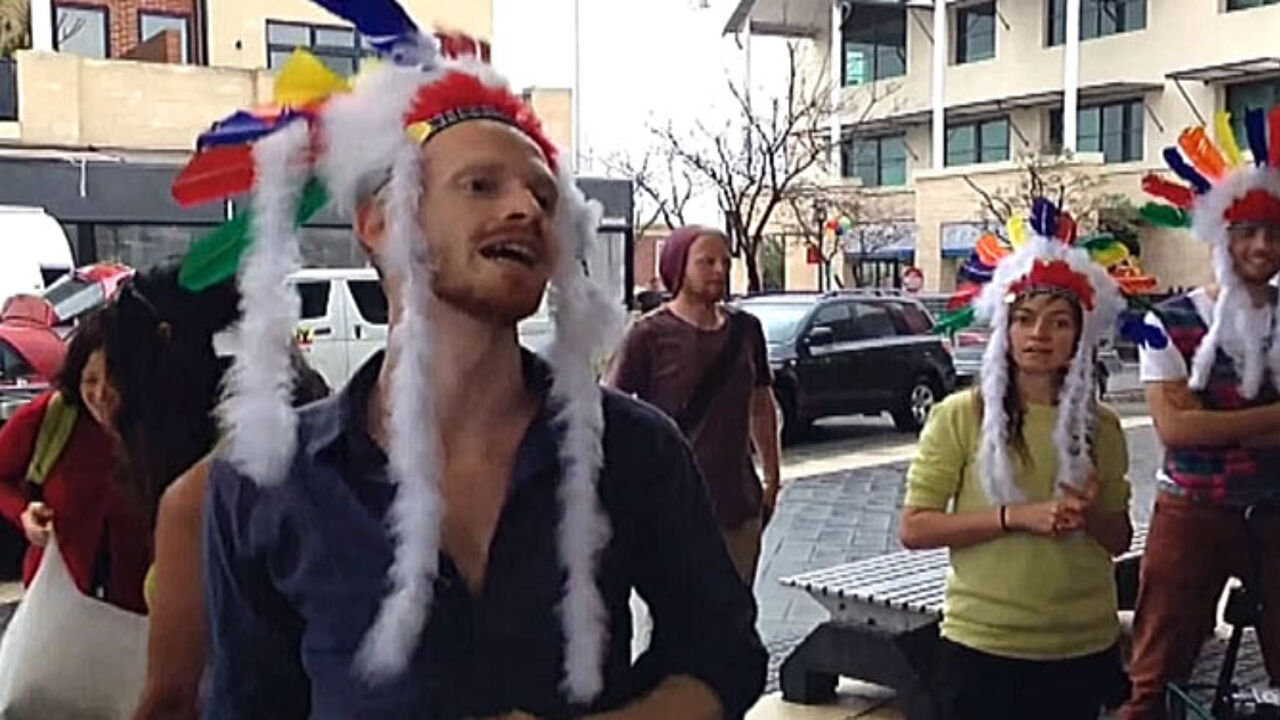 "You can hug anybody. Let's go. One, two, three!" And out of nowhere, an instant
party was started at Subiaco train station. Strangers started giving high fives, hugging each other, and dancing in the street. Peter Sharp's enthusiasm got everyone moving. The party only lasted for 15 minutes, but Sharp had reached his goal. "I want to bring love back to the population."
After the party I ask him whether he realises he's known all over the world now, thanks to his Train Dance Party video. Peter Sharp is all smiles. "I think that video got about 4 million views in the last 5 days. We filmed it about a month ago. It went in shockwaves, people sharing it. But no: people don't recognise me on the street yet."
What message does he want to get across? He takes some time to think, looks me in the eye, and then replies: "Love is everywhere. We need an activity, a game, to see it's amongst us. I create moments, and I see people enjoying it. We're bringing love back to the population."
 -"Why?"
-"We're restoring things, bringing them back in equilibrium. The media have spread so much fear, fear for this other person I don't know the name of. But the general population are good people. People that don't want to take your money, that don't want to take your children." He pauses. "What do you think?"
I answer that there's a saying in my mother tongue: that good news isn'tconsidered news at all.
-"Well there you have it."
Peter Sharp started working as a social artist in Barcelona, Spain. He spent the last 3.5 years there, at the height of the economic crisis.
"There was so much negativity, so much despair. People need positive energy, you need hope, to get out of a crisis, you need hope to get out of that spiral."
Now he's back in Perth. "This is home for me. I know now: this is what I want to do in life." He pauses and adds: "You know I studied to be an accountant." (smiles)
As a former DJ Peter understands the social dynamics of a crowd. He knows how to get them moving. His own passion for dancing inspires passers‐by to join in and leave all their inhibitions behind.
Jae West, a dancer and actress, has teamed up with Peter to help him get his message out.
"It's great to see people feeling completely self-­‐expressed, without any hesitation. We even see grandparents join in. It's not about what society expects. Age, gender, race: none of that matters. Just fully express yourself."
Here at Subiaco train station, the party is over. For now.
-"So what's next?"
-"A party in the bush!" Peter replies, before giving me a hug when he leaves.
 
Find out more on www.petersharp.com.au.