Lucas Straetmans: set to take the Belgian fashion world by storm?
Last weekend, fashionistas and fashion victims alike were free to roam the capital city in search of sartorial inspiration. The Brussels 'Mode Parcours', which freely translates to the 'Designers' Trail', aimed to showcase Belgium's finest designers in a bustling urban setting. Flandersnews sat down for an interview with one of these featured young talents, Lucas Straetmans (24), a recent fashion design graduate at the Royal Academy of Fine Arts (KASK) in Ghent, with rather unique aesthetics. "I created my own kind of monster."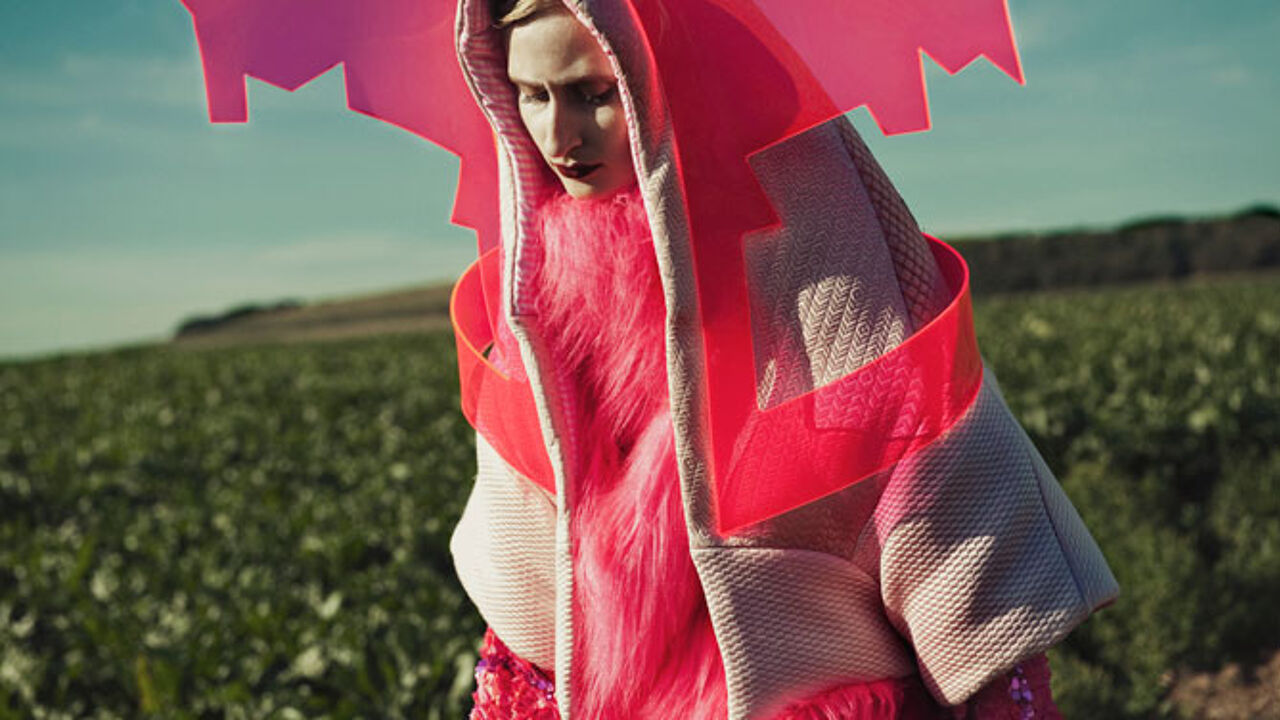 Even though he was born in a small rural town, the young designer developed a surprisingly persistent interest in fashion at a very young age. "I loved drawing cartoons when I was little. After a while though, the plot became less important and my characters started to dress more immaculately", Lucas explains. "My fascination with clothes and garments has been present for as long as I can remember. One of my elementary school teachers even gifted me my first sewing kit as a result. She also started bringing her own sewing machine to class for me to experiment with." This was apparently more a curse than a blessing for his fellow classmates. "I accidentally cut up their clothes from time to time", he adds dryly.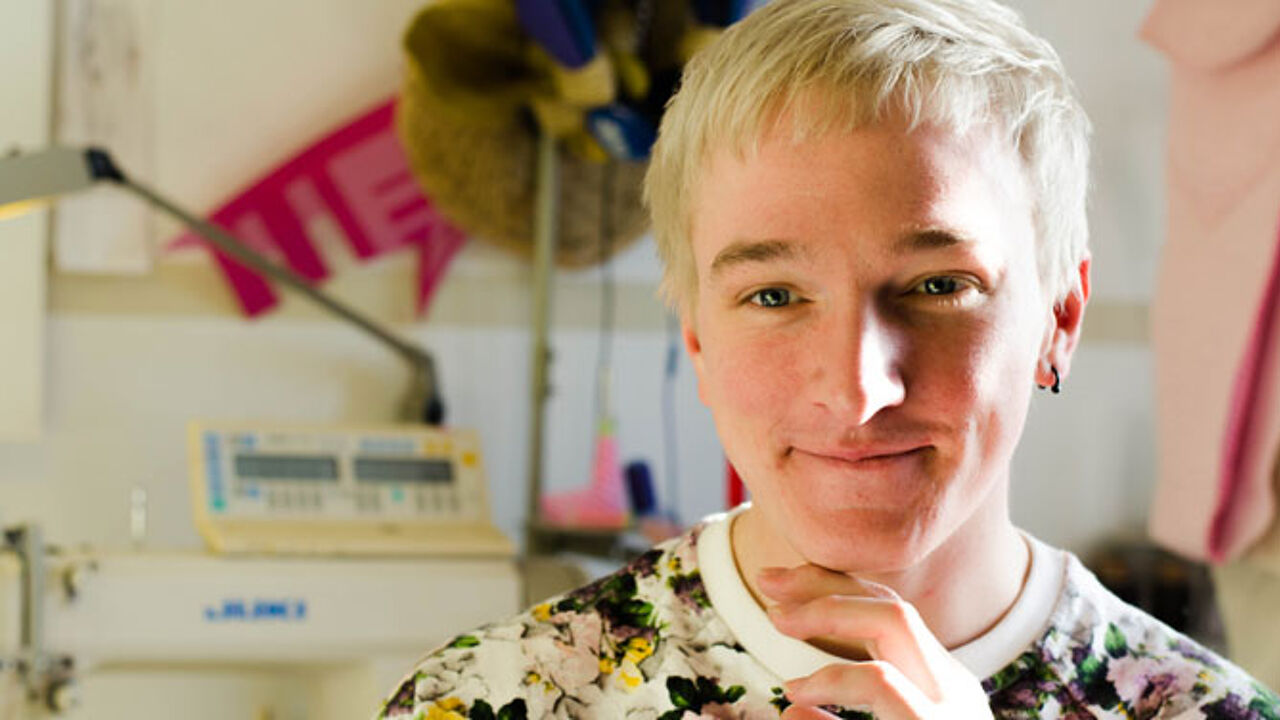 "Antwerp wasn't even on the cards anymore"
When higher education loomed, Lucas weighed his options carefully. "Fashion seemed to be the most obvious choice, but I tried considering other options as well. I debated studying psychology or languages. Eventually, I went with my main interest." The path to success was however, not as straightforward as he would have hoped. "I took part in two fashion design course entry exams, in Ghent and Antwerp respectively. At the time, I naively assumed I would be directly admitted to the fashion department of the Royal Academy of Fine Arts in Antwerp and make it big. Life turned out differently and the experience taught me some valuable life lessons."
This initial failure did not deter Lucas at all. "I took it in good grace and enrolled on a Fashion Technology course at University College Ghent, with the plan being to try out the Fashion Design entry exams again the next year." During his time there, he became enamoured with the city of Ghent. "I followed through with the entry exam, but Antwerp wasn't even on the cards anymore. The decision to stay in Ghent was a well-thought-out one. I had really come to love my new hometown and KASK's fashion department and I wasn't ready to leave it yet. Even though I graduated last academic year, I still hang out at the atelier quite often."
"Maverick is aimed at outcasts"
After passing the entry exam, Lucas worked hard on developing his aesthetic and was by his own admission a bit 'overly studious'. Eventually, his hard work paid off as and he graduated last academic year with a Master's degree in Fashion Design. His work must have left a good impression, as he was asked to showcase his designs in the Mode Parcours.
"It was one of my mentors, Marina Yee, who invited me to take part in the event. Ms Yee has been responsible for the exhibition set up in the Oxfam Vintage shop for the last couple of years. When she asked me whether I would be interested to show a collection here, I jumped to the chance."
"Together, we came to the conclusion that the collection I had designed for my Master's Degree would fit in most with the theme of the event, which was 'citizenship'. The aim of this year's edition of the Mode Parcours was to show the connection between the designer, his clients and the city. On top of that, my collection, titled Maverick, was completely finished and Ms Yee felt that it would blend in seamlessly with the location."
Maverick was always designed with a specific audience in mind. "The collection is aimed at outcasts and people who have trouble finding out where they belong. They're attempting to find themselves and ultimately create their own world."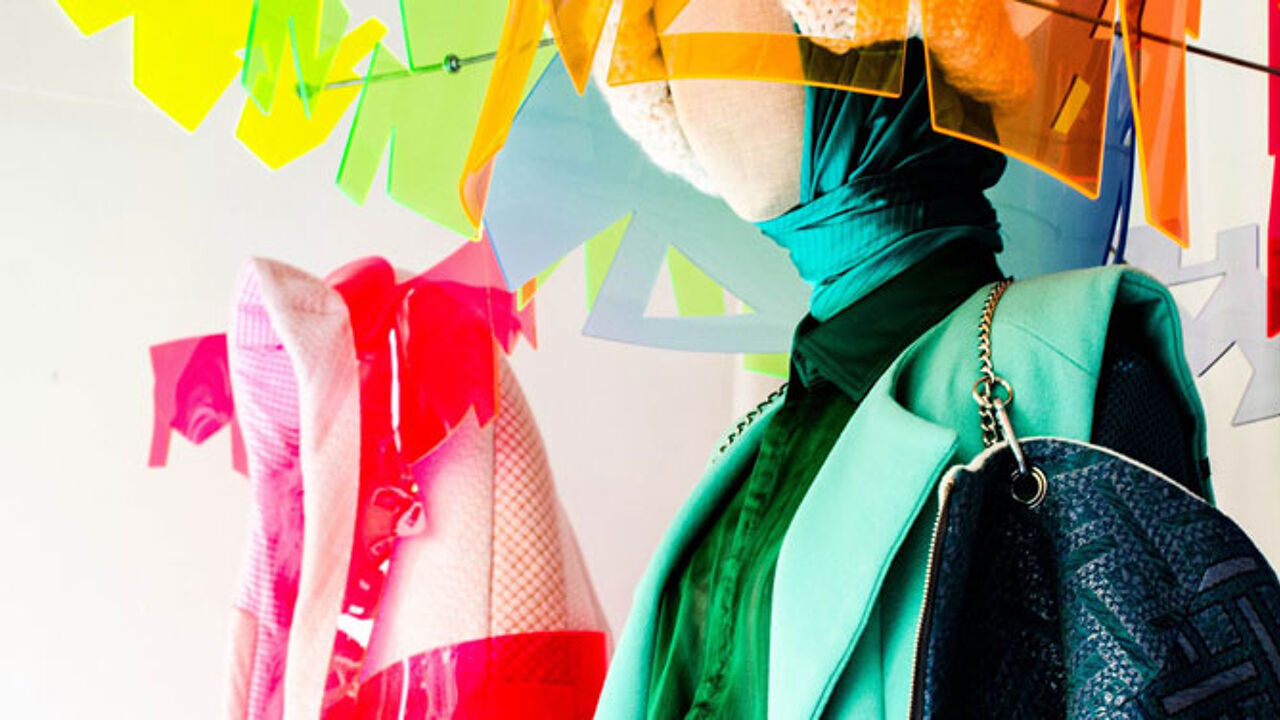 "You'd expect that individuality would have become the norm by now"
The collection is first and foremost a testament of his own frustration. "The idea for Maverick first sprung to mind after a really awful night out. At a festival after party, people kept harassing me and calling me f*g. This just saddened me. Why is it, I wondered, that even in today's so-called modern society, people still can't celebrate and stimulate individuality? You'd expect that would have become the norm by now."
With this experience fresh in mind, Lucas set out to translate his frustration into a clear statement. "I wanted to show what I stood for and who the people are I design for. They, I assumed, are individuals who love colour and aren't afraid to showcase peculiar garments with pride. Most importantly though," he adds, "they dare to stand up for themselves, the kind of outcasts who are still being treated as 'monsters' by a vocal segment of society."
'Monsters' became the watchword of his collection and he decided to let this shine through. "The concept stuck and it's where I drew the bulk of my inspiration from. I researched how different kinds of monsters had been portrayed throughout history, but also didn't shy away from pop-culture phenomena such as Disney and Pokémon. All these creatures eventually amalgamated into one imagined being, my own kind of monster as it were, the foundation of Maverick."
His idea translated beautifully into a cohesive collection, with an emphasis on colour and textures. "It was really important that I found my own style during the design process. I knew that once I graduated, I needed to have a clear idea of who I wanted to be as a designer. Maverick represents a rainbow clan, with all looks keeping a distinct individuality."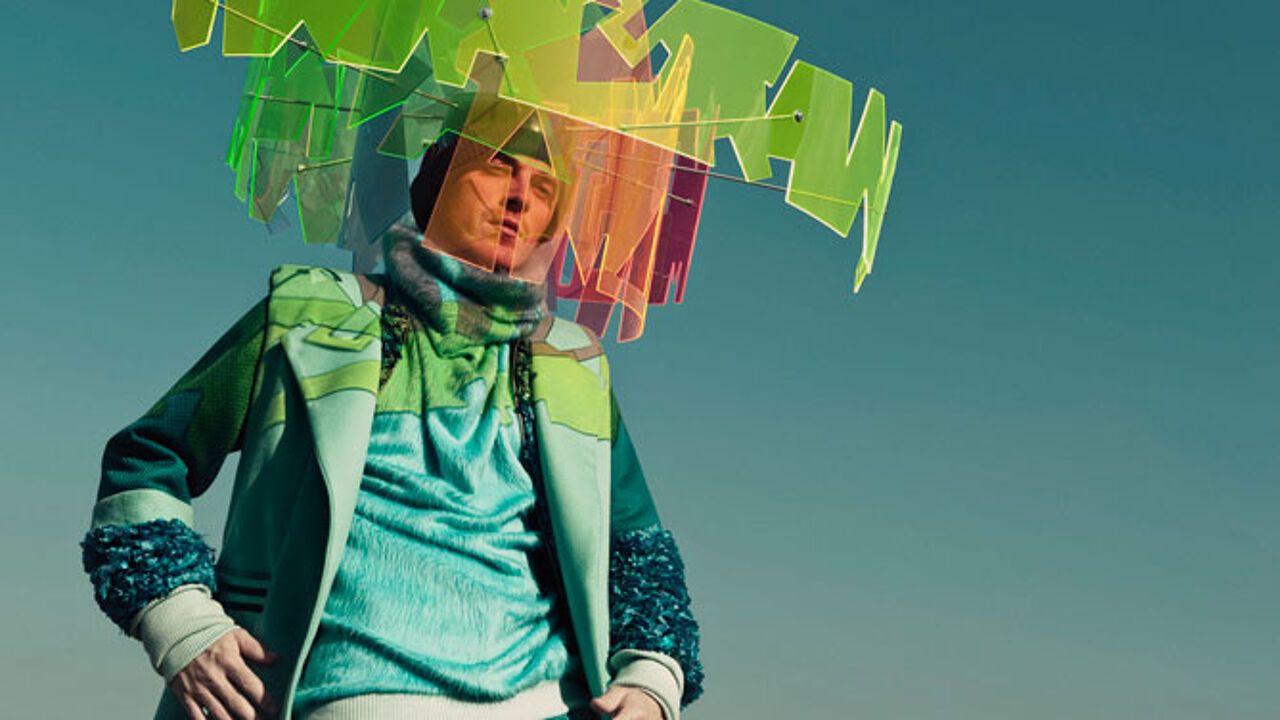 "Fashion is finally becoming understandable"
Lucas hopes to diversify his designs even further in the future. "I try make clothes for 'actual' people and I would love to integrate different body types into future collections. It's the person wearing my designs that plays the most important part in the story. Clothes and people are in my opinion undeniably linked, one just can't function without the other", Lucas states.
"It's great though, fashion is finally being designed for real people and is becoming increasingly more understandable and accessible to them. Soon, they won't have to try and identify with incredibly tall and slim models anymore and that's a brilliant thing", Lucas explains. "Don't get me wrong, those women do a brilliant job!", he adds quickly. "But any garment is destined to look good on an editorial model and there's no real challenge in designing with – only – the ideal measurements in mind."
When other Flemish media outlets caught wind of the young designer, they were quick to compare him to Walter Van Beirendonck. Lucas remains remarkably modest about this. "I think he's just the only Belgian designer who I can be easily compared with. Our designs are similar when it comes to colour usage, but the key differences are the fact that his work is more sexually loaded and I love to design women's clothing as well. However, the comparison is a huge honour naturally", Lucas says. "He's one of the few Belgian designers who isn't afraid to use bold colours and do crazy things. In the meanwhile, his work is in line with current trends, albeit very differently interpreted. Van Beirendonck does his own thing and it fits in naturally with the zeitgeist. An inspiration for anyone."
What the future holds? "Right now, I'm in the same boat as other recent graduates. My day consists in sending out application letters and hoping for the best."
Want to see more of Lucas Straetmans? Maverick and other projects can be found on this website.