Queen Fabiola (86) has passed away
Belgium's Dowager Queen Fabiola, the widow of the former Belgian King Boudewijn, has died at her residence Stuyvenbergh Castle, aged 86. The news was announced by the Royal Palace on Friday evening. The queen had looked increasingly frail over the past months and was using a wheelchair. She hadn't made any public appearances for some time. The Belgian monarch King Filip said he was filled with great sadness when he was informed his aunt had died.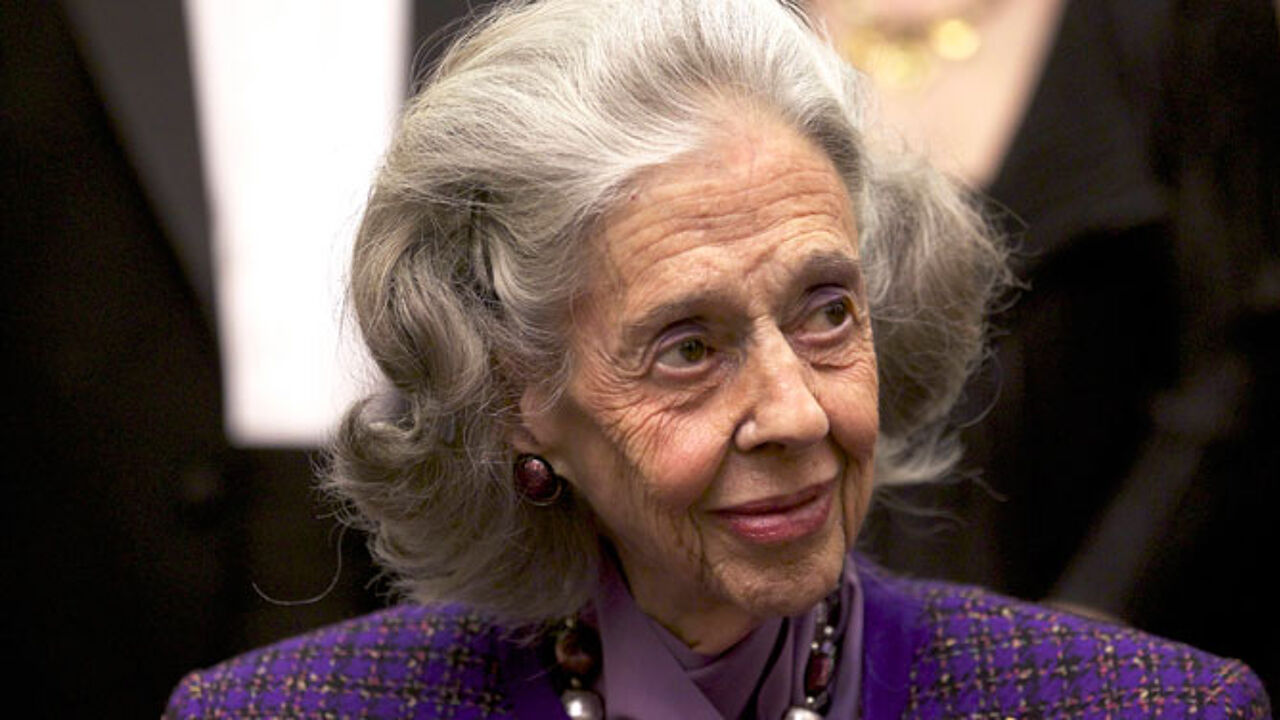 "Their Majesties the King and Queen and the Members of the Royal Family announce with great sadness that Her Majesty Queen Fabiola has died in Stuyvenbergh Castle, in Brussels, tonight", a press release announced around 7:10pm yesterday.
Fabiola had reached the age of 86. Her last public appearance went back to 31 July 2013, when a remembrance mass was held for her former husband King Boudewijn. Fabiola had been in poor health for some time. She had breathing problems and had to use a wheelchair to get around. Her death does not come as a complete surprise.
"She had been very weak since 2009, after contracting pneumonia", explains Rafike Yilmaz, spokeswoman for the Royal Palace. "She also needed mechanical ventilation lately. But despite this, there were no indications that she would die." 
Daughter of a Spanish count
Doña Fabiola Fernanda María de las Victorias Adelaida de Mora y Aragón was born in Madrid on 11 June 1928, as the 6th of 7 children of a Spanish count.
She married Belgium's King Boudewijn on 15 December 1960, which made her the 5th Belgian Queen at 32 years of age. Belgium had a queen again, for the first time since the death of Queen Astrid in 1935. Boudewijn and Fabiola, two religious persons, had a strong bond and enjoyed a solid marriage. Their biggest dream, to have offspring, remained unfulfilled. Fabiola is said to have suffered as many as 5 miscarriages.
As they had no children, Fabiola and Boudewijn were engaged in the education of Prince Filip, the eldest son of King Boudewijn's brother, Albert.
Social and cultural engagement
King Boudewijn died from a heart failure on 31 July 1993. His death came as a complete surprise during their holiday. Fabiola wore a bright white dress during the funeral ceremony, as a sign of hope. She retained her title of queen after Boudewijn's death.
Fabiola was socially and culturally engaged and chaired the renowned QEC (Queen Elizabeth Competition) for opera and/or classical music. Although she had the image of a reserved and deeply religious person, Fabiola had a good sense of humour. After receiving death threats in 2009 - someone threatened in a letter to shoot her with a crossbow - she carried an apple with her and showed it to the public at her next public appearance, a referance to the story of William Tell.
Controversy
Fabiola sparked controversy in 2013, after it turned out she had created a special trust "Fons Pereos" to pass on an estate in Spain to relatives without paying taxes.
The move was not illegal, but was controversial because it included not only private but also public money from the Belgian taxpayer, something she always denied.
The row led to the government cutting state allowances to the royal family, including those to Fabiola, and making the royal family start paying taxes. Fabiola saw her grant cut from 1.4 million euros to 923,000 euros at a first stage and 460,000 euros at a second stage, in June 2013.
King Filip loses a second mother
King Filip is said to have been filled with great sadness when he heard about the death of Fabiola, who spent a great deal of effort in raising him, and who was a second mother to him.
The Belgian PM Charles Michel said that "Belgium loses a queen who gave our country an international reputation". He also praised her for her social and cultural engagements. Mr Michel added that "We will remember her as a Grande Dame who has her place in Belgium's history."
Click on the video below to play
06/12/14 - The following video gives an overview of Queen Fabiola's life: the marriage with King Boudewijn, her social engagement (at the Children's Museum), the funeral of her husband King Boudewijn, the Queen Elizabeth Competition, family life (including family portraits) and the apple joke.