"Terrorist plans focused on police officers on duty"
Speaking at a press conference this morning, federal prosecutors confirmed that police services were the immediate target of an Islamist group planning to stage terrorist attacks. The plans were apparently very concrete and attacks were imminent, it can be heard in the aftermath of Thursday's large anti-terror operation. Meanwhile, experts underline that there is no reason to panic, and that we shouldn't let ourselves be paralysed by feelings of fear.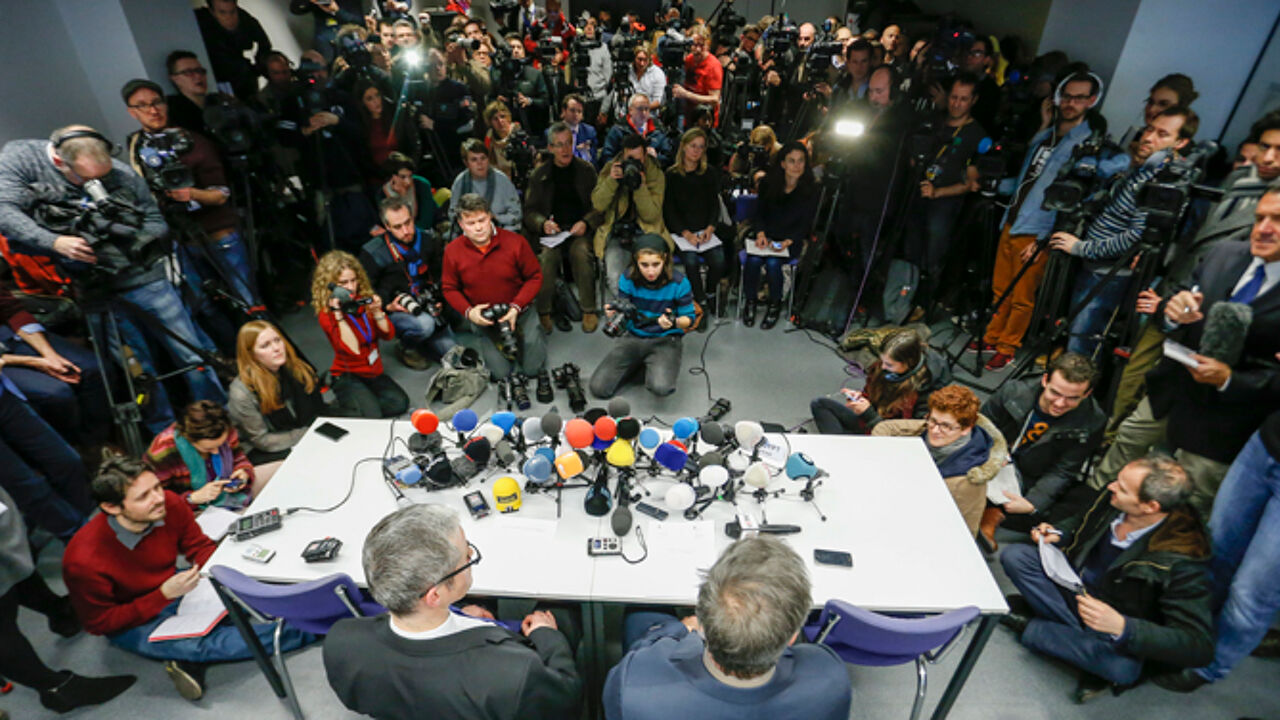 Magistrates told a press conference that investigations had pointed out that policemen on duty, both those on public roads and those at work in police stations or buildings, were the terrorists' target. The terrorists apparently wanted to hit the heart of the Belgian security system, which is why the attacks are taken even more seriously.
VRT journalist Caroline Vandenberghe had earlier said that "the plans were very concrete" in Thursday's late edition of the VRT TV news 'Het Journaal'.
"We know for sure that these plans were about to be carried out in the following days and hours. The raids in Verviers were needed to avoid a second Paris, the federal judicial authorities said."
12 house raids, 13 + 2 arrested
A total of 12 house raids were held, prosecutors confirmed at the press conference, in the Walloon city of Verviers (2), the Flemish Brabant town of Liedekerke (1) and the Brussels area: Anderlecht (1), Molenbeek (6), Brussels (1) and Sint-Agatha-Berchem (1). 
A total of 13 people were taken in for questioning. Among them are former Syria fighters. "Most of the suspects" have the Belgian nationality, it was confirmed, although prosecutors did not elaborate on this.
It was also announced that 2 suspects were detained in France. They both belong to the same terrorist unit that was planning the attacks, and they both have the Belgian nationality. Belgium will ask for their extradition. 
Police uniforms among the items seized
During the raids, police units seized several types of weapons (including machine guns), explosives, a hand grenade, police uniforms, cash, mobile phones and walkie-talkies.
Caroline Vandenberghe explained that "it seems likely that the terrorists would have worn a police uniform. In that way, they could have walked in the street carrying a gun without looking suspicious, which would have made it easier to kill police officers. And it would have been easier to enter a police station to start a shooting."
"Biggest Belgian anti-terror effort ever"
It is not clear whether the whole terrorist unit has now been neutralised. The judicial authorities could not or did not want to confirm this. "The investigation will have to show whether we have everyone", spokesman Frédéric Van Der Sypt told the press conference. "However, we can say that we delivered a serious blow to terrorism in Belgium. We were able to arrest all those that were on our list yesterday."
Yesterday's raids were the biggest anti-terror operation ever held in Belgium. The effort was largely a Belgian one and was not part of a European action. There is no link with the Paris attacks, it was confirmed again.
"Don't let fear reign our minds"
The political expert Bilal Benyaich said that there is no reason for anyone to panic. He had two main messages: we shouldn't let ourselves by paralysed by feelings of fear, because if we do, we do exactly what the extremists want us to do. They want a society of fear, together with a polarisation between Muslims and non-Muslims. This is also something we should definitely avoid."
The VRT's Middle East watcher Rudi Vranckx writes in a blog on our Dutch colleagues' news website deredactie.be that "fear and hatred" could be the worst reactions we could have right now. "Jihadis apply the tactics of tension and terror. The result is fear, that sparks division between the religious communities." Don't let them win, Vranckx concludes.