"'Decapitation' of Steven Defour was a bridge too far"
The Reds of Standard have downed reigning champions Anderlecht in a classic battle that included the necessary drama and emotion. Standard took it 2-0, as Anderlecht midfielder Steven Defour, a former Standard player, was sent off just after the break. But the main topic was the flag that Standard fans had made to 'welcome' Defour at Sclessin. The initiative triggered mostly negative reactions among fans, journalists and politicians alike.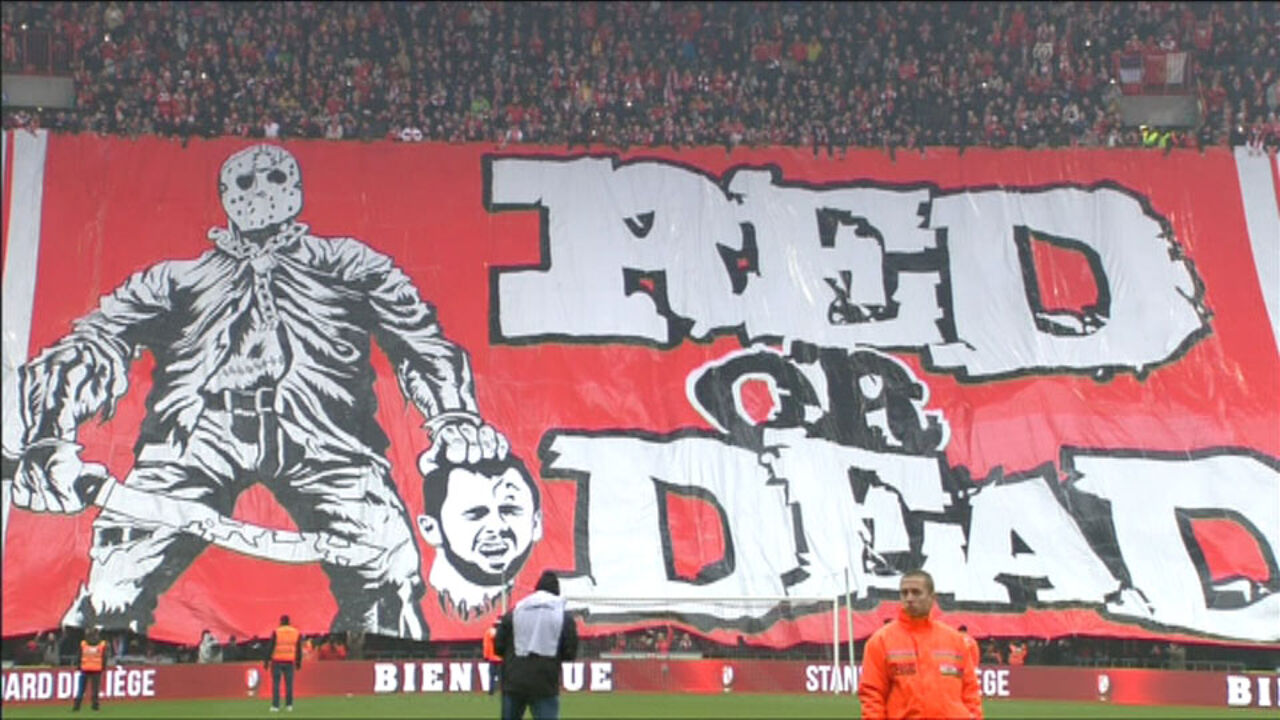 The Belgian international Steven Defour used to play for Standard, where he grew to become a top player. After a spell at FC Porto, Defour moved to Standard's arch rivals Anderlecht last summer. It was his first appearance for champions Anderlecht at Standard, with Standard fans giving him a 'warm welcome' at Standard's home ground Sclessin.
Standard fans had prepared a giant flag that referred to the terrorist group IS, showing a decapitated Steven Defour (photo). It was intended as a piece of black humour and a reference to the movie 'Friday the 13th', but not well received by neutral fans and followers, due to the clear reference to the terrorists of IS.
The Flemish Sports minister Philippe Muyters (Flemish nationalist) rejected the Standard joke. "I expect a tough response from the club. This has nothing to do with sports", he posted on Twitter.
Foreign Minister and Deputy PM Didier Reynders (Francophone liberal), who had come over from Brussels to watch the match live, called the initiative "tasteless, stupid and unacceptable". "Fair play, please, football should be a party", he adds.
The Mechelen Burgomaster Bart Somers (Flemish liberal) called it "disgusting". "I can't understand at all why this is being tolerated, and why the match wasn't stopped right away. Football, a party?"
The leading football journalist for Flemish radio who was the commentator at Sclessin, Peter Vanden Bempt, told his audience in his live VRT report he was "flabbergasted and disgusted". "And I was not the only one", he added. "They have really reached rock bottom at Sclessin".
Annelien Mees, a member of the public, defends the Standard initiative. "I thought everyone was supporting the freedom of speech through cartoons a couple of weeks ago", she argued.
Did the referee decide the match?
The match itself? It ended all well for Standard, 2-0, against an Anderlecht that missed several key players due to injury (Golden Shoe and playmaker Dennis Praet) or because they were playing at the Africa Cup (central defender Chancel Mbemba).
Anderlecht also had the excuse that it was reduced to 10 men. Only after the red card for Defour did Standard manage to break the deadlock. The sending off of Defour also triggered debate: he received a second yellow card for kicking the ball away. The referee, Alexandre Boucault, showed more mercy for Standard hero Laurent Ciman later on.
Ciman, a central defender, became the local hero when he opened the score with a low shot. He should have received a second booking later on after a hard tackle, but was allowed to stay on the pitch. Ciman (photo below: with De Camargo) played his last match for Standard before moving to the American Major League of Soccer (MLS). He signed a 3-year contract with Montreal Impact from Canada. It was striker Igor De Camargo who made it 2-0 late in the match - there were no fewer than 10 minutes of added time.