Things run out of hand in Kortrijk
Defending champions Anderlecht reduced the gap with leaders FC Bruges to 4 points this weekend. Anderlecht moved past Cercle Brugge (0-2) and managed to benefit 100 per cent from the Bruges defeat at KV Kortrijk (2-0), a West Flemish derby that turned into a real battle. League leaders FC Bruges were frustrated after the match, as they saw their 7-point gap reduced to just 4 points.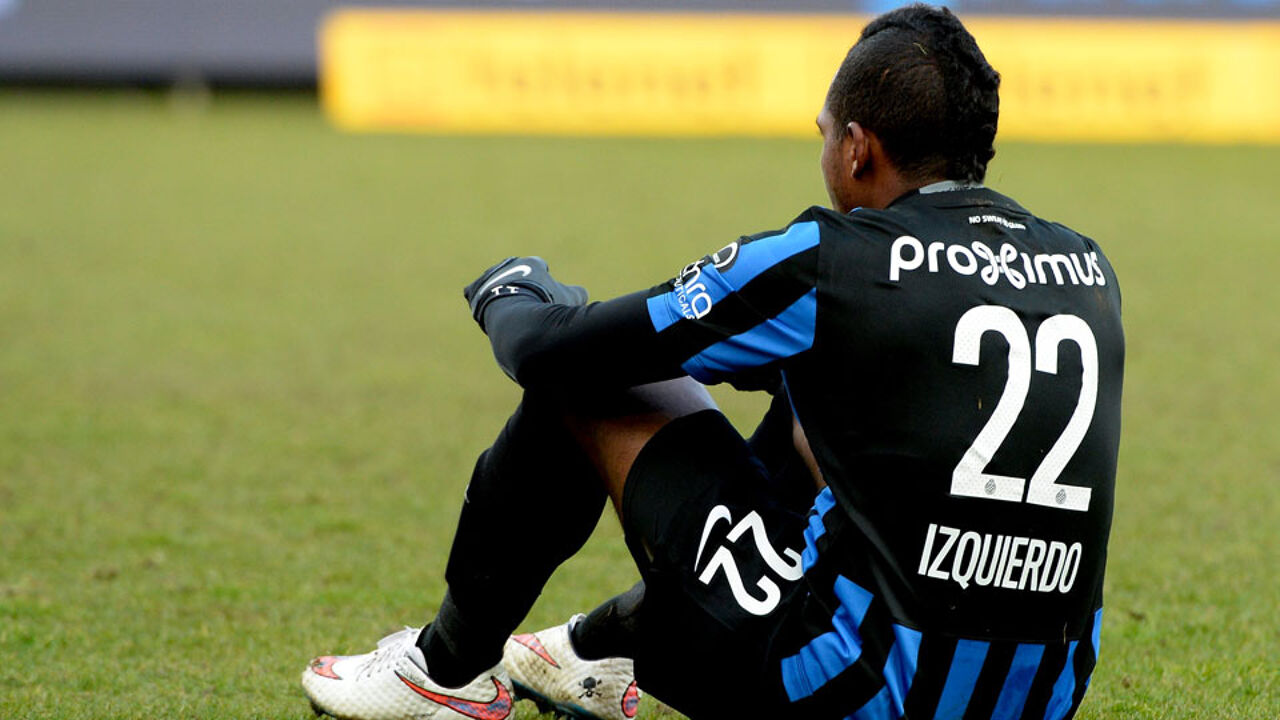 Photo: Colombian striker José Izquierdo (Bruges) missed a couple of big occasions but kept his smile after the match.
KV Kortrijk made it a physical battle with rough play. The underdogs climbed ahead early in the match. Bruges next failed to equalise on various occasions, with Kortrijk sealing the win late in the game, with a controversial penalty.
It was Bruges' first defeat in 31 official games. Their last loss was in the league on 28 August last year, 3-1 at KV Mechelen. Since then, FC Bruges played 31 matches without losing a single one, in the domestic competition, the Belgian Cup and the Europa League. The 31 games involved 20 wins and 11 draws, 80 goals scored and 25 against.
Demolished seats, cynical quotes, the referee
The loss at Kortrijk triggered frustration with Bruges, the hot favourites to take the league title and end a 10-year drought, after 3 seasons of successes for arch rivals Anderlecht. Bruges fans demolished 99 seats in the visitors' stands, throwing them onto the pitch, after the controversial penalty had been given in added time. Kortrijk said "they know where to send the bill to."
Speaking after the match, Bruges coach Michel Preud'homme was cynical. "Stalling, the physical game, play acting... This is not our kind of game. I can't train my players this way", he lashed out at his Kortrijk colleague Yves Vanderhaeghe.
To top it, Bruges also accused the referee of being a Kortrijk fan. They discovered that the man, Frederik Geldof, was a member of a Facebook group created by Kortrijk fans. However, Geldof denied these charges categorically: "As if I would spend my time on things like that? I just try to take the right decisions in every game."
Standings (25 of 30 games played before Play-off 1)
1. Club Brugge   51 points
2. Anderlecht      47
3. KV Kortrijk      44
4. AA Gent         44
5. Standard        43
6. KRC Genk      40