A somewhat different honeymoon choice
Anne Barnes works in the bike industry in the United States, just like her husband. This provides an obvious link with Flanders and Belgium, a land with a long cycling tradition, the home of heroic cycle races, flandriens, cobble stones etc. "What woman in her right mind would prefer the wet and cold of Flanders over Hawaii for her honeymoon? I would!" Anne is the 4th Flandersnews reader we are presenting for the occasion of our 5,000th fan, after Ben from the U.K., Ron from Canada and Sabiya from India.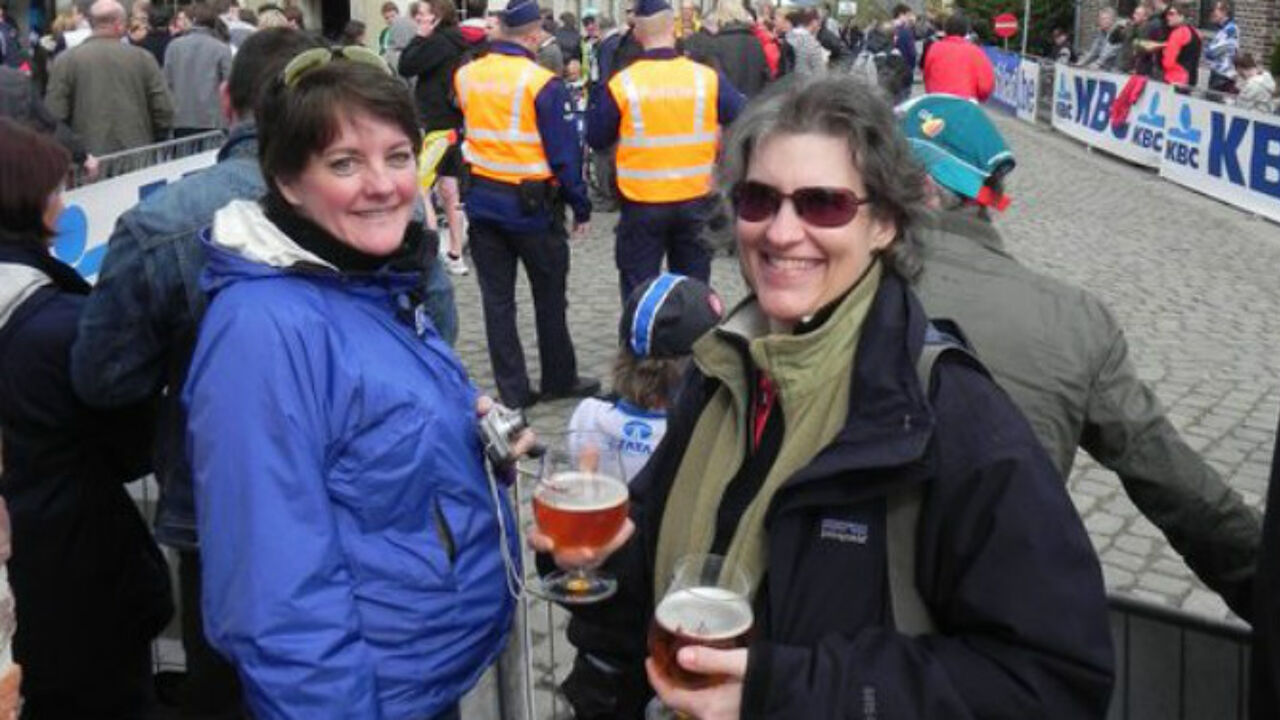 On the Kwaremont cobble-stone climb in the Flemish Ardennes.
"I first visited Belgium in 2002, and picked up the print copy of Flanders Today at the hotel. My husband and I have vacationed in Flanders nearly every year since then, and in between visits I read Flandersnews to keep up with a place that I love. We have a long-time friend who lives in Kortrijk (West Flanders), and over the years have created new friends living outside Gent", Anne writes from Chicago, Illinois. 
"Now, you must know why I love Belgium: I am a cyclist. My husband too, and we both work in the bike industry in the US. We took our honeymoon in Flanders, of course, during the week of the Ronde, Gent-Wevelgem and Roubaix! What woman in her right mind would prefer the wet and cold of Flanders, over Hawaii, for her honeymoon? I would!" *
"From mattentaart to the Muur, to muddy boots at Koksijde and late-night fun at the Ghent Kuipke, I love Flanders!" **
* The Flemish spring classics Gent-Wevelgem, Ronde van Vlaanderen (Tour of Flanders) and the French cobble stone classic Paris-Roubaix take place in a spell of just two weeks and are the culmination of the spring classic season. Should you feel like going, Gent-Wevelgem takes place on Sunday 29 March, the Ronde on Sunday 5 April and Roubaix on 12 April, red.
** The Kuipke or Kuipje in the Ghent Citadelpark (near the station) is the venue for the annual Ghent Six Days, which attracts the world's top track riders like Mark Cavendish last November. The track is particularly short (166 metres) and has very steep curves, which makes it all the more spectacular, red.
Next up on Tuesday: Richard from Kenilworth, Warwickshire, a keen runner.