"The camaraderie in Evergem"
Meet our Flandersnews readers from abroad! Today, we present Richard Whiting (in dark green on the photo) from Warwickshire in the U.K. "I feel there is a different atmosphere in Belgium, which I first experienced in a childhood trip to Bruges." Richard also looks at the differences between Belgium and England: "You are maybe more willing to accept things that are not perfect in life. Except in social matters requiring industrial action."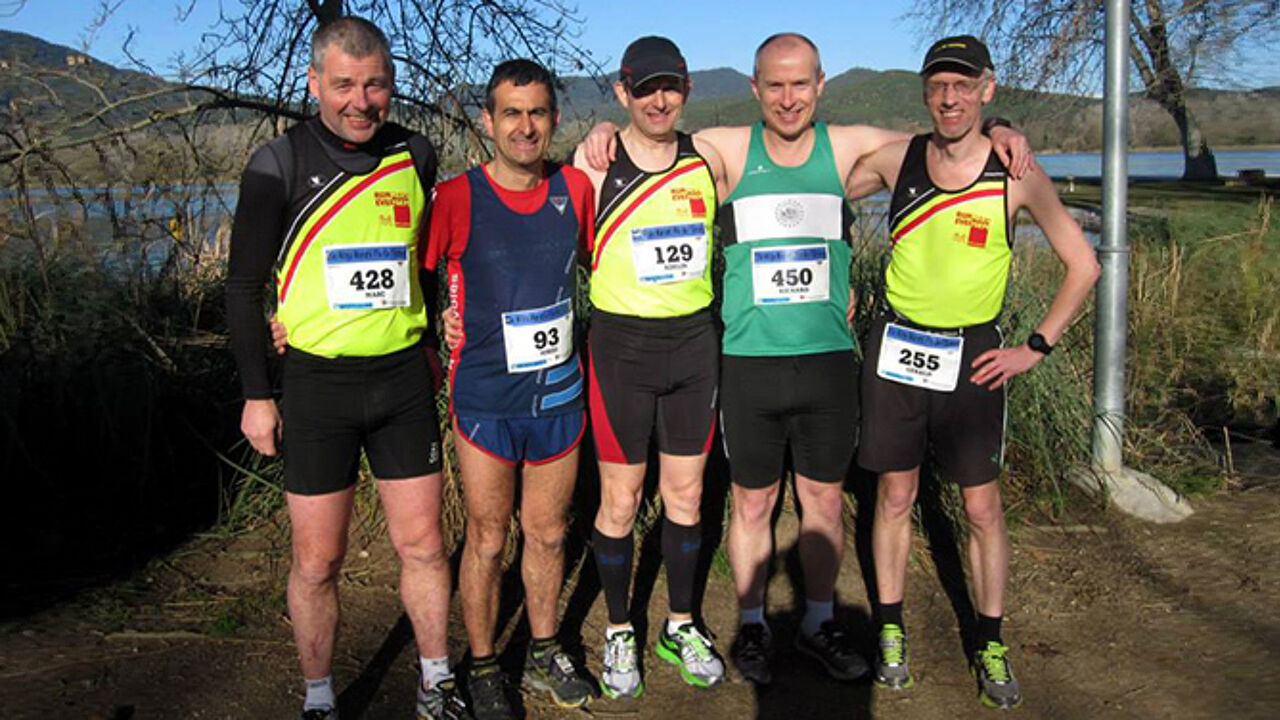 Richard is from Kenilworth, Warwickshire, "a county south of Birmingham which is probably most famous across the world as the county in which Shakespeare was born".
Beautiful as Warwhickshire may be, Richard also fell in love with Belgium due to a childhood trip. "When I was a child, my parents took me on a coach trip to Germany, and on the way, we stopped off in Brugge. We had several coach trips to France, Germany and the Netherlands, and of all the places we went to, Brugge was the place I wanted to come back to as an adult." This took some time though, and it was actually a cycle race that did it.
"Correct conditions"
"When I later became interested in cycling, and watched the Ronde van Vlaanderen (RVV) on television, I realised that here was my opportunity to visit Brugge again, and I took some friends to watch the event, as a celebration for my 40th birthday."
"For that year's event, the weather was perfect for spectating, with clear blue skies. I then decided that I would come back again the following year to ride in the RVV sportive. I was lucky enough that the ride that year was in 'traditional' RVV weather, with cold temperatures, sleet and hail. I feel I have ridden the RVV hills in the 'correct' conditions for cyclists", Richard writes. (that kind of bad weather is called 'flandrien' weather in Flemish dialect, red)
Runners Evergem
"From that time on, I have looked for every opportunity I can to travel to Belgium. I have visited with my wife and children - the children particularly enjoyed a tour of Bruges on a segway - and with my brother for a visit to Ieper, when I ran in the In Flanders Fields Marathon."
"When I travelled to Evergem for the Runners Evergem Halve Marathon with some friends from my running club, that was when I was lucky enough to meet Adelin and our other friends from Runners Evergem. The event was excellent, with a gift of beer for finishers, which does not happen at many races in the UK."
"A genuine smile"
We also asked Richard what made him fall in love with Belgium and Flanders in particular. "The first thing I think of is the people I have met. When I have met Belgian people for the first time, I find that they are friendly, but I don't get the sense that the smile that greets me is for business reasons, for commerce, or for tourism. I feel that Belgian people are genuine people more often than not."
"Now that some of those people from the Runners Evergem Club are my good friends, I feel like I have known them for a very long time, despite only seeing them once or twice each year.
 
"Relaxed feeling of calm"
"I also feel there is a different atmosphere in Belgium. I first experienced it in that childhood trip to Brugge, and again when sitting in the square in Ieper for an afternoon, when cycling through the open countryside, or when running through the area around Evergem. You have beautiful buildings, and villages, and towns, but it is more than that: there is a stillness and a relaxed feeling of calm that I enjoy."
Traffic jams and strikes
We also asked Richard about any similarities or differences when reading the news from Flanders. "When I read your site, I have recently seen articles about problems with traffic congestion, as an example. We will have articles with similar themes, but my feeling is that people in Belgium are willing to accept that things will not always be perfect in life."
"But then I also see examples of strong action, such as recent strikes and protests. In the UK, it seems it is much more difficult for workers of any industry to take Industrial action at present, with the powers of the state being stronger than in the past, and the culture of the workforce having changed in the past 2-3 decades such that strikes are much less common and may be seen as too risky by the workers themselves."
Next up Thursday is Robert Roose from Washington State, who misses various things of the country where his father emigrated from.