From Bruges to Washington State
Meet the Flandersnews readers from abroad! Today, we present Robert Roose from Washington State. His family name gives away that Robert has a strong family link with Belgium. He misses the country in between family visits. "I miss hearing the West-Vlaams (West Flemish, red) which is the dialect I understand best." Here's his story.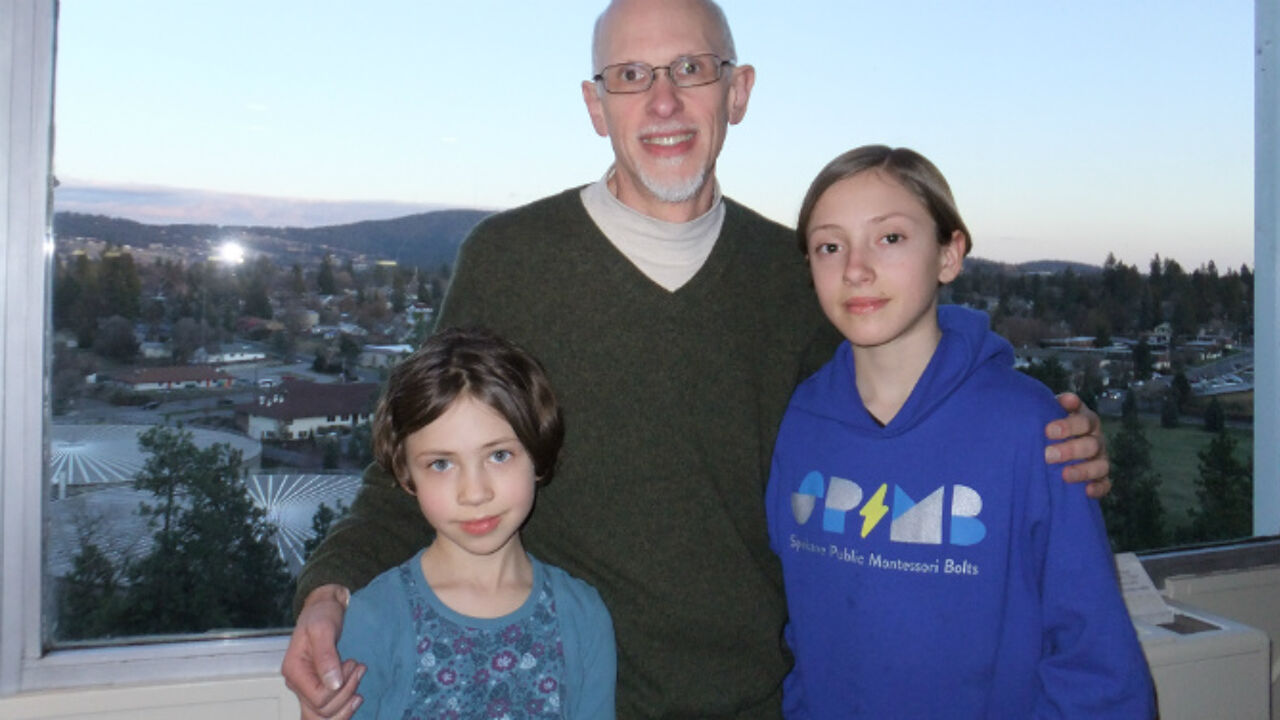 Robert Roose and his daughters Lena (left) and Robin.
"My parents left Brugge in 1960 to live in Washington State in the United States. I was born in 1964 but maintained some Flemish language skills from listening to my parents and visiting relatives in Belgium."
"Much later, I was able to secure Belgian nationality and confer it to my two children, as well. Despite visiting Belgium every three years to visit family, I miss Belgium so much that I try to read Flandersnews almost every day."
"I use both the English and Flemish sites and even my children will watch 'Het Weer' (the weather) with me. The Flemish site helps me maintain my Flemish skills between visits to Belgium. I also appreciate the broad coverage that may often give me a better picture of world news than American news outlets."
Renton, Washington
Robert's father was a keen traveller. He worked as a guide in Bruges, for the gidsenbond, after World War II. Meeting people from around the world sparked restlessness for him.
"He applied to work in the Congo but the paperwork took too long so he ended up in Canada. He would work, save his money and quit his job to travel around the world for nearly 2 years at a time. His wanderlust made him look at Renton, Washington, where there was a railroad car factory similar to the old Brugeoise - now owned by Bombardier of Canada in Brugge."
Too much credit for Belgium?
Asked what he particularly misses about Belgium, Robert sums up a whole list. Is this too much credit for Belgium? Read and judge for yourself... 
"I certainly miss my family in Belgium since we had no other family in the United States. I miss the food and drink and culture of enjoying meals (we will eat like Burgundians, says my cousin). I miss the smell of Belgium. I miss the trees lining the canals and farm roads in the polders. I miss hearing West-Vlaams which is the dialect I best understand."
"Our children miss Plopsaland and Planckendael and Bokrijk and the boardwalk in De Panne. They always enjoy playing with the cousins when a visit rolls around. I miss the architecture, both modern and old. My wife and I miss the good public transportation, the social contract which spreads the wealth of the land more evenly."
Readers abroad: who are they?
Robert is the 6th 'foreign' reader we are presenting. We got the idea to launch an appeal to readers living abroad after studying where the clicks for the website are coming from. Apart from Belgium, Flandersnews has most clicks from the United Kingdom, followed by the United States and Canada. Other readers live in Australia, New Zealand, Germany, Luxembourg, France and Spain.
Up next Tuesday is Mario Bartel from the Vancouver area in Canada. He explains about the similarities between his home region and Belgium.