"A fallen hero with great talents but also shortcomings"
The death of Minister of State and the former socialist figurehead Steve Stevaert - who most likely committed suicide amidst rape allegations - dominated the newspapers' headlines this morning. It also started a debate about the role of social media, as many members of the public crossed the line with disrespectful posts in Facebook and Twitter.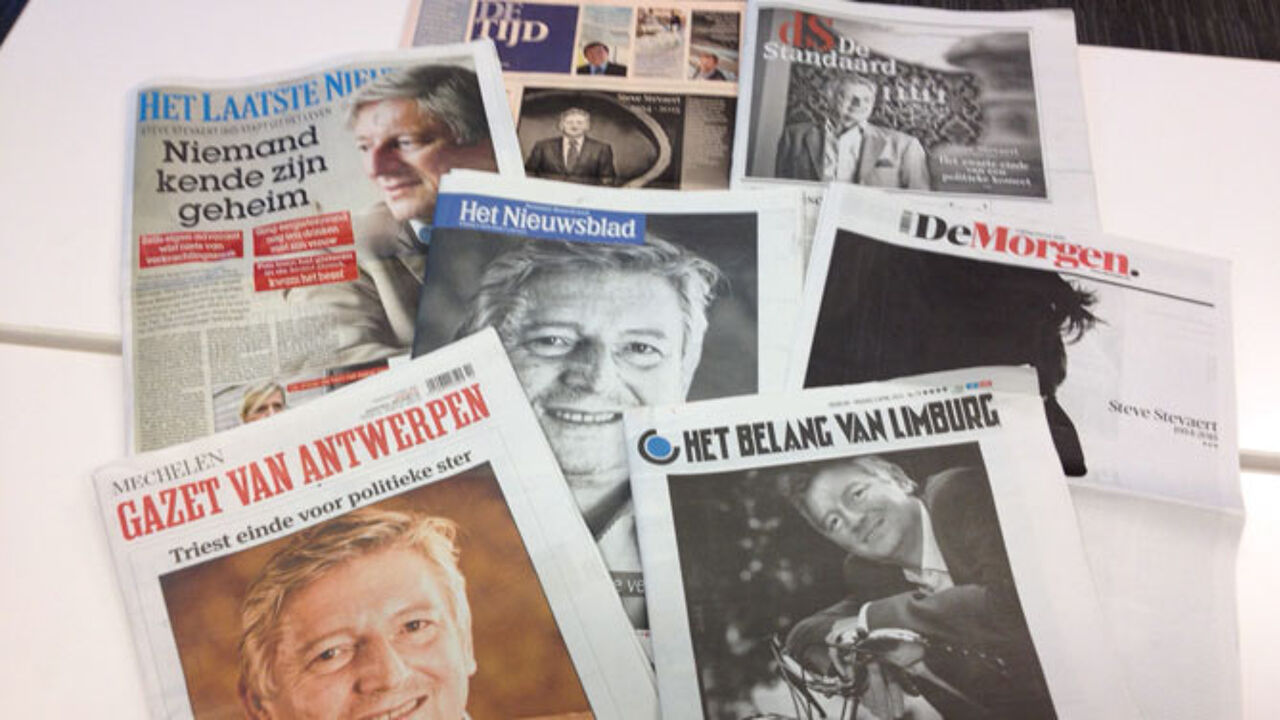 Isabel Albers of the financial daily De Tijd (which came out with the news of Steve Stevaert facing official charges of rape) says: "We will remember Steve Stevaert as a real phenomenon, a mastermind in political tactics, a man who gave us the impression, at least for a while, that 'gratis' (free-of-charge, red) really existed, a minister who really tackled the issue of safer traffic. But we will probably remember him, above all, as a fallen hero, with great talents but also shortcomings."
"His shocking decision brings a tragic end to the story of a political comet", De Standaard's Bart Sturtewagen writes. "One of the most splendid political careers of the latest decades ends in the worst misery."
"We smell blood, but forget that politicians also have feelings"
Het Belang van Limburg brings a dramatic eyecatcher after the death of the Limburg icon: "Damned Steve. Why? Why?', asks Eric Donckier. "Although I could ask myself this question as well. To be honest, I think I know the answer. When we journalists smell blood, we turn into a kind of blood hounds as in a Pavlovian Reflex. Each time we forget that politicians are normal people of flesh and blood with feelings." 
Gazet Van Antwerpen continues on the same line. "Nobody knew the power of the media better, and how fast friends can turn into enemies. It all became too much. Steve decided to terminate his life. His last stunt. God is dead."
From 'rock star' to fallen hero
"A socialist 'hors catégorie'" writes Het Laatste Nieuws, while Het Nieuwsblad refers to his status as "a rock star" during his heydays, compared to more embarrassing stories at a later stage, when he was blackmailed with an alleged sex tape.
"Time for reflection"
De Morgen focuses on the role of the judiciary, the press and the social media. Yves Desmet calls for reflection. "This is not the moment for accusations or criticism, for quick analyses and speculations. Maybe we should all take time for reflection."
Both the judicial authorities, the press and the social media played a bad role yesterday, the day it became public that Steve Stevaert was facing charges of rape, the day he went missing and the same day that he was found dead, Desmet continues.
Many people crossed the line on social media like Twitter and Facebook, posting things that were not suitable for publication, and showing a complete disrespect for Steve Stevaert, his family and friends.