'Dark horse' confirms title ambitions in the "Hell of Sclessin"
In football, AA Gent won the first match of the third day of play of the season-ending play-offs for the title. AA Gent managed an impressive win at Standard (1-3) and are in the lead for at least 48 hours, putting the pressure on title favourites Anderlecht and Club Brugge.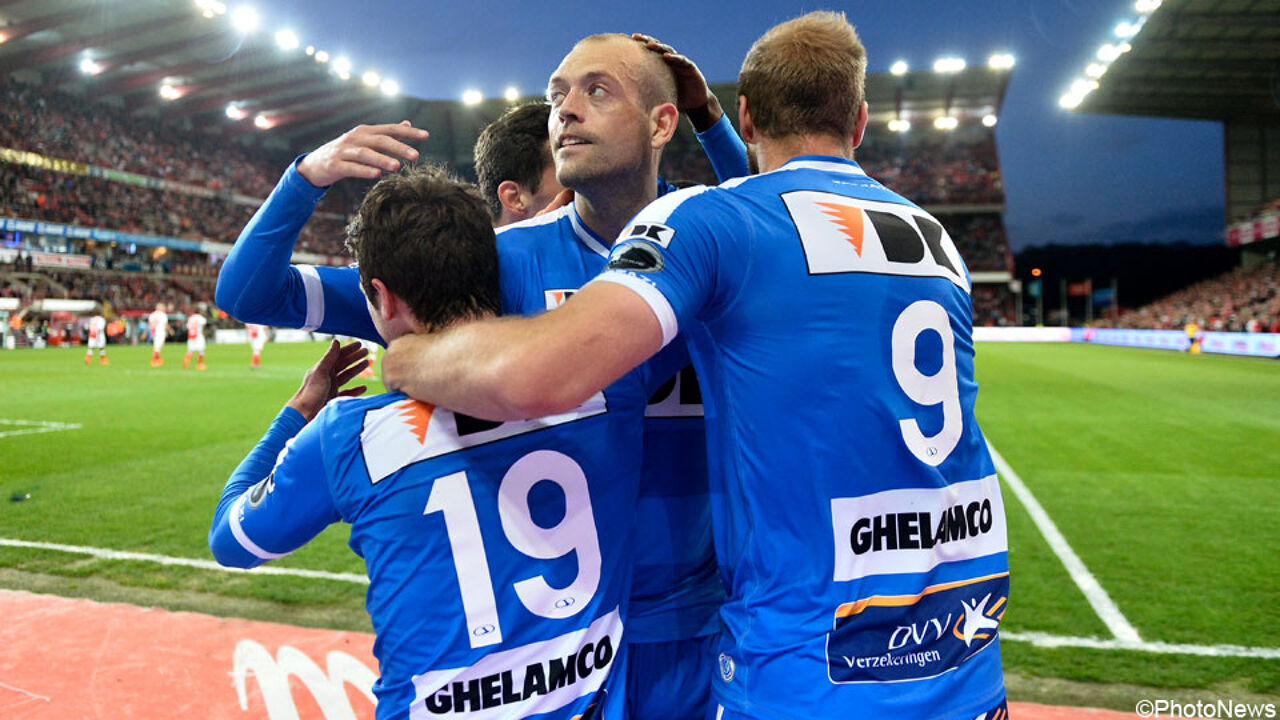 Nicklas Pedersen (central) celebrates with Brecht Dejaegere (19) and Laurent Depoitre (9).
The round-robin finale of the Belgian league sees the top-6 teams of the regular season battling it out for the title and the European places in 10 days of play. Chances seem to turn every week as the 6 teams are very close together.
Yesterday, it was AA Gent's turn to highlight their ambitions. The Ghent team is considered as a dark horse by many analysts but only as the third title favourite, after the traditional names of defending champions Anderlecht and their eternal rivals, the recent Cup winners and European quarter-finalists Club Brugge.
While Standard had impressed last week, beating Anderlecht 3-1, AA Gent dominated play and took control of the match from the start. Danish striker Nicklas Pedersen made it 0-1 in the first half with a low shot in the left corner (photo below), doubling the Ghent lead after the break with a thundering shot from far range (left).
Standard converted a penalty to create some suspense halfway the second half, but Ghent were never in real trouble and made it 1-3 on a counter-attack in extra time. It was substitute Serge Tabekou, the 'surprise of the chef', who made the goal. The 18-year-old Cameroon winger was taken to the team from the U19 youth team by coach Hein Vanhaezebrouck. Hardly anybody knew him, including the VRT's radio commentator who was going live.
The Ghent win came despite the absence of the Nigerian sensation Moses Simon, who is still nursing an ankle injury. AA Gent have 35 points now, 1 more than FC Bruges and 3 more than Anderlecht. The classic between the two takes place on Sunday evening as Bruges receive Anderlecht.