The story of the Belgian on Mt Everest
Jelle Veyt is one of the Belgians who were climbing Mount Everest during the earthquake in Nepal. Mr Veyt was almost crushed by an avalanche at the moment of the tremor. He says that all climbers have been evacuated, but that there's a tense atmosphere at basecamp. "I'm sleeping with my clothes on, and I keep my helmet and shoes by my side at all time. I'm ready to get out of here at any moment."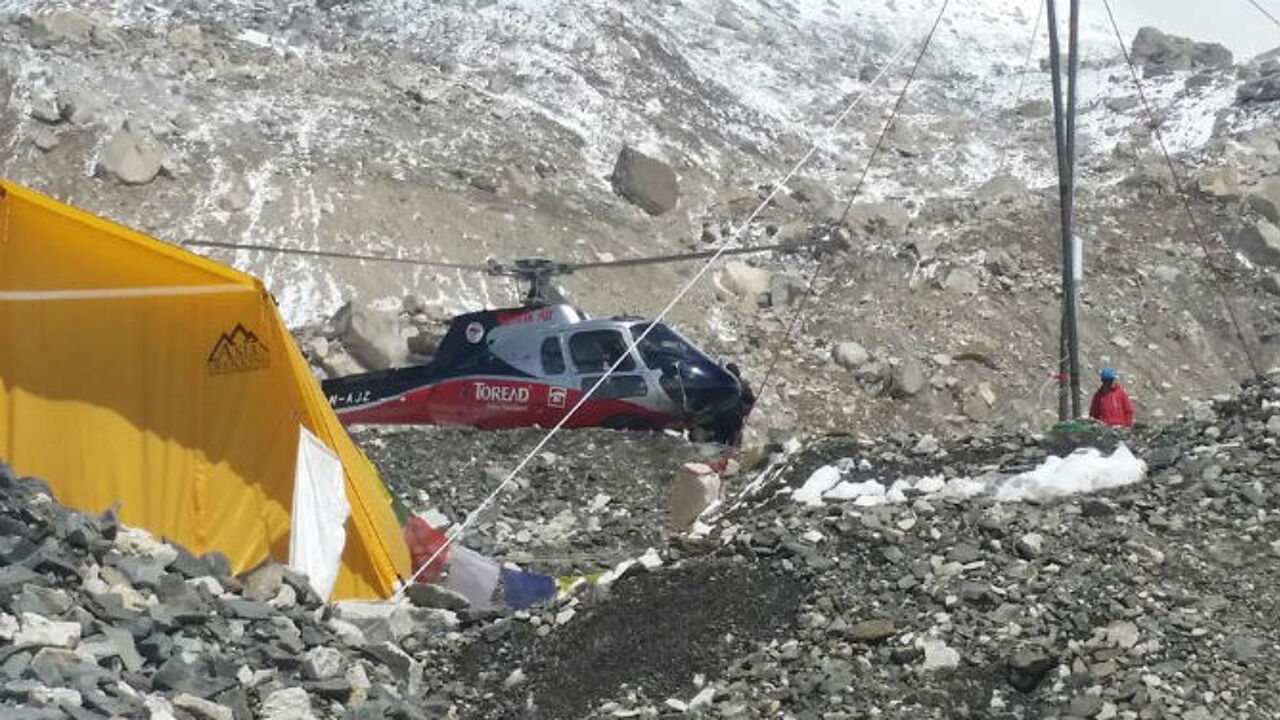 Jelle Veyt had to run for his life at the moment the earthquake hit. At about 5000 metres altitude, he had to outrun an enormous avalanche that was thundering his way. Mr Veyt was able to escape the danger and make it back to basecamp, where he still resides at the moment. All other members of Veyt's team have been saved as well.
In the meantime, everyone who was on the mountain during the earthquake has been taken to the lower-situated basecamp with a helicopter. In a Skype conversation with VRT News, Mr Veyt reports that "there were about 100 to 150 people on the higher Everest Camps 1 and 2. They've all been brought down here now. Choppers were flying to and fro the entire morning."
Aftershocks
"Everyone's relatively safe at basecamp", says the Belgian mountaineer. 'Relatively', because the ground remains tumultuous. "There was a heavy aftershock yesterday, which brought about several avalanches. There's a tense atmosphere out here. There were a couple of lighter shocks this morning, so a lot of people simply left out of fear."
Mr Veyt says he understands the other climbers' anxiety: "I dreamt about the shocks last night. I don't sleep well. I'm sleeping with my clothes on, and I keep my helmet and shoes by my side at all time. I'm ready to get out of here at any moment."
"Sherpas have to get to their families"
Mr Veyt's climbing expedition was cut short by the earthquake. There won't be any climbing for now, because there are other priorities at the moment, explains the Belgian. "Kathmandu is a rubble right now. There isn't much for me to do here at basecamp, so I'm going to try and head over there to help."
"A lot of the sherpas, who are local guides that assist mountaineers, were affected by the earthquake. They heard that their houses have collapsed, or they're worried about their families' safety. That's also one of the reasons why I'm getting out of here. I don't want those guys to stay for me. They have to get back to their families and start rebuilding."
Damaged climbing paths
17 alpinists died in several avalanches as a consequence of the quake. There's also a lot of damage to the mountain pathways. Mr Veyt believes that mountaineering on the south side of the basecamp will probably be impossible for the coming season. The northern side is less heavily damaged, climbers will still be able to find their way there.
There are still 23 Belgians who are not yet confirmed to be alive.
Twitter and Facebook posts by Jelle Veyt:
Watch this spectacular recording of an avalanche hitting basecamp: