Belgian software company launches Gmail-killer
Today, Belgian software company EASI is launching a new mailing app. It's called 'InboxZero', and it's supposed to transform the user's mailbox completely. EASI is aiming at an international market, and would like to see its new app compete with Google and Dropbox equivalents.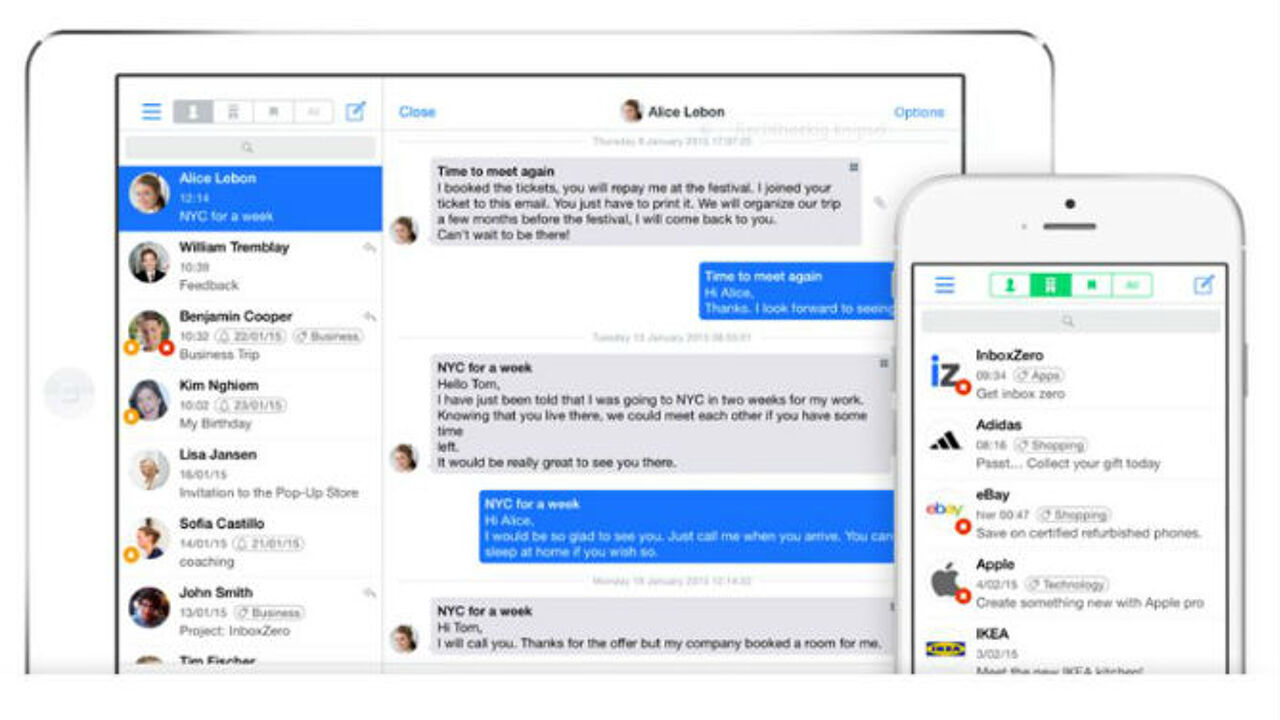 The InboxZero interface mimics that of a regular messaging app by dividing e-mails into conversations
InboxZero is a free mobile app that should "bring an end to congested inboxes". There are many apps on the market that promise the same, and they seem to be quite successful. EASI says that it has now developed an application that offers "the best of both worlds", because, according to the software company, as of yet no one has really been able to genuinely solve the problem of an oversaturated mailbox.
Until now. Because dealing with an inbox that's bursting at the seams, overlooking important e-mails, not being able to retrieve earlier messages, etc.: all these things should be a thing of the past with InboxZero.
Conversations
The InboxZero interface mimics that of a regular messaging app by dividing e-mails into conversations. This should make it easier to retrieve a certain message. Once an e-mail is read, it automatically disappears from the inbox and reappears in the Conversations section. "You don't put the letters you've read back into the letterbox, do you?", says EASI founder Salvatore Curaba. In turn, conversations can be divided between people and entire companies. So e-mails from your friends and family remain clearly separated from media and business newsletters.
The developers explain that Conversations allows you to browse through your contact-specific interactions much more easily. Once the e-mail is read, it's also refurbished by the app to make it easier and faster to read. "It only shows the essential parts, dropping salutations and signatures", developers say. "Even though it makes the e-mail a little less personal, it should make the whole reading experience more pleasant, and reminiscent of a text or chat message interface."
Not just mails themselves, but also attachments are kept organised per contact. So if the user is looking for a certain attached document he received weeks ago, he doesn't have to work through a myriad of messages. All attachments are neatly grouped together.
All attachments are neatly grouped together as well
Reminders, 'Serenity' and a fresh look
Two other new features the EASI developers are proud of are the Reminders function and the Serenity Mode. The former allows the user to attach a reminder to an e-mail and have it re-appear in the inbox on any chosen day. The latter lets the user determine which mails end up in his mailbox, and which mails don't (and go straight to the Conversations section).
This 'advanced spam filter' should once again help to keep important personal messages away from less important ones and from 'favourite' contacts. Serenity Mode should also enable the user to choose which e-mails trigger a notification on the home screen, and which don't.
Finally, the app has been given a fresh lay-out, using colourful chat bubbles resembling those of the Facebook and iOS messaging applications. The user can attach profile pictures from Facebook or LinkedIn to InboxZero contacts. EASI also pre-installed a bunch of logo's from companies, in case they send the user an e-mail.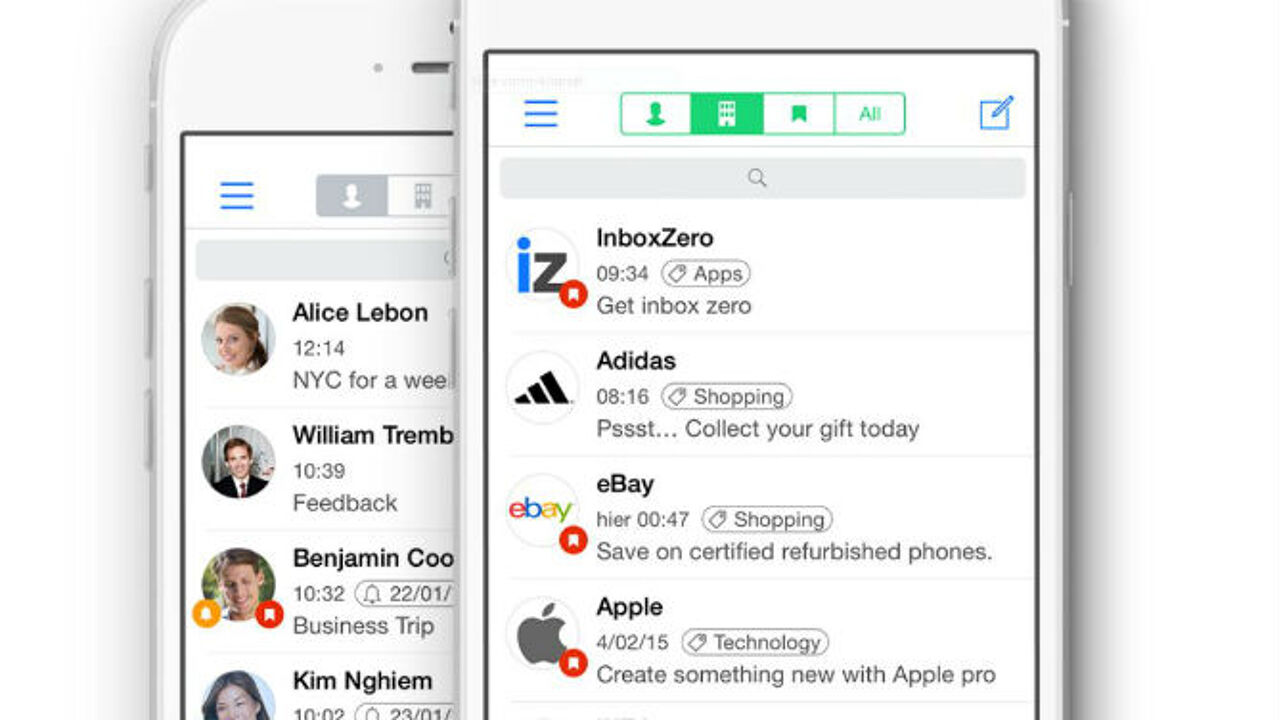 Users can link Facebook profile picture to InboxZero contacts, company logos are pre-installed
International ambitions
For now, InboxZero is only available for iOS, and is only compatible with Gmail. EASI will be releasing an Android version soon, and Yahoo and Microsoft servers should also be able to work with the new app in the near future.
EASI has high hopes for the mobile application. The Belgian company wants to "revolutionise the way people use e-mail". And with a staff body of over 140 employees, it wants to compete with software giants like Google and Dropbox, and put itself on the international charts with InboxZero. "We want to prove that us Belgians can also develop a revolutionary application that can challenge the big players."
For now, InboxZero can only be downloaded in the Belgian Appstore. EASI would like to take the app to the European and American market coming June.