Stand up for the Champions!
With one game still left to place, the Belgian First Division league title has been decided. For the first time in the club's 115 year history AA Gent can call themselves Belgian football champions. The Buffaloes beat Standard de Liège 2-0 in the Ghelamco Arena. Elsewhere, Sporting Anderlecht slip back into third place after letting slip a two-goal advantage to draw 2-2 away at KV Kortrijk. Club Brugge won what was an exciting game away at Sporting Charleroi by 3-2.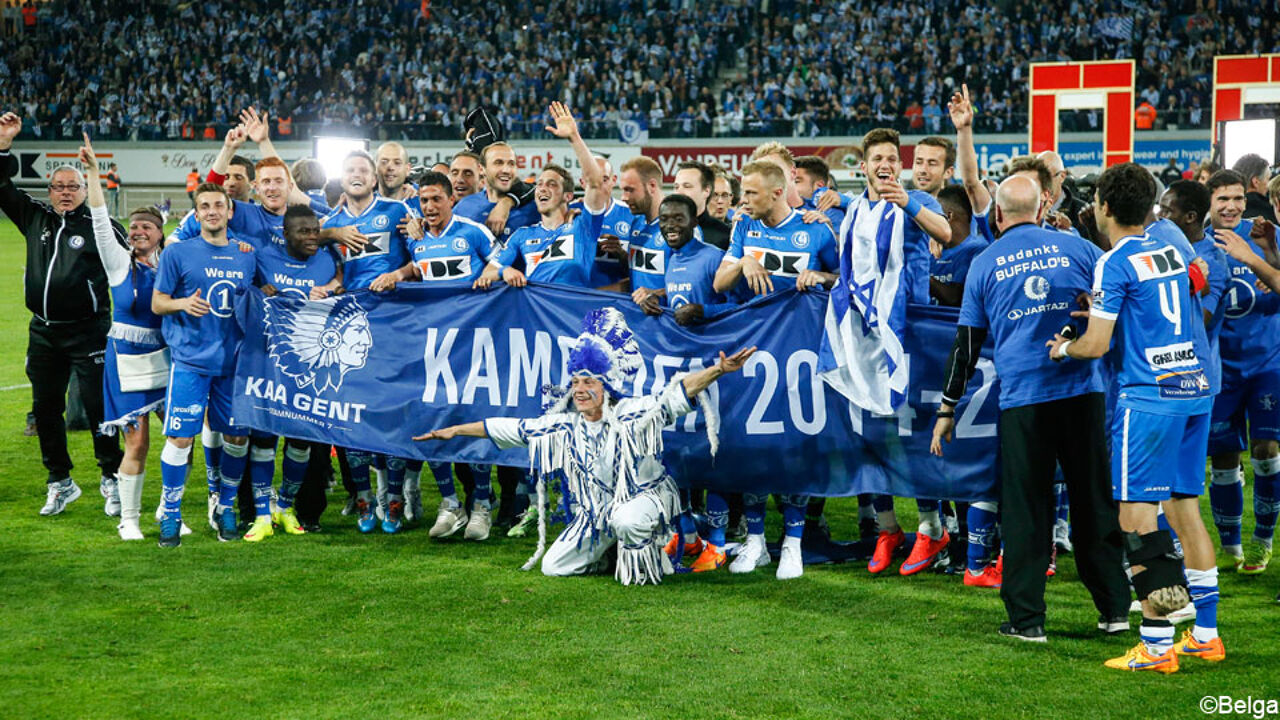 AA Gent 2-0 Standard de Liège
AA Gent did what it had to do. The Buffaloes beat Standard de Liège in front of an enthusiastic home crowd to become Belgian First Division Champions for the first time in their history.
The AA Gent players knew what they had to do. However, Standard weren't going to hand them victory on a plate. Gradually AA Gent started to tighten the thumbscrews.
The Buffaloes took the lead on 18 minutes through Kums. It was the AA Gent Captain's first goal of the season and probably the most important goal of his career so far.
As the half wore on the Buffaloes show signs of the stress that come with being the favourites to take the title. There was little evidence of the flowing combination football that has been AA Gent's trademark all season.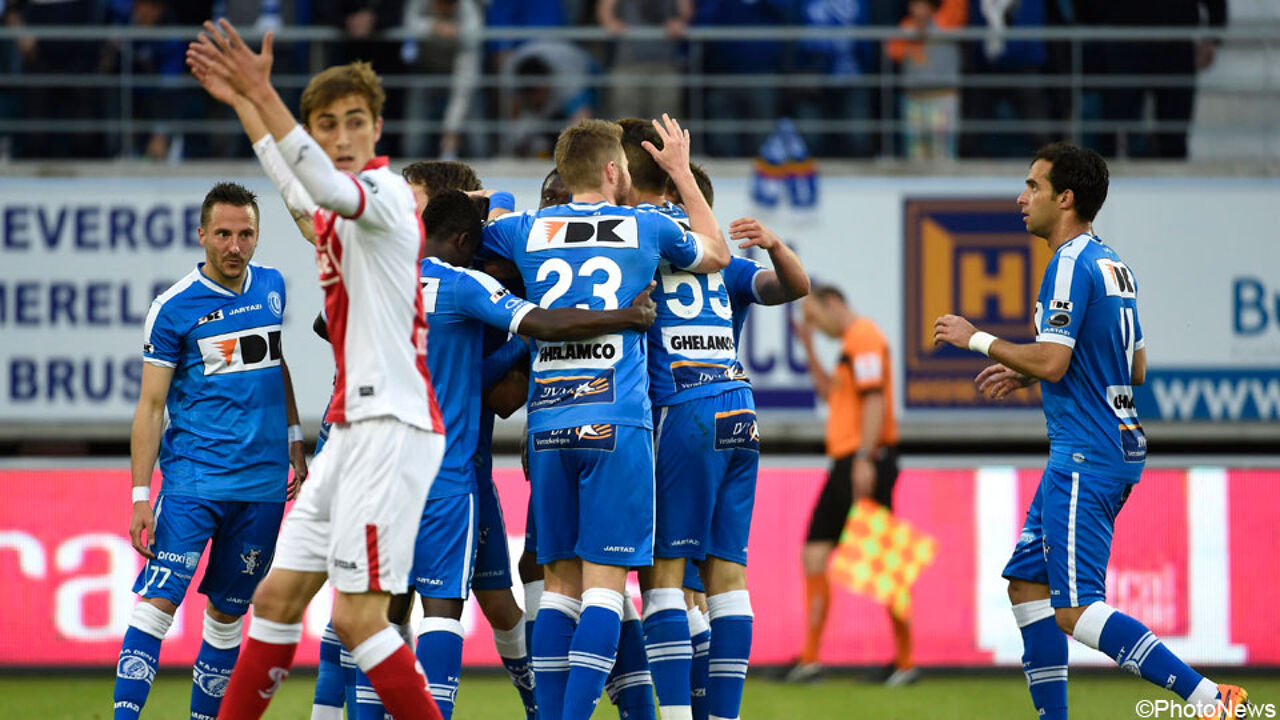 Party time after Neto penalty
The start of the second half was a carbon copy of the early stage of the first. A missed chance by Moses Simon served as a warning that a second AA Gent goal was to come.
The Buffaloes were awarded a penalty on 50 minutes after Dussaut brought Simon down inside the box. Neto converted and AA Gent were two-up.

Standard had a few chances to pull one back. However, alert AA Gent keeper Sels was on hand to deny the visitors.
The crowd was ecstatic, thousands of people, the Mayor of Ghent Daniël Termont (socialist, photo) included were dancing and singing their hearts out.
Histrory was in the making and a club that just 15 years ago was in financial ruin was about to win the league and a place in next season's UEFA Champions League.
Local boy Benito Raman almost made it 3-0 in injury time. The final whistle saw the start of celebrations that in many cases will have gone on until dawn. AA Gent will travel to Sporting Anderlecht on Sunday as the 2014-2015 Belgian Champions.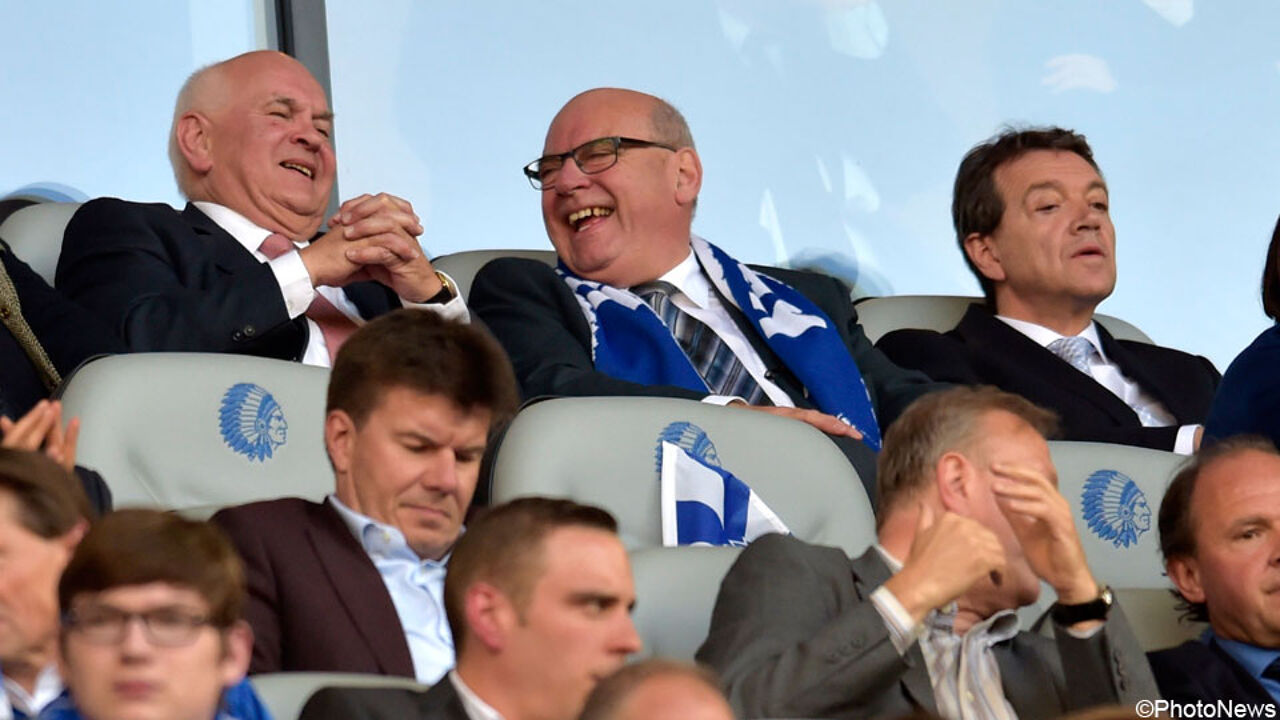 Club Brugge 2nd after victory at Charleroi
Club Brugge move up to second place in the league after an exciting 3-2 win away at Sporting Charleroi. Club opened the scoring through Brandon Mechele on 4 minutes.
The visitors went two-up on 34 minutes through Refaelov (photo). The second half saw Couilibaly pull one back for Charleroi on 55 minutes.
De Sutter put Club Brugge 3-1 up on 60 minutes. Gálvez López gave Sporting Charleroi fresh hope 9 minutes from time. However, it was not to be and the match ended 3-2 to Club Brugge.
The result sees the West Flemings move up to second place in the league on 44 points, 5 points behind the new league champions AA Gent and a point ahead of third placed Sporting Anderlecht.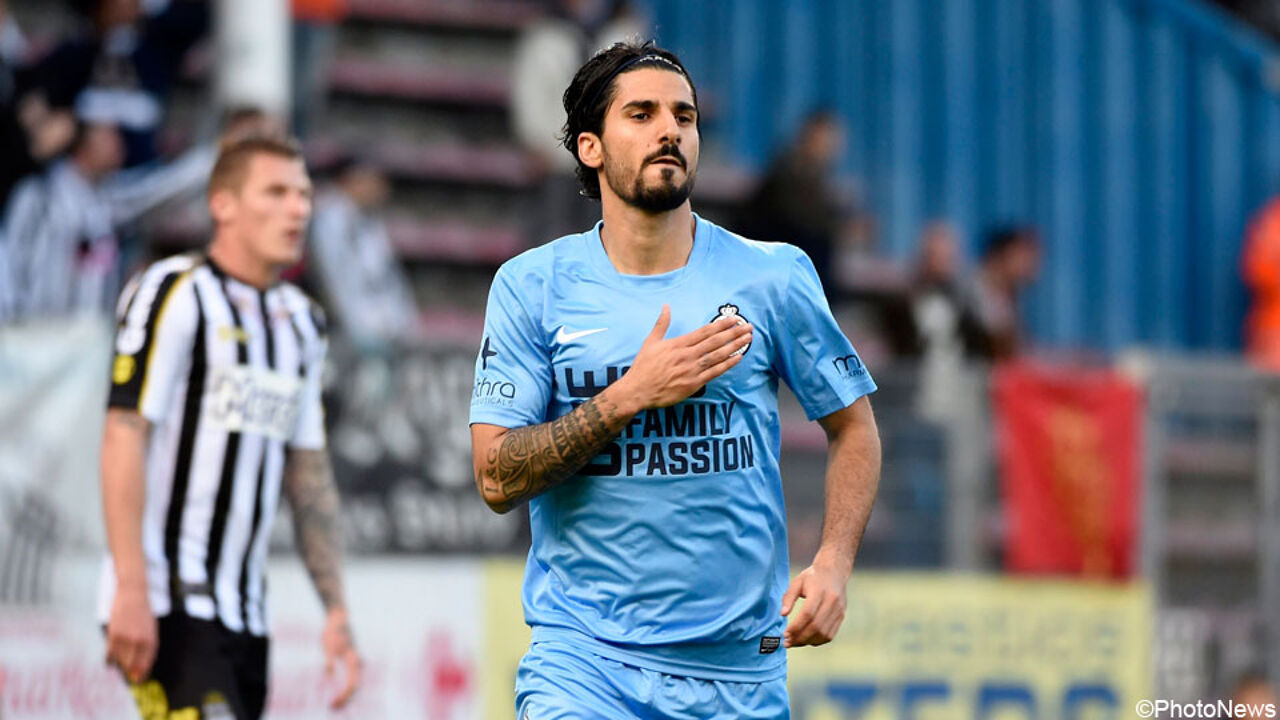 Anderlecht throw away two-goal advantage
With goals from Praet (49 minutes) and Mitrovic (53 minutes) Sporting Anderlecht seemed to be cruising to victory in their game away to KV Kortrijk.
However, Capon's 76th minute goal and an 80th minute goal by Santini made for a final score of 22. Sporting Anderlecht slip back to 3rd place with 44 points. KV Kortrijk is 6th with 34 points.