"Belgium just wasn't ready at all"
29 May 2015 marks the 30th anniversary of the Heizel disaster in Brussels. 39 football fans, mainly Juventus supporters, died and several hundred were injured during clashes with Liverpool fans. Most victims died in a stampede as they were driven to one side and started panicking. But how could the Heizel disaster come about? The VRT's senior sports journalist Frank Raes made his analysis on the VRT radio station 'Studio Brussel' this morning.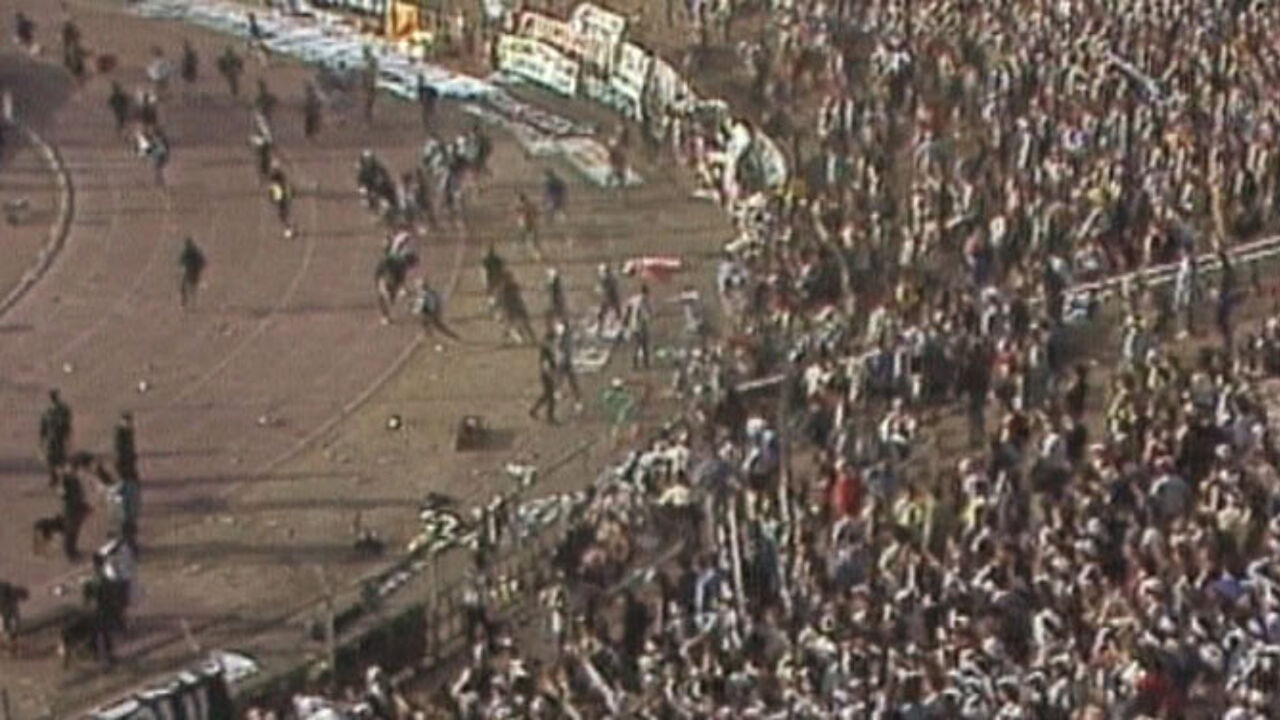 Liverpool-Juventus was the final of the European champions' Cup in 1985 (before the Champions League was created). Brussels had been designated as the venue, and Frank Raes was in the stadium that evening. "I assisted several Olympic Games, other European finals and witnessed all kinds of top performances in various sports. But what happened in Brussels in 1985 had the biggest impact on me."
"The final between two big names in football was a big prestige project. But the Belgian authorities, the Belgian Football Association (FA) and the police were not ready. It was complete chaos. Suddenly riots started inside the stadium while problems had been expected outside the ground. Most police were still outside."
"Nobody was allowed to escape"
"When Liverpool hooligans started hurling stone rubble towards Italian fans, these panicked and caused a stampede. They got stuck in unit Z and were not allowed to escape, because the strict orders were that nobody could be allowed on the pitch. People that were trapped were even pushed back."
"Police hardly had a decent emergency plan, the walkie-talkies were not working. Belgium just wasn't ready. The stadium was also in a very poor state. The concrete was rotting, it's hard to imagine now. One could just use his fingers to get hold of a piece of loose stone. It's still hard to imagine that the UEFA allowed the final to take place in that stadium, also because the final was between two rival clans: 25,000 on the one side and 25,000 on the other."
A positive side
The positive thing is that the disaster triggered measures to stop this from happening again. "Ticket sales were reorganised, there are CCTV cameras everywhere now. Fans are being guided to their places by security forces from outside the stadium."
The strange thing was that despite the many casualties the match was allowed to take place, "in order to avoid more riots" it was argued. Juventus took it 1-0 after a Michel Platini penalty.
What about the stadium?
The Heizel Stadium received a different name after the disaster as it became the King Boudewijn Stadium. It was renovated and it remained Belgium's national stadium. A new stadium will finally be built by 2020 for the European football championships.
Only then will the Heizel be torn down, but not immediately, because it will still serve a couple of years for the prestigious athletics meeting "Ivo Van Damme Memorial".