Bus carrying British school children in accident in Middelkerke: 1 adult dies
1 person died and several others sustained injuries when a bus carrying 34 children and 8 adults overturned on the E40 Motorway in Middelkerke, near the Belgian coast in West Flanders. The emergency intervention plan to supply medical aid was soon started, it was announced by Middelkerke Burgomaster Janna Rommel-Opstaele. The bus company involved is based in Northern Ireland.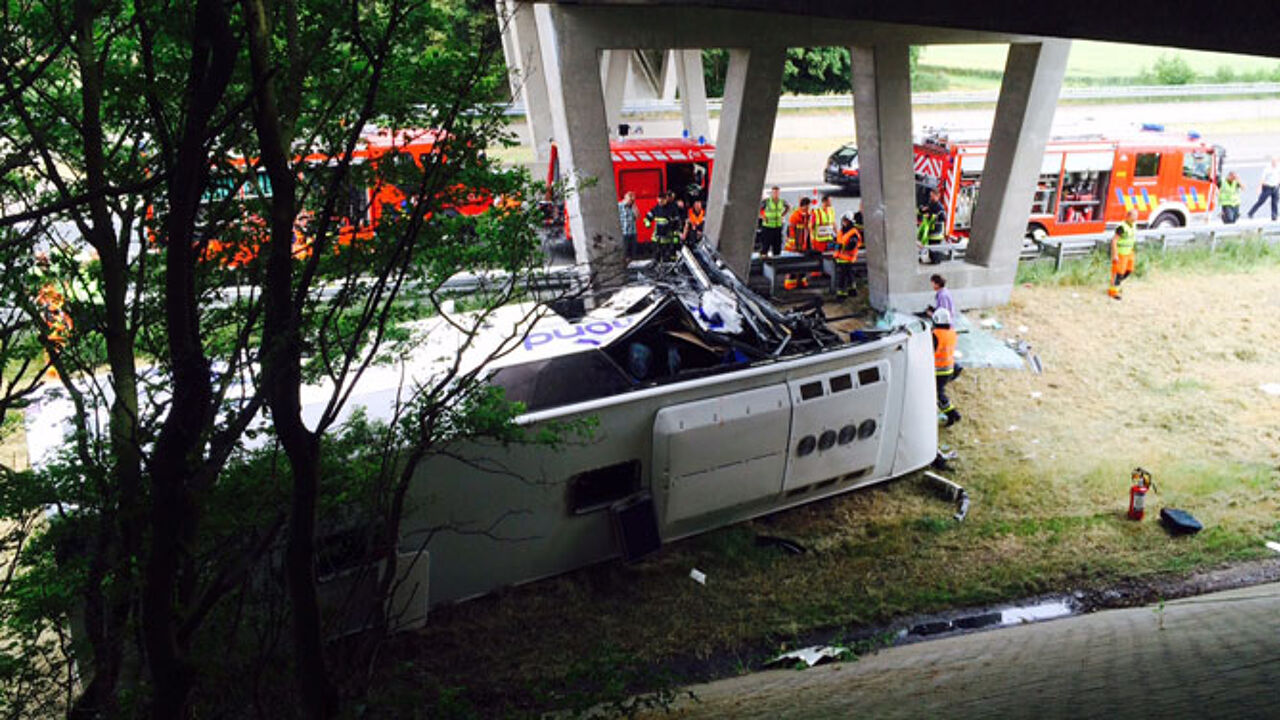 The accident happened around 9.45am on the E40 Motorway section near Slijpe. The bus driver lost control of his vehicle and hit the pillar of a bridge. The vehicle went off the road and ended up on its side, in a ditch. 
Apart from the driver, the bus was also carrying 34 children and 7 supervisors. While the driver hails from Northern Ireland, the children and their teachers are from Brentwood, Essex. They were on their way to Phantasialand in Cologne, Germany, and would spend the night in the city of Liège.
The 34 children are aged between 10 and 12 and are UK nationals. A man sitting next to the driver was killed, while the driver himself sustained heavy injuries. A total of 18 persons were injured, with 3 of them sustaining heavy injuries, including 2 children. 15 had minor injuries.
"We are taking good care of the children"
Children that escaped unharmed are staying at a reception centre at the Middelkerke swimming pool. "We are taking good care of them", Mayor Janna Rommel-Opstaele told the VRT. "We have one person for each two children to take care of them." The children are given psychological support, clothes and fresh food.
The coach company involved is 'Richmond Coaches' from Lisburn, County Antrim, in Northern Ireland. A spokesman for the company confirmed the crash and was talking of 'a tragedy.'
Information number
The Belgian authorities have opened a crisis centre in the town of Middelkerke and have installed a telephone line to provide more information. Relatives and friends can call an information desk via the number 00 32 (0)924 18 932