Prime Minister: "Three priorities: jobs, jobs and jobs"
PM Charles Michel and his key ministers gave a press conference around noon to present their accord on the budget and the tax shift. Michel (Francophone liberal) was visibly proud about the achievement and there were mostly smiling faces. He said that new jobs are the main priority of this tax shift worth 7.2 billion.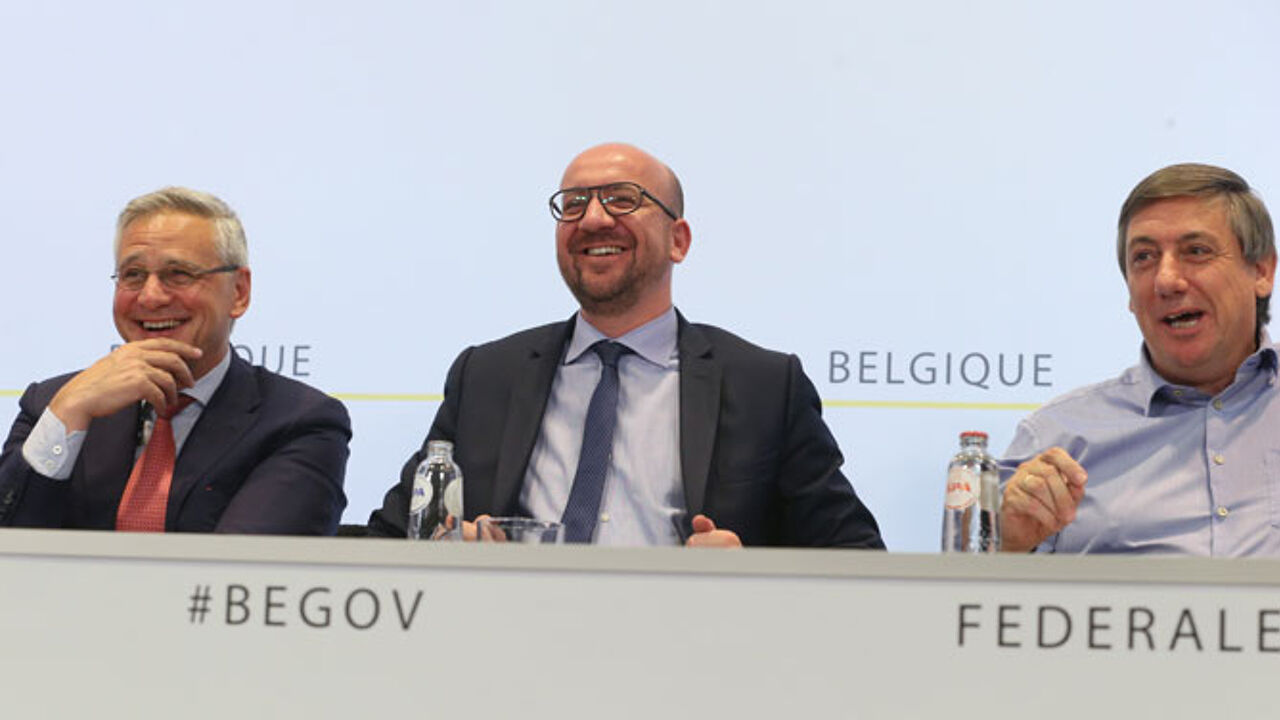 Nicolas Maeterlinck
Employment Minister Kris Peeters (CD&V), PM Charles Michel (MR) and Interior Minister Jan Jambon (N-VA).
"More than ever: this government has three priorities: jobs, jobs and more jobs", Michel addressed the press in central Brussels. "It's a strong, courageous choice. This is 7.2 billion euros worth of oxygen, purchasing power, job creation and the funding of our social security system. (...) These measures are crucial for our country, its citizens and its companies."
Michel was clearly very proud: "Some thought it would be impossible for us to conclude the talks before the summer break, but we did it: a boost for growth and employment. We did what we promised, and I would like to thank my whole team for the gigantic work."
"Effect on your wage as from next year"
Interior Minister Jan Jambon (Flemish nationalist) explained that employees can look forward to a higher net income in the short run: "The effects will be seen as from 2016 and this thanks to the tax shift." However, the lowest incomes will come first. Middle incomes will probably only see an effect later on. This is not clear yet.
Deputy PM Kris Peeters (Flemish Christian democrat) said that "this is the highest tax shift reducing the labour tax burden of its kind. This has 1 main challenge: creating new jobs."
Each party had its taboos as the talks about the tax shift started, but no taboo had to be broken. The N-VA wanted to avoid measures targeting company cars; the liberals wanted capital to be spared; while the Christian democrats wanted no big impact on social security.