At least 100 asylum seekers spend the night on the street
The refugee crisis is continuing. As the Belgian Immigration Office in Brussels can't cope with the long queues of refugees wanting to file an asylum application, dozens of people have to be refused each day. As a result, various persons have to spend the night on the street, without shelter. The Red Cross prepared some soup and food, while passers-by gave the homeless apples and blankets.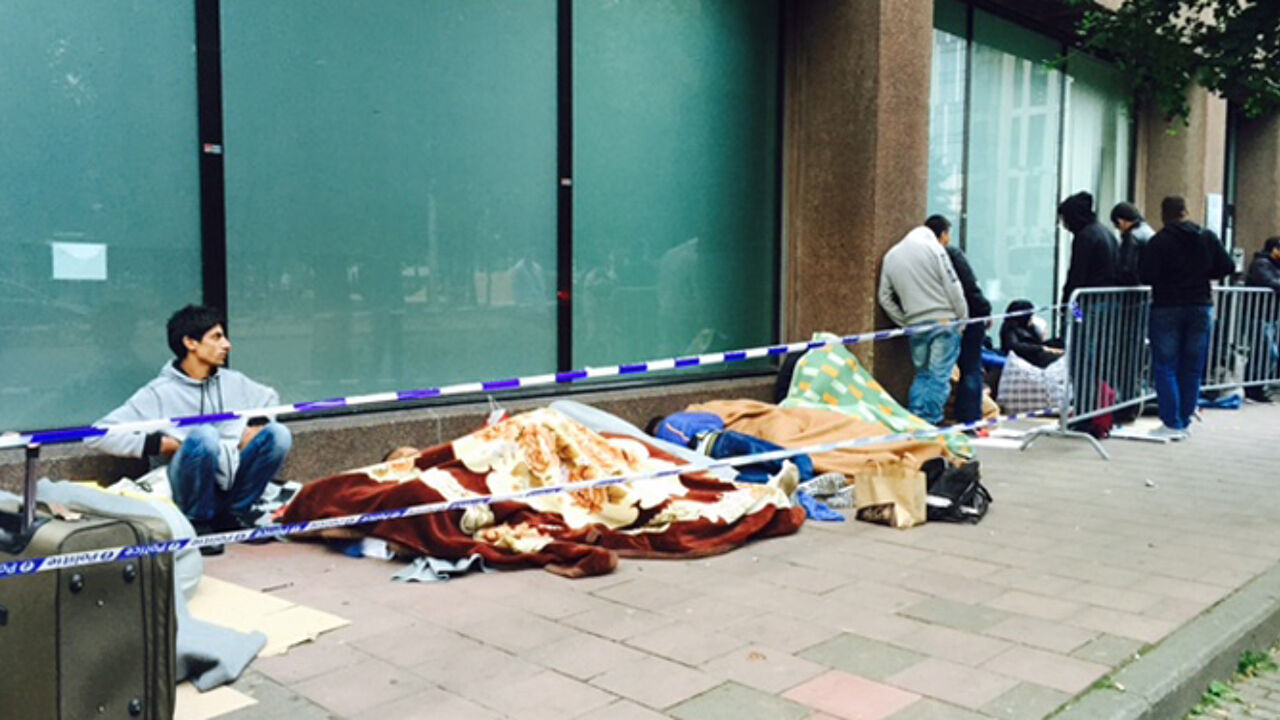 Asylum seekers that have just arrived in Belgium, have to register at the Immigration Office first. It's the very first step in their procedure to get a residence permit. When they have registered, they are giving shelter via the Asylum Department Fedasil (bed, bath and bread) while their application procedure is running.
The instream of asylum seekers has taken on such proportions that civil servants at the Immigration Office can't cope. Each day, dozens of asylum seekers have to be refused despite waiting for hours. Those that can't be helped, are given a piece of paper - in Dutch, a language which none of the asylum seekers understands - that gives them priority for the next day when the doors of the Immigration Office (near the North station) reopen. It's mainly these people that were spending the night on the street, or in a nearby park.
203 have blue 'priority document'
VRT reporter Marjan Temmerman arrived at the place around 7am: "Many people were sleeping on the sidewalk. They were lying close together to seek shelter against the strong wind. Among them were many mothers and children."
The doors reopened at 8am. 203 asylum seekers that had to be refused yesterday were carrying a blue 'priority' paper. This means that only 50 others can get in today, as the office can only handle about 250 applications on a daily basis.
Older people, families with young children and those battling health problems are also given priority.
This morning, another 93 asylum seekers could not be helped by the Immigration Office. They queued for nothing and have to return tormorrow. They are facing the challenge to spend the night somewhere. Their number is down on Monday and Tuesday, when about 200 people had to be refused without help.