Bruges Triennial: visitor and resident in dialogue
One of the most popular installations that form part of the Bruges Triennial is 1:1 connect: DiamondScope by the Norwegian artist Vibeke Jensen. Situated on Bruges' historical market square at the foot of the bell-tower you will find a shiny octagonal structure made of mirrors.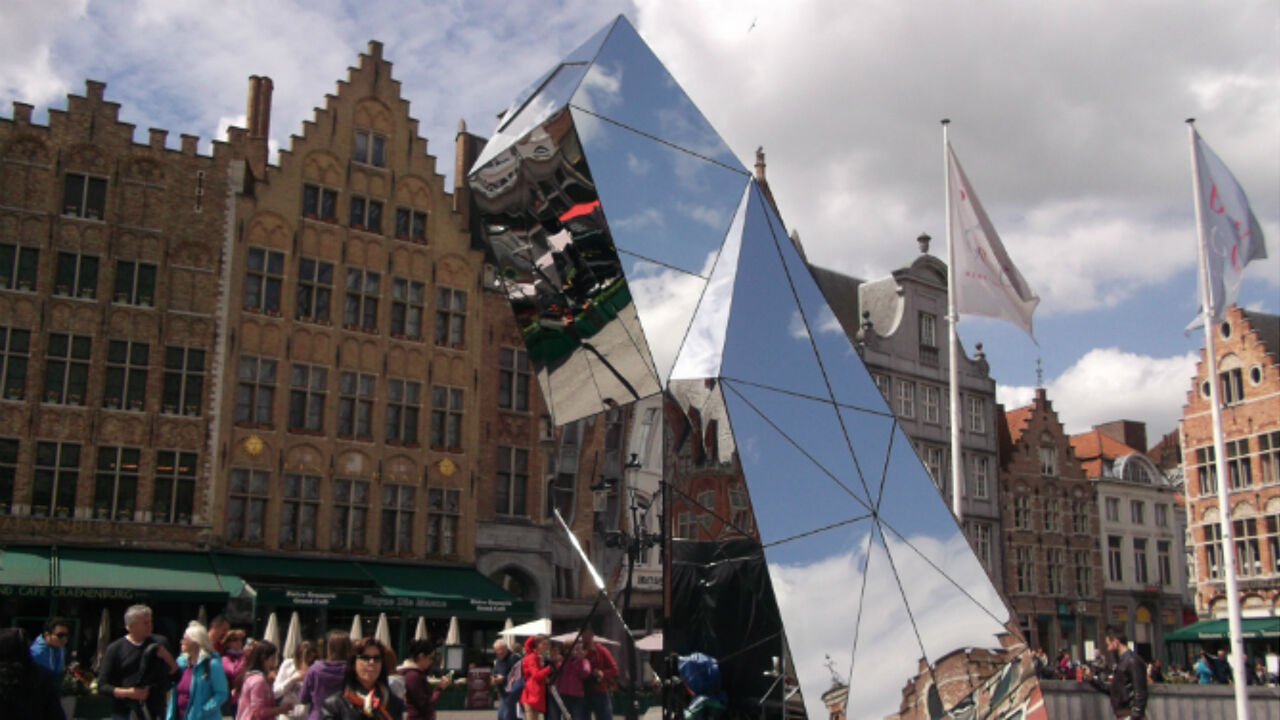 The installation offers an unusual experience. Visitors can step inside 1:1 connect: DiamondScope and view the world outside without being seen. Inside there is room for one resident of the city of Bruges and one visitor. The idea is that the two embark on a dialogue in this intimate space where they remain invisible to the many tourists taking snaps of this eye-catcher, often without knowing why it is there. To enter the booth just tap in the Bruges postcode 8000.
Vibeke Jensen says that the octagonal form reflects the shape of the top of the bell-tower or belfry. The location for this dialogue between a visitor and a resident of the city was not chosen by accident either. This is also the venue for the city's age old Wednesday market and remains a place of lively social and economic exchange.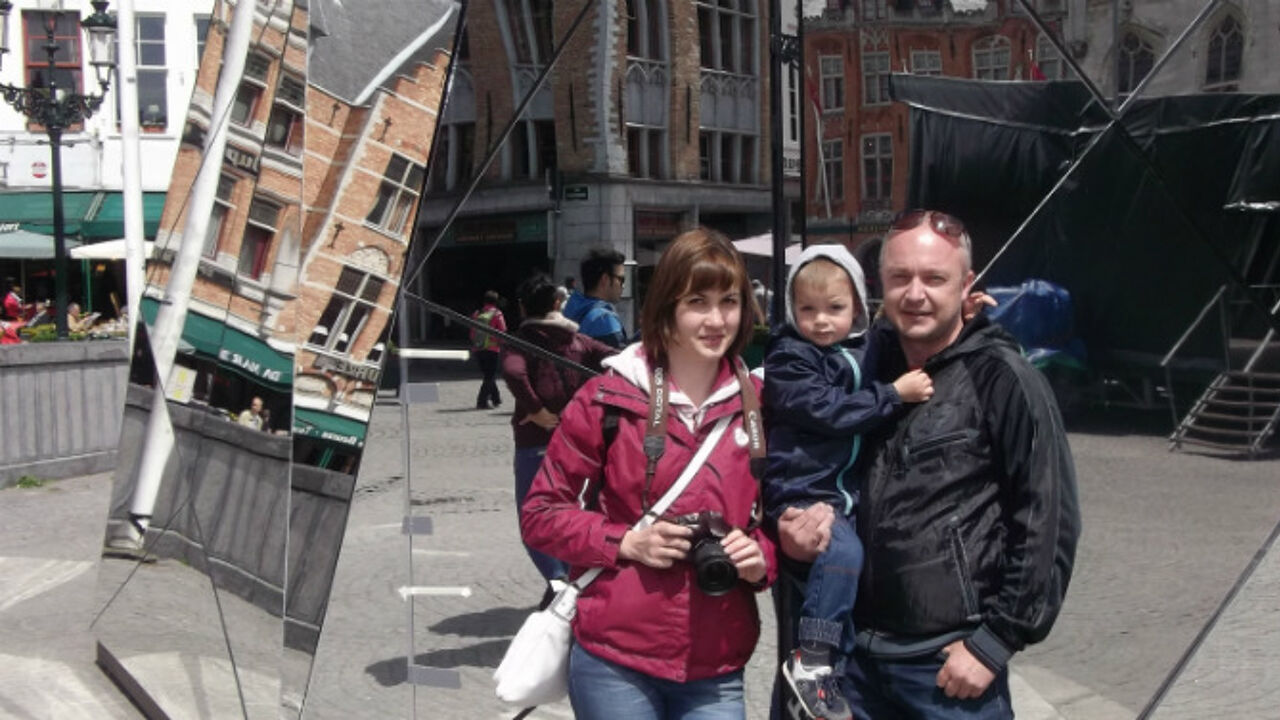 1:1 connect: DiamondScope is a real eye-catcher on the Bruges market square with scores of locals and tourists milling around the installation. Juri Belibov from Chisinau, the capital of Moldova, and his family, were visiting Ieper, but also determined to see Bruges: "We came for the old, but discovered the new. This is really fun! It reminds us of the Atomium in Brussels. We love old cities, but we love this too. It may not be old, but it is very unusual."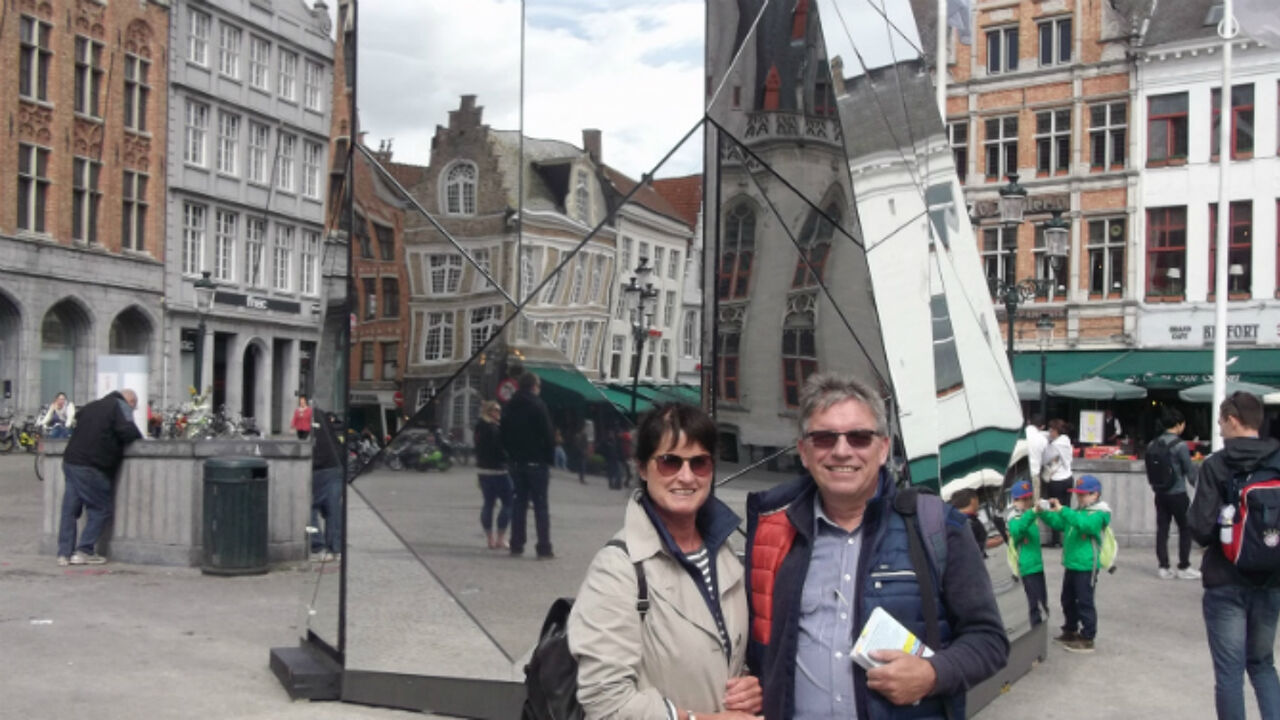 Claus Strunz and Cornelia Tauber were visiting from Bavaria in Germany.
Claus Strunz: "We hadn't heard about the Triennial. Our landlady in the B&B told us all about it. This is great fun. Everybody who passes by takes a photograph of the installation, but at the same time they are taking a photo of themselves."
Cornelia Tauber: "We like the combination of the old and the new. It's always fun when modern art is interactive, when it doesn't just stand there and you can do something with it."
1:1 connect: DiamondScope is only one of 14 works of art that you will find across the city of Bruges as part of the Bruges Triennial. The curators of the art festival asked international artists to consider what would happen if the 5 million tourists that visit the West Flemish capital each and every year were to stay here. Today more and more of the world's population is gathering in the big cities, but in Bruges, as a result of its historical value and protected status, there are major constraints on urban development. The results of the artists' endeavours are on view until 18 October.