The N-VA rules in Antwerp, but...
The Flemish nationalists (N-VA) remain the biggest political block in the city of Antwerp three years after the local elections. That's according to an opinion poll carried out by the VRT and the daily Het Laatste Nieuws. However, while the N-VA rule, their coalition with the Christian democrats (CD&V) and liberals (Open VLD) would hardly keep its majority in the city council. The greens meanwhile are the big (virtual) winners.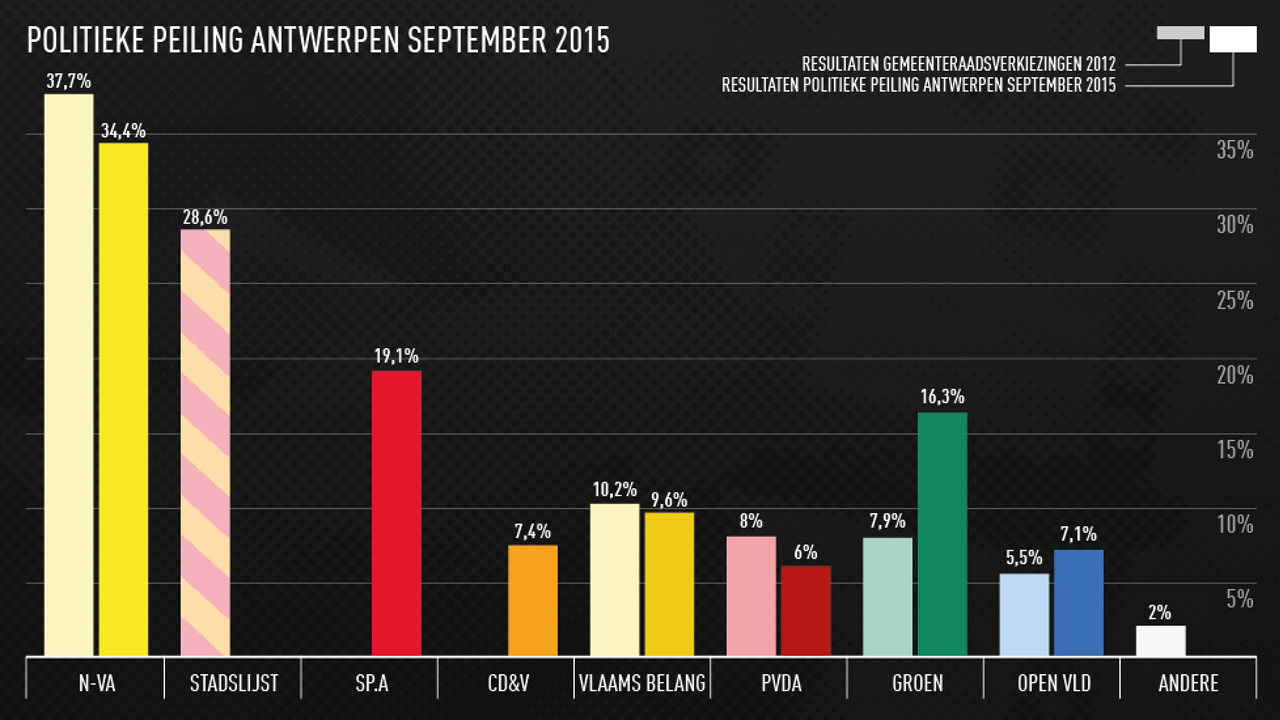 The poll was held half-way the 6-year term after the local elections of October 2012. If elections would take place now, the N-VA would have over 34 percent. However, their coalition partners CD&V (7.4) and Open VLD (7.1) remain rather small. The socialists of SP.A, who ruled for decades but ended up on the opposition benches last time, are second with 19.1 percent.
The greens jump from 7.9 to 16.3 percent and are the big winners. The local greens are led by Wouter Van Besien, the former green party leader.
The VRT's political pundit Marc Van de Looverbosch is raising the questions that a 'grand coalition' between N-VA and SP.A may be a solution. "But would (the present Antwerp Mayor of N-VA) Bart De Wever dare to take this step?" De Wever himself does not seem very eager, and in confident that the same coalition can be continued after the 2018 elections.
Have things changed?
The N-VA campaigned with the slogan 'change' 3 years ago, after decades of socialist burgomasters, and won it. But has Antwerp changed? 32 percent of the respondents say nothing has changed, but 38 percent say things have changed for the better. On the other hand, 25 percent say that things have changed, but for the worse.
Those that are happy with the new policies, mainly point to an improved security, while others say the new approach on this subject is too harsh. Mobility is a dividing factor: more cycle paths on the one way, but worse public transport on the other.