Between 80,000 and 100,000 in national demonstration
Wednesday's national demonstration came to a close around 4pm, when the roads in Brussels were reopened for traffic. The action was aimed against the "indigestible" policy agreement adopted by the Charles Michel government that was installed one year ago, trades unions say. Police are talking about 81,000 protesters, unions of 100,000.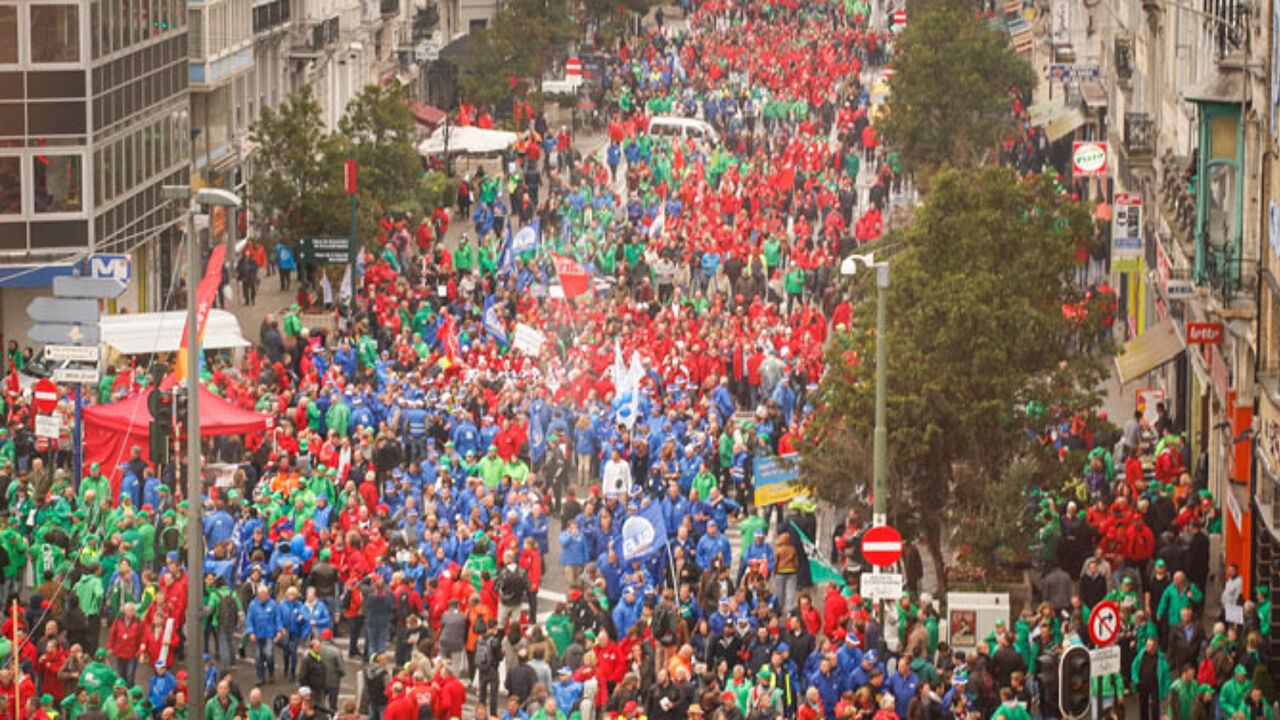 Protesters walked from the North Station to the South Station starting via the inner ring road (Rogier, Kruidtuin) in order to continue through boulevards and avenues, including Pacheco, Berlaimont, Keizerslaan, Cellebroerstraat and Lemonnier. The march started early, around 11:00 am, in order to end around 3pm.
The demonstration was supported by the country's 3 largest unions (the Christian union ACV (green colour), the socialist union ABVV (red) and the liberal ACLVB (blue)). They received the support from the civil platform 'Hart Boven Hard' which called on supporters to come to Brussels wearing a special cap.
Trades unions are angry about what they call the "indigestible policy agreement" that was adopted last year by the first right-wing Charles Michel government. The first anniversary is not one to celebrate, they say. "Employees and those receiving social benefits only have crumbs left after 1 year under the new government", a joint statement says.
Trades unions demand improved purchasing power, a tax shift that includes a fair share of the burden for the rich, and job schemes to get the vulnerable groups in society at work. 
"We will continue the fight"
Although there were some 20,000 fewer protesters than a year ago, trades unions are happy. "This is a massive success. These are 100,000 voices calling on the government to change its policies", said Marc Leemans of the ACV. Unions want to continue the fight, although they think differently about what should happen next. The ABVV has announced more industrial action, but the ACV does not want to go that far. "We will continue campaigning as long as necessary. This is just the start. Together we are strong." 
The economy is recovering, so why these actions?
Companies say they were hardly affected by today's strike. They also don't see the point of the protests.
Pieter Timmermans of the Belgian Employers' organisation VBO says that export figures are improving and the economy is recovering. "There were 9,200 new jobs in the last trimester. Temping agencies are sending us positive signals. So why continue these actions, if the best way to lift purchasing power is jobs?"