UA scientists scan tile masterpiece at MAS
Scientists from Antwerp University are busy working on a 16th century tiled tableau believed to be the work of the famous Antwerp majolica maker Guido Andries. The researchers are scanning the tableau to discover which tiles are original and which may have been added at a later date. The operation is being conducted ahead of the full scale renovation of the tableau entitled "The Fall of Saul".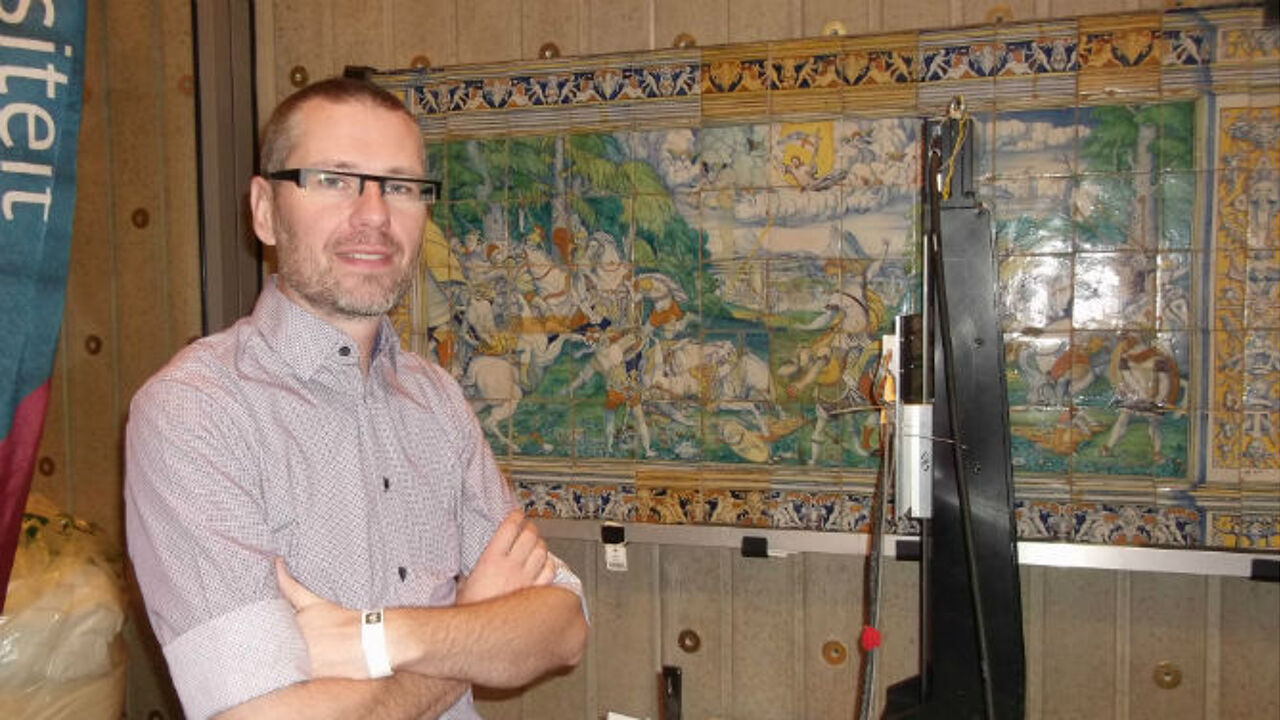 Geert Vandersnickt is heading the work carried out by researchers of the AXES research team at Antwerp University's Chemistry Department. The entire tableau that belongs to the collection of Antwerp's Vleeshuis Museum is being scanned at the MAS, Antwerp's Museum on the River. Visitors to the MAS can take a look at the operation itself until Sunday 8 November.
The mobile scanner has been used before in search for answers relating to historic works of art. It's chiefly been used on paintings in the search for hidden compositions and parts of paintings that have been recovered. The scanner earlier travelled to the Getty Museum in Los Angeles and the Rijksmuseum in Amsterdam, where Rembrandts, van Goghs and Goyas were examined. The scanner has been used to examine many masterpieces in Antwerp too, but this is the first time the general public is able to watch the operation at close quarters.
Geert Vandersnickt (pictured top): "Here we're searching for original tiles and ones that have been added at a later date. The scanner measures the chemical composition of the tiles and in this way we'll be able to establish which ones are original and which are not."
The tableau depicts a religious scene: "The Fall of Saul", Saul was a Roman soldier, who initially persecuted Christians. In the tableau we see he has fallen from his horse. This is the moment of his conversion when he becomes the apostle Paul.
Antwerp was a centre for majolica art in the 16th century. Techniques for the production of tin glazed tiles arrived here from Italy. Guido Andries was one of the most famous majolica artists and the present tableau was discovered in the 19th century when his home was being excavated. The tableau underwent a first restauration in the 1960's at a time when products whose long term impact was unclear were used. A new restauration should be able to deal with the yellow sheen that disfigures some of the tiles today.