Level 4 maintained: no metros in Brussels on Monday, schools closed
The terror threat level for Brussels is being kept at the maximum of 4 for Monday, which will impact on the busy first day of the working week. Metro services in the capital will not resume - contrary to what was expected - and all schools in Brussels will remain closed. Some Brussels-based companies allow staff to work from home or to take a day off. The terror alert level for the rest of Belgium has been maintained at 3.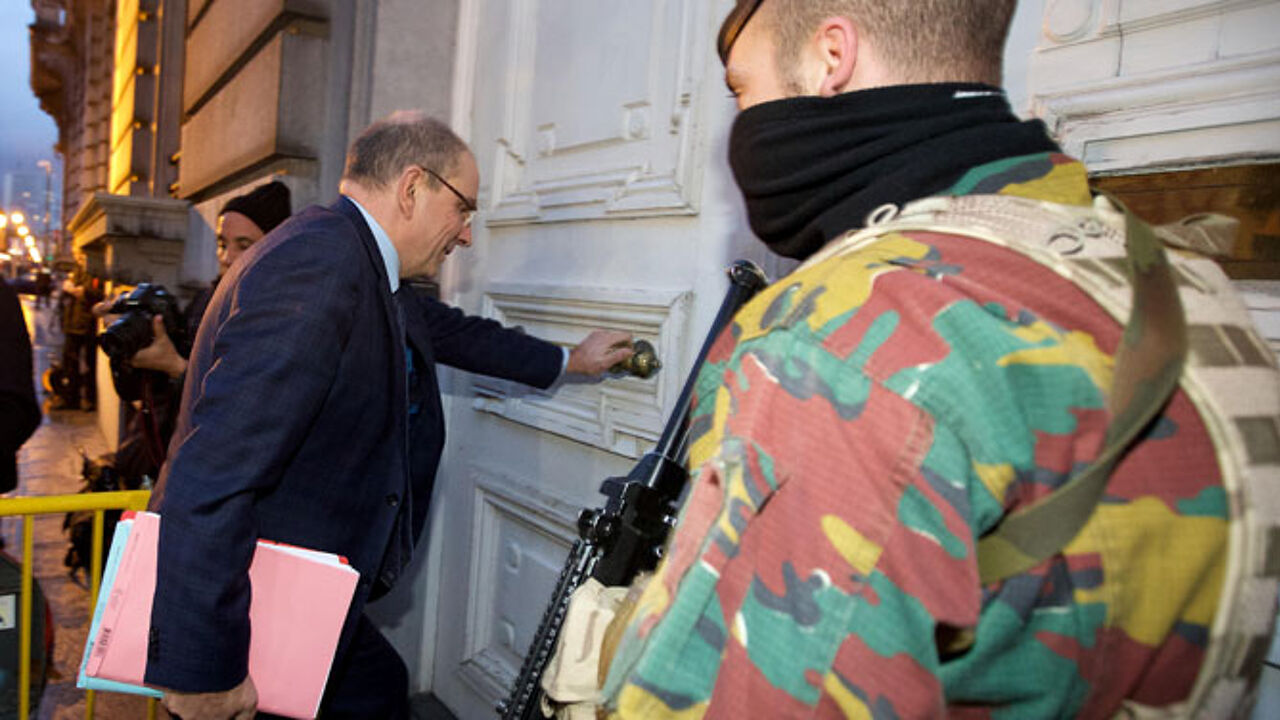 The National Security Council had been in meeting since 5:15pm. Key ministers, intelligence services, police and the federal judicial authorities were discussing the decision made by the independent terror threat experts of the OCAD, and which measures to implement next.
PM Charles Michel announced that the terror threat for Brussels remains at level 4 for the time being. He did this at a special press conference that started half an hour earlier, at 6:30pm. Michel explained that the terror threat remains "serious and imminent".
What happens under level 4?
Under level 4, the number of major public events will be reduced, and police and military presence remain high. A lot of police effort will be focused on public transport, rail stations, shopping streets and other places with big crowds.
Contrary to what was expected, Brussels metro services will not resume. All schools and universities, kindergartens, shopping and leisure centres are keeping their doors shut as well. The OCAD will re-evaluate the situation tomorrow afternoon and announce a new decision. Rail services should not be affected (apart from a local strike in Hainaut province) , but the Brussels Schuman station will remain closed. The Flemish municipality of Vilvoorde has also decided to suspend all school activities.
Several companies allow staff to work from home or to take a day off, like the banking groups Belfius (which informed some 2,200 staff via a text message) and KBC. 
Michel said that "we realise that this a difficult situation for everyone" and explained that "we are bending over backwards to have the situation return to normal as soon as possible."
It's not just about Abdeslam
PM Charles Michel did not want to elaborate further on the ongoing investigations. It is assumed that Salah Abdeslam, who probably participated in the Paris attacks, is still hiding in Brussels. He may have plans to carry out a similar attack in Brussels, and may have a bomb belt. However, even if Salah would be found, the problem is not solved, as investigators assume that there are also other terrorists involved in a possible Brussels plot.
It is unclear how close secret services are on the heels of the terrorist suspects, but it is not unthinkable that, if the situation remains unchanged tomorrow, the maximum terror alert level will have to be extended again tomorrow. News about this is expected late in the afternoon.
Brussels was a dead city
Brussels was like a dead city yesterday evening. Museums were closed during the day, shopping streets and other busy places were mostly quiet as people had been advised to stay at home. Restaurants were also advised to close their doors and gatherings in public buildings were cancelled.