"Zero tolerance for hate preachers"
In his annual Christmas address King Filip says this is the time of year to re-enforce our belief in the future, but sadly the end of this year is marked by the tragic attacks in Paris that shocked us deeply and the realisation that the danger has not yet passed. King Filip notes that western democracies face a three-fold challenge: to protect themselves, to act in a preventative way and to remain constructive. The king insists he is confident we will succeed in this task.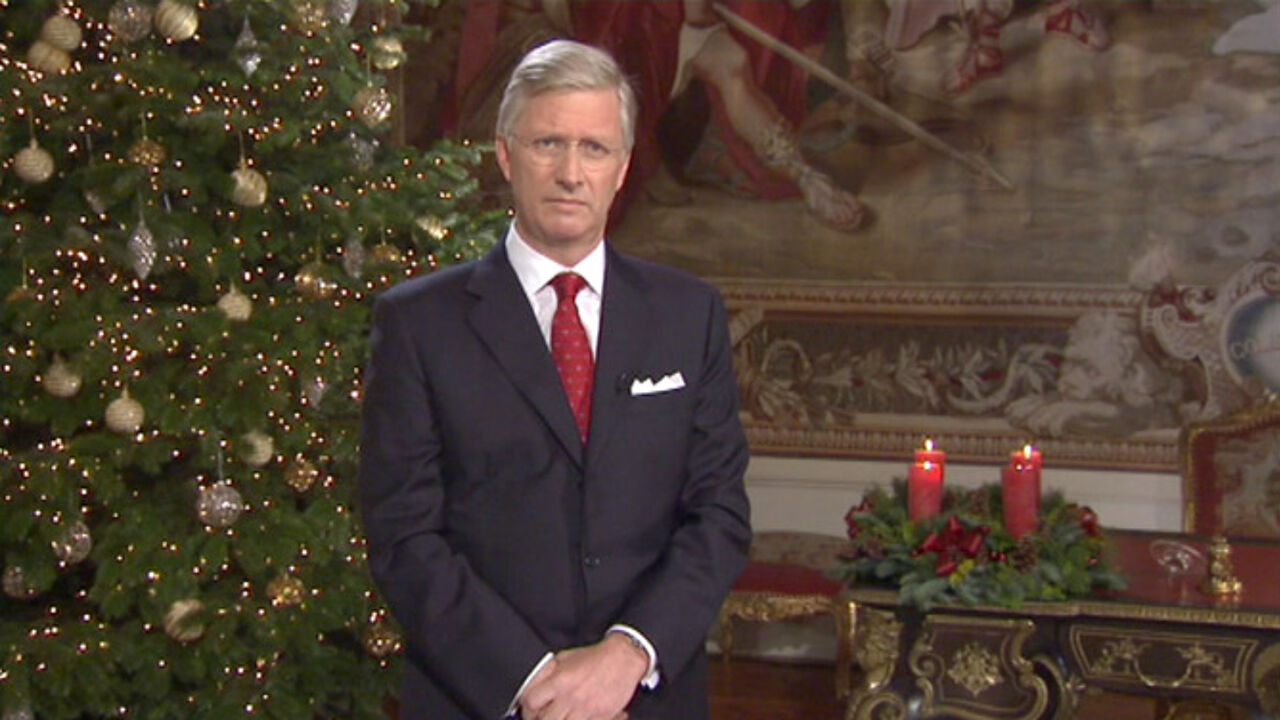 In a speech rubber-stamped by the Belgian government King Filip says the authorities responded calmly, quickly and with vigour to the terrorist threat. He thanks everybody who made and is making an effort to ensure our safety, to track down the perpetrators of the attacks and prevent new ones:
"Recent events have shown how important it is to invest in the justice department, the police, the army and the intelligence services. Thanks to all of you and especially the people of Brussels for your dignified and responsible attitude."
The king continued: "In order to protect our society it's of fundamental importance not to allow us to be intimidated or to be set against one another. This is our opponents' aim. I am confident we shall remain one, citizens in an open country. A country in which the overwhelming majority of people with foreign roots are seizing the opportunities they are offered and share the values of our country. They are the sons and daughters of our country. We should not equate those who follow their faith with respect for the universal values of mankind with those individuals who abuse their faith."
"To me it seems important to return to the foundations of our society which we must hold fast: our values and the rules on which our society is based. This entails that we should teach our children to respect the various faiths and world views. They share a common value: the desire to give meaning to life, to show respect for others and to be open. Observing these rules means zero tolerance for hate preachers. It also implies that we must combat stigmatisation and segregation. Those that are attracted to fanatical ideas we must help to resist indoctrination."
"I am confident we can construct a more harmonious society. I am addressing young people in particular. You have a deep wish to believe in life, in yourselves and in others. Embrace that ideal and invest your energy and your talent in everything that brings us together. Balance in a family, a district, a municipality, region or country depends first and foremost on the way in which we deal with each other."
The king noted that life gets meaning thanks to projects that give others a place and that allow them to give the best of themselves. Fanatics deny others the right to think and live differently.
"A project that gives meaning to life develops in time. Cherish, when building your future, the ties with the generations that proceeded you. Our values are deeply rooted in history. Fanatics are eager to erase this memory."
"Finally I would like to encourage people to dialog with the people around them about what is really important. In this way you get to know others and yourself better. Discover others in your experience of culture, philosophical conviction or faith and this in contrast with the fanatics, who refuse every dialog."
"We are able to conquer the testing challenges that we face today. This I know for certain. History has shown that our social model is stronger than fanaticism and totalitarianism. We must continue to construct a more human and juster society."
The king concluded his speech by wishing us a blissful Christmas and a New Year full of joy on behalf of himself, the queen and their entire family.